How to Develop a Distance Education Course
Deadlines to Submit Course Content for Review
offered during the Spring term: August 15th
offered during the Summer term: January 15th
offered during the Fall term: May 15th
*If faculty prefer a designer build the course, the course content in its entirety (discussion questions, test questions, assignment information, course Syllabus and schedule, etc.) is due by the above deadlines.
Course Development Checklist
1. Request to develop a new course by submitting the Distance Course Development Application.

2. The Chair and Dean will sign the application.

3. A development course will be created for you with a checklist. Develop the course with a designer.

4. The course will be reviewed by the instructor's Chair/Dean and the Online Learning Team, using the Quality Matters Standards rubric (7th edition).

5. If any edits are required, the faculty member will be notified and supported through the necessary adjustments.

6. The course will be approved, added to the Master List of Approved Courses, and the Registrar will be notified that the course is available to be scheduled.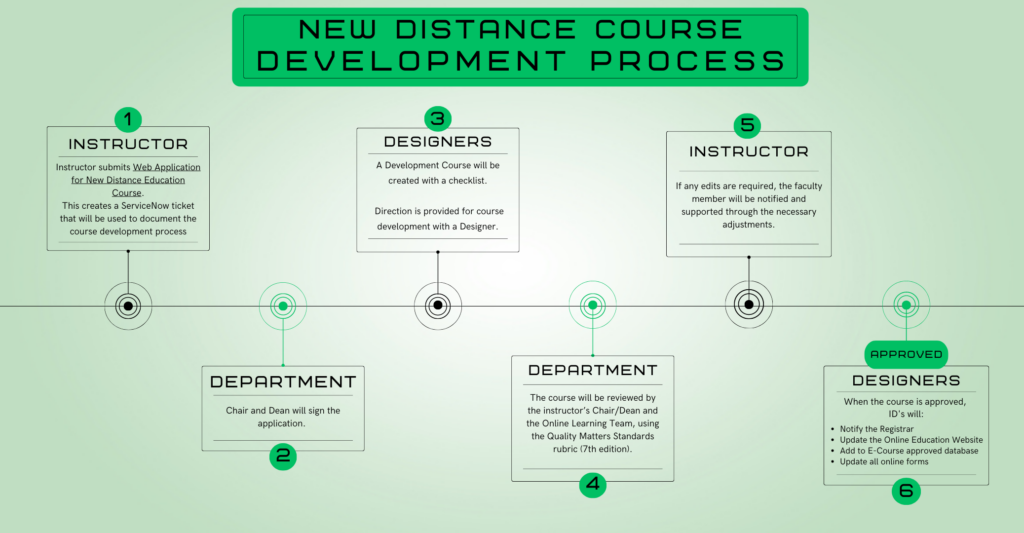 View Print Ready Version
No course can be accepted until the proposed course is in the Registrar's master course catalog, or has been fully approved by the University Curriculum Committee (UCC); however, this process can be taking place simultaneously.
Distance education course development can take place while UCC new course approvals are being considered.
Existing Special Topics courses are permissible; however, note that just like their face-to-face counterparts, they can only be offered for a finite number of times under the SpTp designation.
Each "topic" must also be approved, we cannot just approve the course number, because the course content and assessments change based on the course topic. 
A syllabus or course outline. If the course submitted is submitted past the deadline and to be offered the next term, then a full schedule and course schedule with due dates is required.
Course content to include, but not limited to:

Lecture material and/or video lecture
The actual written materials necessary for students to learn and engage in the content, aligned to course assessments.
Course assessments
Student engagement. For example, if you plan to use the discussion board then the discussion forum prompts are required.
Any additional media or materials to be used in the development of the course.
Request to Add a Distance Education Program
Submit Request Form