Why Ultra?
Its m
odern,
contextual design houses content on a single page, allowing learners to explore content through expanding and collapsing modules rather than clicking through
menus and
folders. The Activity Stream provides up-to-the-minute updates, giving students their own educational news feed.
D
ocuments function as pages mixing files, texts, images, and videos. Instructors can now build dynamic content with ease
. S

imply s

elect the plus sign wherever you want to add content.  Create new content, upload something you already have, or embed content from external sources like YouTube and other social media. To reorganize, just drag and drop.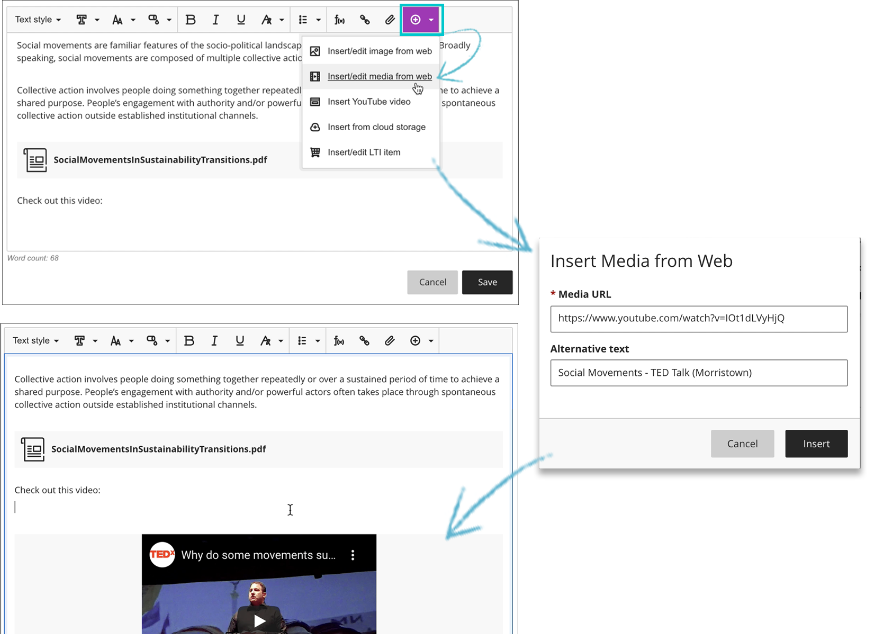 S
tudents experience consistency in
design
across all of their courses,
which they can readily access from a central dashboard. They can also manage their online profile and modify notification settings.
Calendars and organizations are fully integrated, providing a global view at a glimpse. With Base Navigation, basic information is always one click away.
All content is now mobile friendly. Instructors can easily view student profiles with photos.
The Conversations feature allows students to question, discuss, or share resources in direct response to content such as documents, assignments, or tests. And in addition to email alerts, students see new Announcements as pop-ups front and center the next
time
they enter the course.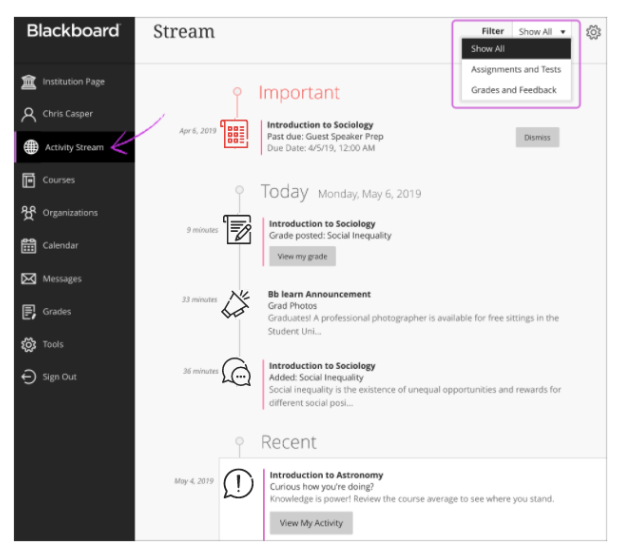 Course Conversion FAQs
What is the timeline for the Ultra Transition?
The university is now in its second phase of conversion from Blackboard Learn to Blackboard Ultra Course View. Having piloted courses in the Fall of 2022, the institution transitioned to an "instructor choice" mode in the Spring of 2023. The introduction of the Blackboard Ultra Academy in the Summer of 2023 represents the beginning of the final stage of conversion, with the Design Center providing support through the full institution-wide transition by Fall 2024.  
How can I try out Ultra?
Please be advised that the best practice for conversion is the use of a "shell," which can be easily obtained by request. We strongly advise against converting courses from the original Learn Course View to Ultra View once a course is in session, as it can result in learner disorientation and the possible loss of submissions.  
Will there be any training for Ultra?
Yes! Find the right option for your training needs.  
Attend a regularly scheduled Design Center hosted workshop. 

Schedule a one-on-one appointment with an Instructional Designer. 

Explore Video Tutorials.

 

Register for the Blackboard Ultra Academy. 
How can I get help with building a course in Ultra?
If your design needs are end-to-end course development or if you feel that your course conversion will present significant complexities, our team of Instructional Designers are ready to help.  
Ultra Academy
Overview
The Marshall University Blackboard Ultra Academy is facilitated through the Design Center and is comprised of three requirements:  
Completion of the one-week online course.

 

Follow-up consultation with a certified Ambassador or an Instructional Designer.

 

Your commitment to teach in Ultra for the subsequent semester.

 
Recognition
The Ultra Academy is open to all Marshall University contracted instructors. Upon completion of all requirements, instructors will receive certification, which they can display on their Blackboard course page. The certification will signify your commitment to providing students with the most engaging and current tools in course design.  
Registration
Online Academy courses are offered once a month. The registration deadline for our first cohort is May 15th.  This cohort will run from May 29th-June 12th (although we estimate that most will complete this self-paced training within one week).
Ultra Academy Registration
Thank you for your interest in the May 2023 Blackboard Ultra Transition Academy. Please complete the questions below. The priority deadline for applications is May 15; applications received by then will be reviewed and notifications of registration will be sent by May 25. If you have any questions, please contact us at OnlineLearning@marshall.edu.