The Office of International Student Services at Marshall University was established in 1993 to promote an international community in both the university and Huntington. One of Marshall's primary missions is to educate and develop a citizenry that is prepared to participate in today's global environment.
The Marshall University mission statement highlights a diverse education as a top priority. This goal is accomplished through a global approach to teaching, learning, research and service, which aids in the appreciation of differences, and the ability to navigate a rapidly changing global society.
The Office of International Student Services is located in the Gillette Welcome Center and reports to the Dean of Admissions and Executive Director of Enrollment Services in the Division of Academic Affairs.
Areas of services include:
Office of International Student Services
Office of Study Abroad
China Projects (Appalachians Abroad Teach and Study in China)
International Education Week (Annual International Festival, Study Abroad Fair)
Campus Community Outreach and Global Engagement
Office of International Student Services (ISS)
The Office of International Student Services serves students, scholars and faculty at Marshall University through immigration and compliance services and orientations. ISS aids all University departments and divisions who wish to invite international faculty and research scholars to join their programs on a temporary basis. To learn more, visit the ISS website at
www.marshall.edu/iss/
Study Abroad Office
The Study Abroad Office provides study abroad trips for full year, single semester and summer experiences in other countries. These experiences provide students with the opportunity to explore other cultures while earning academic credit toward their Marshall University degree. The office secures and develops relationships with global institutions and study abroad programs including exchanges in Japan, South Korea, China, Cyprus, India, Italy, United Kingdom, Spain, France, New Zealand and Mexico, among others. The wide range of opportunities and course options allow students to find a program that fits their needs while stretching themselves intellectually. Learn more at the Office of Study Abroad website
www.marshall.edu/study-abroad/
China Projects
The Office of China Projects impacts both the Appalachian community as well as the Chinese community. The purpose of the projects are to provide Appalachian individuals with the necessary teaching skills along with the linguistic and cultural competencies for living and teaching in the People's Republic of China. To learn more about the China Projects, visit
www.marshall.edu/gochina/
International Education Week
The annual International Education Week promotes and provides international experiences for Marshall's students and the Huntington community. This is accomplished through the Study Abroad Fair, which promotes study abroad opportunities for students, and the International Festival at the Big Sandy Superstore Arena, which highlights the diversity and global culture of Huntington.
Campus and Community Outreach and Global Engagement The Office of International Student Services exhibits Marshall University's dedication to the internationalization of its students, faculty and staff, as well as the surrounding community. This is achieved by working with the government, educational entities, businesses, campus groups and community to offer programs such as the Japanese Saturday School in Hurricane, WV and Japanese language programs at Huntington and Cabell Midland High Schools, as well as the annual International Festival.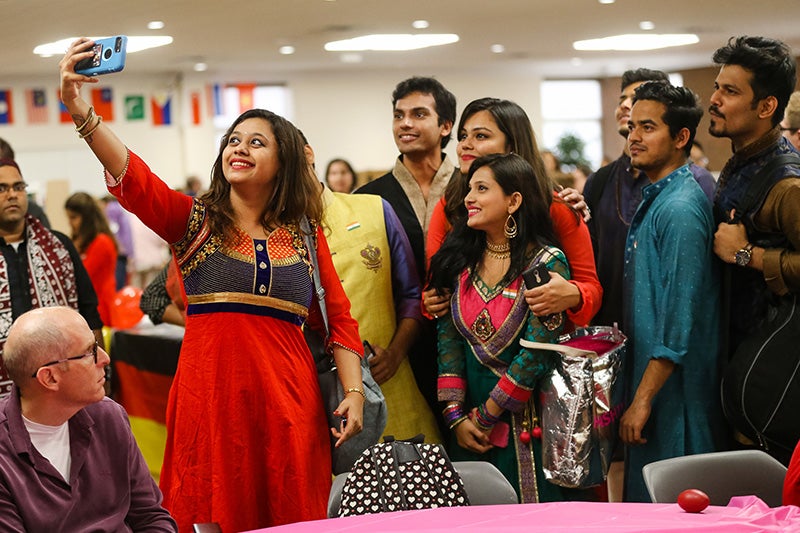 Contact Us
The Office of International Student Services staff is also available to help with any additional immigration-related issues you may have.  Contact us via email to schedule an appointment.