Welcome to Huntington, WV! Below are some resources and information about the city to help you feel at home. Click here to view the Huntington, WV Community Profile.
---
West Virginia weather typically includes all four seasons: Winter (December – February), Spring (March – May), Summer (June – August), and Fall (September – November).  Temperatures can range from below zero degrees Fahrenheit in the winter to over 90 degrees Fahrenheit in the summer. Rain and snow are common, though the amount of precipitation varies from season to season and from year to year. It is a good idea to bring or purchase an umbrella, rain jacket, waterproof shoes, and warm coat to be prepared for a variety of weather.
---
Follow the links to discover the variety of attractions that Huntington has to offer:
---
What is there to do in West Virginia?
Follow the links to learn more about WV tourism:
---
Getting settled in your new city:
Follow the links for information about securing necessities once you arrive in Huntington:
---
What do other international students have to say about living in Huntington?
"Huntington is a nice small town, with very little trouble. The highlight of the town is really the dining options." – Pratik, India
"I love living in Huntington because of the Marshall community and small-town hospitality." – Kasun, Sri Lanka
"I think Huntington is a beautiful town with a great community. Especially in the Fall, the town is colored by different kinds of maple trees. It's a blessing to enjoy the view like this every day." – I Chen, Taiwan
---
Is Huntington close to other US cities?
Huntington is within easy driving distance to the following US cities:
| US City | Distance | Travel Time |
| --- | --- | --- |
| Charleston, WV | 51 miles | 52 min |
| Lexington, KY | 126 miles | 2 hr 49 min |
| Columbus, OH | 138 miles | 2 hr 49 min |
| Cincinnati, OH | 147 miles | 2 hr 44 min |
| Louisville, KY | 196 miles | 3 hr 3 min |
| Knoxville, TN | 273 miles | 4 hr 23 min |
| Pittsburgh, PA | 278 miles | 4 hr 24 min |
| Indianapolis, IN | 256 mi | 4 hr 37 min |
| Charlotte, NC | 317 mi | 5 hr 2 min |
| Nashville, TN | 338 miles | 5 hr 42 min |
| Washington, DC | 413 miles | 6 hr 33 min |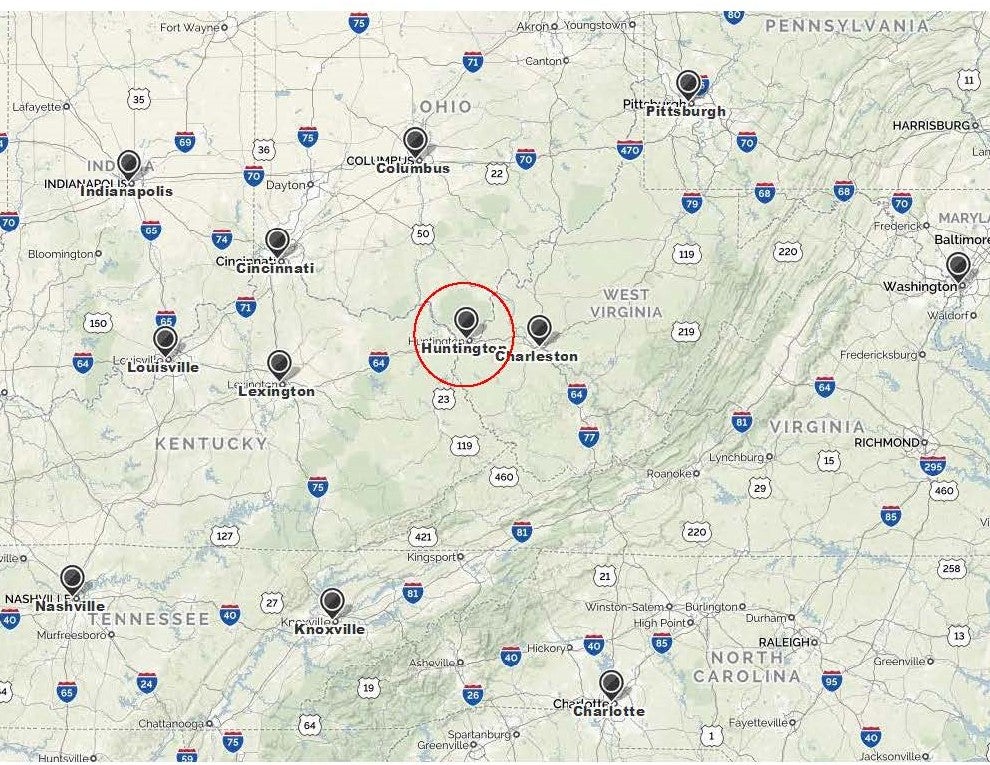 ---