This is an important computer security bulletin from Marshall University Information Technology team directed at Marshall University students, faculty and staff who own or use an Apple Macintosh computer. Apple has released a critical security update which should be applied to all computers which are running macOS High Sierra 10.13. Marshall University IT staff are working to address this issue on University-owned devices; students, faculty and staff need to be aware of this issue needs addressed on personal-owned devices.
What computers are at risk?
If you have an Apple Macintosh computer which is running the current release of macOS High Sierra 10.13 or 10.13.1, you are at risk and need to apply this update ASAP. If you are still running macOS Sierra 10.12.6 or earlier, this update is not needed.
How do I check which version of macOS in on my computer?
Click on the 'Apple' icon menu (in the upper left corner of your computer), and select 'About This Mac'. You should see a pop-up window which will list the operating system name and version (see below):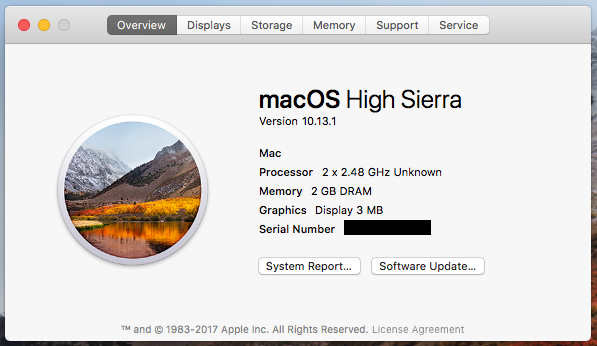 If your computer shows 'macOS High Sierra Version 10.13 or 10.13.1', click on the 'Software Update…' button in the lower-right of the pop-up. This will launch the Apple 'App Store' utility. Click on the 'Updates' menu and apply any needed updates. If the App Store shows 'No Updates Available', be sure to confirm that these 2 critical updates 'MacOS 10.13.1 Update' and 'Security Update 2017-001' are listed as being installed:
Please review the links below for further information and assistance
Apple Security Update 2017-001
https://support.apple.com/en-us/HT208315
Apple releases macOS High Sierra Security Updates
https://9to5mac.com/2017/11/29/macos-root-fix/
Marshall University IT Service Desk
https://www.marshall.edu/it/departments/it-service-desk/
Marshall University IT Information Security Team