The Marshall University IT team receives occasional questions from faculty and staff about the Microsoft Home Use Program (HUP for short). Hopefully this article will help answer a number of those questions.
Several times a year, e-mail offers are sent out from the Microsoft Home Use Program advertising a $9.95 upgrade for Microsoft Office. These are often legitimate messages – see a recent example of one of these messages inserted into this post.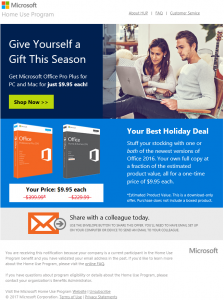 You are receiving these offer e-mails because of a previous purchase of Microsoft Office for your personal/home computer. If you no longer wish to receive these offers, see the Frequently Asked Questions section below on how to unsubscribe from these mailings.
Before you pay $9.95 to upgrade, please read the rest of this message below…
If you are currently a Marshall faculty or staff member, you are eligible for 'Home Use Rights' under our Microsoft Campus Agreement. You do not have to buy a license, but there is a nominal fee charged by the vendor to cover  software distribution costs. In most cases you should use your access to Marshall's Microsoft Office365 services to download the no-cost install media for your home/personal computer. If you are no longer a Marshall University employee, but still have an active student status, you can also use access Office365ProPlus media as described below.
Frequently Asked Questions
Can I use Microsoft Office365 ProPlus Media on a Personally Owned PC/Windows or Apple Macintosh OS?
Yes. the Microsoft Office365ProPlus download is intended for PERSONALLY-OWNED machines. There are separate versions for Microsoft Windows PC's and Apple Macintosh OS X computers.
Is there a difference in Microsoft Office365Pro and the Office 2016ProPlus software installed on my University-owned computer?
Yes, a few. Functionally, both products are still Microsoft Office – Word, Excel, Outlook, etc. You still have a choice of 'new' (Office 2016) or 'previous' (2013) releases. However, with the Office365 release, Microsoft provides new feature updates directly to you through the 'Windows Updates' (for PC's) or 'Microsoft Updates' process (for Mac). These updates may appear on a different release schedule than your University-owned computer. You will still have the option to 'accept' or 'defer' these major updates. You may wish to maintain the same major version (e.g. Office 2013 vs. Office 2016) running on both your personally- and University-owned computers.
Where can I get more information on accessing Office 365 software for my personal computer?
Please visit the Marshall IT website for additional Microsoft Office 365 information for more details.
What is an eligible employee for purposes of the 'Home Use Program'?
Microsoft defines 'eligible employee' as follows… "those individuals who use the covered licenses at work are eligible to purchase these Office applications for use on a personal device during the term of their employment. This temporary license expires with the employer's Software Assurance coverage, or upon termination of employment with the covered organization." – http://www.microsofthup.com/hupus/faq.aspx
How can I request Microsoft/DigitalRiver to stop sending me these upgrade offers?
Locate the recent e-mail message in your inbox (

Subject: Take Office Home for the Holidays

). At the very bottom of the message, locate the 'Click here to unsubscribe' web link. This will take you to a webpage which will already contain your e-mail address. Click the [Unsubscribe] button. That's it.
Please direct any additional questions to the Marshall IT Service Desk ITservicedesk@marshall.edu and we can update this list of frequently asked questions on the IT website.
Thanks,
Jon B. Cutler | Chief Information Security Officer | Marshall University | 1 John Marshall Drive, DL-324 | Huntington, WV 25755-2066 | U.S.A. |Office: +1 304 696 3270