November 14, 1970 … Remembered
---
Marshall University Campus 1969-70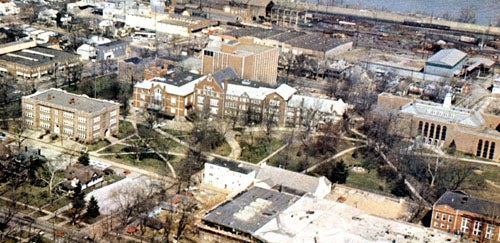 Marshall University was founded in 1837 as Marshall Academy. It was named for Chief Justice John Marshall. It became a university in 1961.
This photo shows the campus as it appeared in 1969-70. The long building in the center is Old Main, the oldest building on campus. To its right is the Morrow Library; to its left is Northcott Hall. In the lower right is the Student Center, under construction in this photo. The tall building behind Old Main is Smith Hall. The Ohio River can be seen in the upper right. The university is nestled in the city of Huntington, West Virginia.
---
Fairfield Stadium 1970
In 1970 Fairfield Stadium was Marshall University's playing field for home games. The stadium was about a mile south of the campus. It was built in 1928 and was enlarged during the summer of 1970 so that it could hold up to 16,000 fans. During the 1970 renovation AstroTurf was laid on the playing field for the first time.
Related Links
CONTACT
OTHER RESOURCES