Become a Justice on the Conduct Hearing Board
The Office of Student Conduct is always looking to add quality, unbiased opinions from students, faculty, and staff of Marshall University to assist in the review of appealed conduct cases. We expect the hearing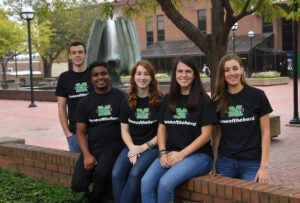 board to uphold the highest standards of honesty, integrity, dedication, and confidentiality.
Overall Requirements
Your schedule must permit you to be free from 2 to 6 hours (usually on a weekday afternoon) when hearings are called. You may be called with as little as 72 hours' notice. You will not be required to participate in more than 1 or 2 hearings per month.
You must attend the justice training in the Fall Semester.
You must commit to at least two semesters of service in your position
Student Justices
Requirements to be a Student Justice:
You must maintain a minimum GPA of 2.5.
Your record of conduct at this institution must be above reproach.
You must be a full time student.
You must have good written and verbal communication skills.
If you would like to join the Student Conduct Review Board, please submit an application through the link below. If you'd like to know more about the position, please reach out to the Office of Student Conduct. You can also review the Student Conduct Procedures for full information on how the Conduct Hearing Board operates during an appeal. We look forward to hearing from you!
Apply Now
Staff/Faculty Justices
Please email Assistant Director Michaela Arthur at arthurmi@marshall.edu that you are interested in joining the Conduct Hearing Board.