Karen McComas
I am just completing my second year as the Assistant Director of the Center for Teaching and Learning. I am learning (a selfish motive for my interest in doing this kind of work) and have met fabulous and inspiring faculty members from across campus. One thing I quickly noticed is that, a bit like Cheers, we have our regulars. These are the faculty members who participate in (nearly) all of our programs and events and, when a call for applications goes out, these people are typically some of the first to apply. I wonder, as I have often wondered about myself, what compels these people to persist in their efforts to constantly improve their teaching. Almost to a person, they speak with great passion about the importance of helping their students become independent, life-long, and responsible learners. What isn't usually said, but is implied, is how they – we – desire students who are in love with learning as much as we are.
When teachers get together, they like to tell stories and sometimes those stories are about students who love learning and have incredible experiences as a result. All too often, though, the stories are sad. They might be about a student who is more worried about the two points lost on question #3, than about what may not be fully understood but could be learned. I taught for 26 years in Communication Disorders before taking my current position – and i've had a few students who loved learning but I've had more of the latter, the points students. I've learned a lot from all of them, and a lot about the pathology of teaching and the strength of intermittent reinforcement. I've had just enough of the learners to keep me coming back for more!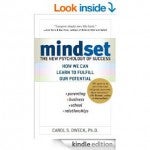 Distinguishing between students in this way isn't quite fair; students are too complex to fit neatly into one of two single dimension boxes. I've always struggled with how to think constructively about them. Recently, someone recommended a book to me, Mindset: The New Psychology of Success, by Carol Dweck. It sounded promising and interesting and I devoured it (yes, I am one of "those"). I have underlined passages, flagged pages, and carry it with me just in case I have time to read a few pages again. As a result, my thinking about, and understanding of, those two types of students is changing.
I'm due to post again in a month – so I'll pick up there where I'm stopping here. Stay tuned!