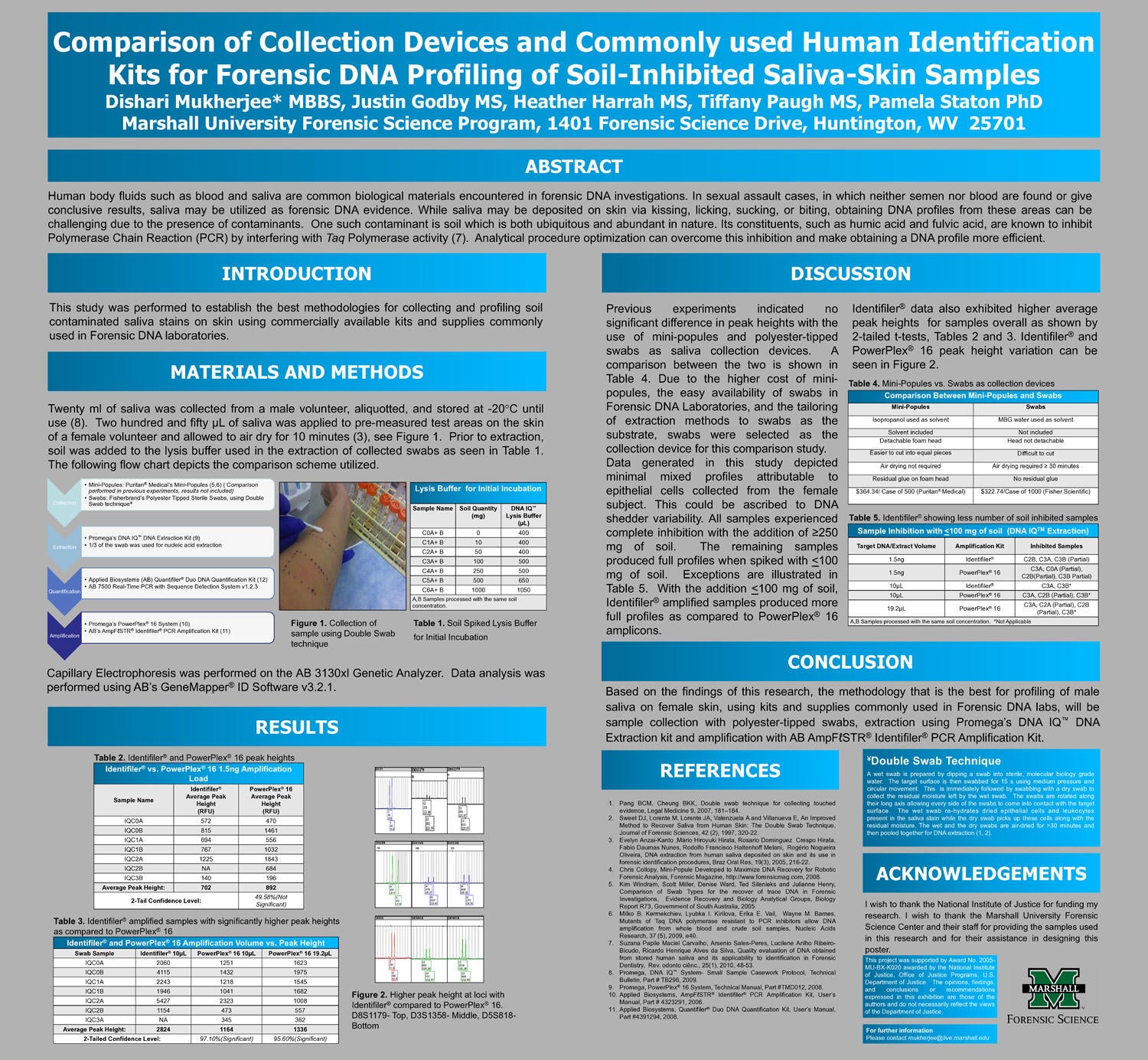 Comparison of Collection Devices and Commonly used Human Identification Kits for Forensic DNA Profiling of Soil-Inhibited Saliva-Skin Samples
Biography:
Dishari Mukherjee hails from Calcutta, India. She graduated in 2008 from Topiwala National Medical College, Bombay, India with a Bachelor of Medicine and Bachelor of Surgery degree. During her undergraduate years, she completed one and a half years of Forensic Medicine and Toxicology coursework. She is currently working towards her Master's Degree in Forensic Science at Marshall University, with emphases in DNA Analysis and Digital Forensics. Her poster presentation is titled, "Comparison of Collection Devices and Commonly used Human Identification Kits for Forensic DNA Profiling of Soil-Inhibited Saliva-Skin Samples", based on the research she conducted during her summer internship. She also gave a poster presentation on the same at the American Academy of Forensic Sciences' Annual Scientific Meeting, Chicago, 2011.
Abstract:
Saliva deposited on skin can be an important source of DNA for profiling in Forensic Investigations.  Unfortunately, human identification from saliva on skin can be challenging as failure to achieve a full-profile is known to result when environmental contaminants are co-collected with the saliva sample. Environmental contaminants present on victim skin surfaces may include soil and dust which are known to be PCR inhibitors. 
The purpose of this study was to identify an optimal series of procedures capable of maximizing the probability of DNA recovery and fingerprinting from soil-contaminated, male saliva stains on female skin.  This study made use of commercially-available kits and supplies typically used in Forensic DNA laboratories. The experiments were conducted after IRB approval for human research was obtained. Male saliva samples were applied to pre-measured areas of female skin. The testing samples were collected after allowing the saliva stain to properly dry.  Two collection devices were tested: polyester tipped sterile cotton swabs (FisherBrand) and sample collection popules (Puritan).  The double swab technique (wet and dry swabs, respectively) was used for collecting saliva samples with the swabs to maximize cell collection.  Various concentrations of soil were added to a portion of the saliva-skin samples after collection. Two magnetic particle based DNA extraction kits: Promega's DNA IQ™ and Applied Biosystem's (AB) Prepfiler™ were compared on the basis of their performance in DNA recovery.  Quantification was performed using AB Quantifiler® Duo DNA Quantification Kit on the AB 7500 Sequence Detection System v1.2.3.  PCR amplification was conducted with two multiplex STR systems: AB's AmpFℓSTR® Identifiler® PCR Amplification Kit and Promega's PowerPlex® 16 System, on the AB GeneAmp® PCR System 9700.  The amplified products were separated on the AB 3130xl Genetic Analyzer.  The data generated was analyzed using AB's GeneMapper® ID Software v3.2.1.  Sample peak height, allelic dropout, and presence of artifacts were taken into consideration when making a determination of the best set of kits for generating DNA profiles of the aforementioned samples. 
Our results indicate that there was no statistically significant difference between popules and swabs as collection devices. DNA IQ™ gave more consistent results as compared to PrepFiler™. Identifiler® outperformed PowerPlex® 16 in the presence of soil PCR Inhibitor. Thus, the recommended methodology for profiling of soil-contaminated male saliva on female skin, using kits and supplies commonly used in Forensic DNA labs, based on the present research, will be sample collection with cotton swabs using the "Double Swab" collection technique, extraction using Promega's DNA IQ™ DNA Extraction kit and amplification with AB AmpFℓSTR® Identifiler® PCR Amplification Kit.
Poster: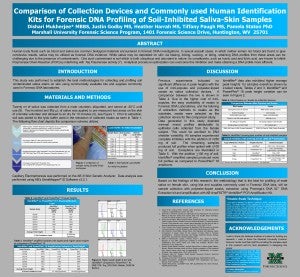 REFERENCES:
Pang BCM, Cheung BKK, Double swab technique for collecting touched evidence, Legal Medicine 9, 2007, 181–184.
Sweet DJ, Lorente M, Lorente JA, Valenzuela A and Villanueva E, An Improved Method to Recover Saliva from Human Skin: The Double Swab Technique, Journal of Forensic Sciences, 42 (2), 1997, 320-22.
 Evelyn Anzai-Kanto ,Mário Hiroyuki Hirata, Rosario Dominguez  Crespo Hirata, Fabio Daumas Nunes, Rodolfo Francisco Haltenhoff Melani,  Rogério Nogueira Oliveira, DNA extraction from human saliva deposited on skin and its use in forensic identification procedures, Braz Oral Res, 19(3), 2005, 216-22.
John W. Bond, Christine Hammond, The Value of DNA Material Recovered from Crime Scenes, J Forensic Sci, 53 (4), 2008, 797-801.
Chris Collopy, Mini-Popule Developed to Maximize DNA Recovery for Robotic Forensic Analysis, Forensic Magazine, http://www.forensicmag.com, 2008.
Kim Windram, Scott Miller, Denise Ward, Ted Silenieks and Julianne Henry,  Comparison of Swab Types for the recover of trace DNA in Forensic Investigations,  Evidence Recovery and Biology Analytical Groups, Biology Report R73, Government of South Australia, 2005.
Applied Biosystems, PrepFiler™ Forensic DNA Extraction Kit, User Guide, Part # 4390932 Rev. 01, 2008.
Applied Biosystems, PrepFiler™ Forensic DNA Extraction Kit, Product Bulletin Human Identification, 2008.
Promega, DNA IQ™ System- Small Sample Casework Protocol, Technical Bulletin, Part # TB296, 2009.
Promega, PowerPlex® 16 System, Technical Manual, Part #TMD012, 2008.
Applied Biosystems, AmpFℓSTR® Identifiler® PCR Amplification Kit, User's Manual, Part # 4323291, 2006.
Applied Biosystems, Quantifiler® Duo DNA Quantification Kit, User's Manual, Part #4391294, 2008.
Silva RHA, Musse JO, Melani RFH, Oliveira RN, Human bite mark identification and DNA technology in forensic dentistry, Braz J Oral Sci., 5,  2006, 1193-7.
Sutlovic D, Gamulin S, Definis-Gojanovic M, Gugic D, Andjelinovic S, Interaction of humic acids with human DNA: proposed mechanisms and kinetics, Electrophoresis, 29(7), 2008, 1467-72.