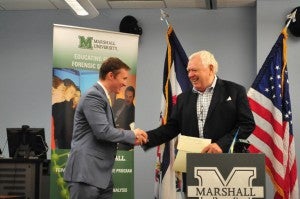 HUNTINGTON, W.Va. – David Preston Miller, a Marshall University Forensic Science graduate student from Dallas, Texas, is the first student from Marshall to receive a prestigious, nationally recognized scientific scholarship award from the J. Edgar Hoover Foundation.
Miller was presented with a check for the $25,000 scientific scholarship Friday, Sept. 26, at the Forensic Science Center by William D. Branon, chairman of the board and director of the J. Edgar Hoover Scholarship Foundation.
Branon said Miller was a very strong candidate for the scholarship with a very impressive background. Along with his achievements of academic excellence and dedication to his interest in forensic science, he demonstrated strong character, professionalism and motivation.
Marshall University President Stephen J. Kopp said the Forensic Science Graduate Program has had many firsts, and Dr. Terry W. Fenger and the faculty have done an outstanding job developing the nationally recognized program that produces graduates who go on to fill leadership roles in the field.  "When you think forensic science, and you think forensic science excellence, it's Marshall University that comes to people's minds immediately," he said. "It's a real source of pride for us."
"Marshall University is honored to have the distinction to be among the educational institutions to have a student as a recipient of this very prestigious national award," Kopp said. "We at Marshall are very proud of Preston Miller for being selected as the recipient of this year's scientific scholarship from the J. Edgar Hoover Foundation."
Miller, 23, is the 14th recipient of the award. He received his B.A. in biochemistry at Vassar College in Poughkeepsie, New York. At Marshall, his areas of concentration in forensic science are digital forensics and crime scene investigation.
Miller said it is a great honor to receive the prestigious J. Edgar Hoover Foundation's scientific scholarship. "Since its inception in 2001, the J. Edgar Hoover Foundation has been assisting students to achieve goals that would otherwise be unobtainable," he said. "I am humbled to have been selected as the recipient for the 2014 year. I would like to thank my family, friends, mentors and, of course, the foundation itself."
He said he chose to attend Marshall because of the Forensic Science Graduate Program's high rankings and flexible curriculum. "Additionally, its unique relationship with the West Virginia State Police (WVSP) permitting graduate students to work in the WVSP Digital Forensics Unit was a deciding factor," he said. Miller has been a graduate assistant providing technical support for the unit since he started his studies at Marshall.
Dr. Terry W. Fenger, director of the Marshall University Forensic Science Center, stated that the quality of the curriculum at Marshall attracts students with high levels of credentials. "Preston is a shining example for other students," he said.
Branon said the foundation awards only one full scientific scholarship each year to a candidate who is interested in pursuing a forensic science-related career in law enforcement.
The foundation's board of directors solicits candidates for the scientific scholarship from colleges and universities with accredited forensic science programs. During the annual meeting of the foundation's board, the candidates are reviewed and a deserving recipient is selected.
Prior winners of the scientific scholarship have been from Ohio University, the University of New Haven, Michigan State University, Saint John's University, the University of California at San Francisco School of Medicine, California State University, Cleveland State University, the University of Georgia, George Washington University (two recipients), Columbia University, Stetson University and the University of Maryland.
Since it was founded the J. Edgar Hoover Foundation has distributed more than $3.5 million for scholarships, grants for education, as well as legal and professional law enforcement training.
The J. Edgar Hoover Foundation is a nonprofit 501(c)(3) organization dedicated to the ideals of fidelity, bravery and integrity promoted by J. Edgar Hoover, who served under seven presidents,  and influenced the professional development of modern law enforcement in the United States.
Click here to watch the presentation of the scholarship award on YouTube!
Recent Releases