For almost 100 years we have been training the journalists and media professionals of tomorrow…
You are not here to learn mediocrity, you're here to learn how to excel.
– W. Page Pitt
Teenage summers working in the Shinnston, West Virginia coal mines ingrained the value of hard work in the character of William Page Pitt. In 1926, Pitt entered a forty-five year relationship with Marshall College, the now Marshall University, with one journalism class of five students. Today, the W. Page Pitt School of Journalism and Mass Communications houses a Bachelor of Arts degree with seven majors and a graduate program accredited by the Association for Education in Journalism and Mass Communications. SOJMC alumni can be linked to US News and World Report, CNN, PBS and a Pulitzer Prize newspaper editor.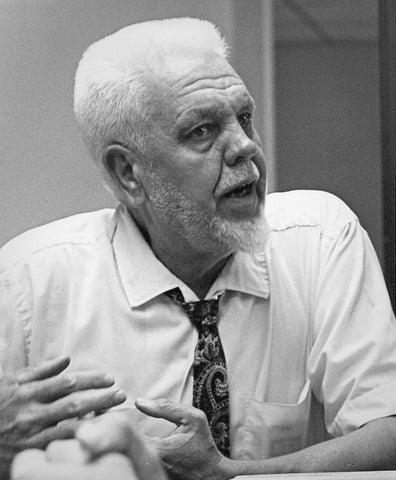 W. Page Pitt and His School
– the West Virginia Hillbilly, April 18, 1980
Although W. Page Pitt was almost blind from the age of five, he never used his blindness as an excuse. He never considered himself handicapped.
It never would have occurred to him to offer excuses for his blindness, and he didn't expect excuses from his students. He wanted results – his watchword for the 45 years he was a professor of journalism at Marshall University.
A New York native who grew up in West Virginia,Pitt had become infatuated with journalism as a college freshman at Muskingum (Ohio) College. By unloading cars in his fathers' coalmines in Shinnston, W. Va., area and free-lancing writing for wire services for the newspapers in Columbus, Cincinnati, and Pittsburgh during the school year, he had worked his way through college.
By age 25, Pitt was eager, capable and confident. Then Marshall College President Morris P. Shawkey offered him a job as a college instructor and to supervise the student newspaper, The Parthenon.
From 1926 to 1971, Pitt, founder of the journalism program at Marshall, had a profound effect on the lives of hundreds, perhaps thousands of student and professional journalists.
His former students include a Pulitzer Prize-winning newspaper editor, a television comedy star, editor of a national news magazine, directors of public relations departments and other journalists in key positions throughout the nation.
The W. Page Pitt School of Journalism has been a part of Marshall University's history and development since 1926.
The W. Page Pitt School of Journalism and Mass Communications' programs and curriculum are based in the conviction that future journalists and mass communicators are best prepared for life and for their careers when they are broadly educated in the liberal arts. The importance of preparing them for the demands of the workplace is recognized as well. Knowledge and skills essential to success in journalism and mass communications are emphasized, with the aim of preparing students for full participation, including leadership, in their professions. In addition, the school's program seeks to promote knowledge and awareness about mass communications among students who do not intend to pursue careers in one of the mass communications fields. Students in journalism and mass communications majors will learn
how to gather, write, edit, package, and present information and entertainment in a multimedia context
how the field of mass communications changes and evolves and how to adapt accordingly
how to make responsible and effective decisions
the roles, effects, and impacts of mass communications in society
The school offers a Bachelor of Arts degree in three majors that house eight emphases:
Advertising/Public Relations

Advertising emphasis
Public Relations emphasis
Journalism

Broadcast emphasis
Multimedia emphasis
Sports emphasis
Media Production

Radio/television production and management emphasis
Video production
Professionally oriented courses and laboratory experiences are combined with extensive liberal arts preparation to provide students with the background necessary for employment in mass communications. The program is accredited by the Association for Education in Journalism and Mass Communications.