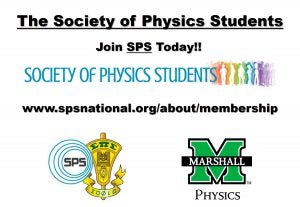 Click the following  link to receive information about the Society of Physics Students upcoming  fall 2020 through spring 2021 speaker series, "Faces of Physics":
https://forms.gle/3tjMMBo81sHjwmTb7
Dr. Kandice Tanner — Center for Cancer Research, National Cancer Institute — March 17, 2021, 7pm https://youtu.be/SUKVo2JT260
Dr. Abel Mendez — Planetary Habitability Laboratory at University of Puerto Rico at Arecibo — Feb. 16, 2021, 7;00 pm https://youtu.be/fIO0YOaoTac
Dr. Bryan Kent Wallace — Fisk University —  Jan 20 2021, 7:00 pm https://youtu.be/2ZyLg_sTX88
Karen Perez — Columbia University — Dec. 1, 2020, 7;00 pm – https://youtu.be/jSqbbH9Vzbg
Dr. Lewandowska — Haverford College — November 18th, 7:00 pm – https://youtu.be/aiSUmw3b4rk
Dr. Abel Mendez — Planetary Habitability Laboratory at University of Puerto Rico at Arecibo — Feb. 16, 2021, 7:00 pm https://youtu.be/fIO0YOaoTac. Bio: Professor Abel Méndez is a planetary astrobiologist and Director of the Planetary Habitability Laboratory at the University of Puerto Rico at Arecibo. His research focuses on the habitability of Earth, the Solar System, and extrasolar planets. Prof. Méndez is a NASA MIRS Fellow with physics and astrophysics research experience at Fermilab, NASA Goddard, NASA Ames, and the Arecibo Observatory. He is best known for developing the Earth Similarity Index, the Visible Paleo-Earth Project, and maintaining the Habitable Exoplanets Catalog, a database of potentially habitable worlds. He is also co-author of the popular science book Searching for Habitable Worlds. His research has been highlighted by many international publications such as National Geographic, Scientific American, and Discover Magazine. Prof. Méndez is currently working on theoretical models of the suitability for life of planetary environments, the characterization and detection of potentially habitable exoplanets, and the observation of radio emissions of red dwarf stars from the Arecibo Observatory. He is very active on Twitter sharing astrobiology news as @ProfAbelMendez.
Dr. Kandice Tanner — Center for Cancer Research, National Cancer Institute — March 17, 2021, 7pm https://youtu.be/SUKVo2JT260 . Bio: Kandice Tanner received her doctoral degree in Physics at the University of Illinois, Urbana-Champaign under Professor Enrico Gratton. She completed post-doctoral training at the University of California, Irvine specializing in dynamic imaging of thick tissues. She then became a Department of Defense Breast Cancer Postdoctoral fellow jointly at University of California, Berkeley and Lawrence Berkeley National Laboratory under Dr. Mina J. Bissell. Dr. Tanner joined the National Cancer Institute as a Stadtman Tenure-Track Investigator in July, 2012, where she integrates concepts from molecular biophysics and cell biology to learn how cells and tissues sense and respond to their physical microenvironment, and to thereby design therapeutics and cellular biotechnology. She received tenure at NIH in 2020. For her work, she has been awarded the 2013 National Cancer Institute Director's Intramural Innovation Award, the 2015 NCI Leading Diversity award, Federal Technology Transfer Award in 2016 and 2018, the 2016 Young Fluorescence Investigator award from the Biophysical Society and named as a Young Innovator in Cellular and Molecular Bioengineering in 2016 by the Biomedical Engineering Society.
Marshall University's Society of Physics Students is hosting the
Faces of Physics Speaker Series
from November 2020 through May 2021. Would you like to learn more about the search for life in space, planets around other stars, the quest to understand and cure cancer, mysterious outer space clocks called pulsars, and get a chance to meet and ask questions to brilliant scientists who are asking big questions and making exciting discoveries? Then please join us for the Faces of Physics Speaker Series, hosted by Marshall University's Society of Physics Students from November 2020 through May 2021. Each month, a guest speaker will give a 30-minute talk on their current research, followed by a Q&A session with attendees. The talks will be held virtually through YouTube Live and are free and open to the public, and will be appropriate for all ages. The goal of the event is to highlight the work of researchers from underrepresented groups to promote inclusion and inspire the next generation of scientists to see a place for themselves in the exciting field of physics. To stay up to date on information pertaining to the event, sign up for the mailing list above or follow Marshall University Physics on Facebook (@MUPhysicsDept).
About The Society of Physics Students (SPS)
The Society of Physics Students (SPS) is a professional association open to anyone interested in physics. One does not have to be a Physics Major to be a member.
At the global level, SPS members include not only physics majors, but also students and professionals in astronomy, chemistry, computer science, engineering, geology, mathematics, medicine, and other fields. Within SPS is a separate association, Sigma Pi Sigma. Sigma Pi Sigma is the national physics honor society, which elects members on the basis of outstanding academic achievements.
Here at Marshall, as of fall 2019, our SPS organization is mostly comprised of physics majors; however, we are always looking to recruit from other majors, especially those in science education or STEM related fields. The main objectives of SPS at Marshall are to have fun as a group. We encourage interested students in the sciences, and physics in particularly, to develop and grow in their knowledge base of science and physics related research, develop a strong collegiate bond between faculty and students, promote public interest and awareness in science in general and specifically physics, and recognize high levels of student achievements by means of a Sigma Pi Sigma induction.
In fall 2019, decided by the then current SPS members, it will be more of an outreach student organization, either focusing efforts on assisting with the outreach activities currently conducted by Dr. Sean P. McBride, or by others in the Physics Department, or assisting with the the group's own outreach activities that they devise. The group will mostly focus on fundraising activities in an effort to save money to go on a fun/cool/educational trip at the end of either the semester or academic year depending on how much money is raised. At the end of every semester would be ideal for a trip. This trip could be to a national lab/school/graduate program/etc. An additional goal for SPS will also be networking for the students for future employment. So, meetings will likely host speakers from industry and discuss fundraising opportunities.
Check us out on Herdlink: https://herdlink.marshall.edu/organization/society-of-physics-students
Also, check out the Marshall Physics Facebook Page
Physics Department and National SPS Scholarships and Awards Available!
Click here to link to Marshall's Physics Department Scholarship Page for all scholarships available to current Marshall students and ones specifically for current Marshall physics students, including ones available for SPS members. For a more in-depth presentation of the benefits of being an SPS member click here. Click here to find out information on national SPS deadlines for awards and scholarships.
History
The Society of Physics Students was formed in 1968 with a constitution that combined its two "parent" organizations, The AIP Student Sections and the Sigma Pi Sigma honor society. SPS now has over 800 chapters on campuses across the country. The associated honor society, Sigma Pi Sigma, now exists in about 575 of those chapters with over 90,000 inductees throughout its history.
Purpose and Mission
SPS is a chapter-based society that exists to help students transform themselves into contributing members of the professional community. Traditional coursework develops only one range of skills. Other skills needed to flourish professionally include effective communication and personal interactions, leadership experience, establishing a personal network of contacts, presenting scholarly work in professional meetings and journals, research experiences, and outreach services to the campus and local communities. Through its members, advisers, chapters, and leadership, SPS enables national initiatives and local impacts within the community. Locally, regionally, nationally, and internationally, the SPS offers the opportunity for these important enrichments to the student's experience.
Want to become a Member?
If you want get involved in SPS and eventually become a member, contact Dr. Sean P. McBride (mcbrides@marshall.edu), current SPS faculty advisor as of August 2017 (mcbrides@marshall.edu) or go to one of the SPS meetings. Bring a friend. If you really want to get involved in SPS and have a leadership role as a SPS member, which looks great on resumes for grad school, you are encouraged you to apply for an officer position. Meeting times and locations change each semester, contact Dr. McBride for the most current information. All majors are welcome an academic ranks from freshmen to seniors!
Current Officers: Jackie Sizemore (President), Ellie White (Vice President), Andy Prostor (Treasurer), and Dr. Sean P. McBride (interim Secretary)
SPS Advisor: Sean P. McBride (mcbrides@marshall.edu), Assistant Professor, Physics
SPS at Marshall is a Nationally Recognized Student Organization
Marshall University's SPS Organization has been nationally recognized the last three consecutive academic years by the National SPS Office. When you see a student member of the Society of Physics Students, make sure to congratulate them on earning the title of a Distinguished Society of Physics Student Chapter for the 17-18 and 18-19 academic years and  an Outstanding SPS Chapter for the 2019-2020 academic year! A Society of Physics Students Outstanding Chapter is the highest level of distinction given to our chapters and is received by less than 15% of our top chapters annually, with just 96 of 844 chapters so honored this 2020 year. "We at the SPS National Office want to take this opportunity to commend and applaud you for your tireless efforts to enrich the SPS community. It is because of your dedication and commitment to the SPS mission and vision that we are able to foster such a strong SPS community" – Brad R. Conrad, Ph.D., Director, Society of Physics Students & Sigma Pi Sigma (ΣΠΣ).​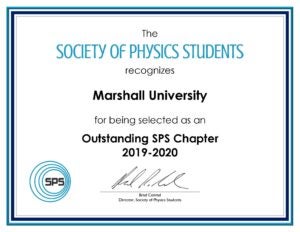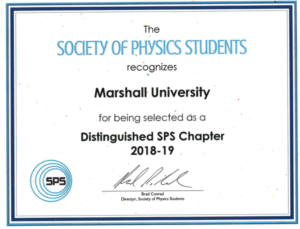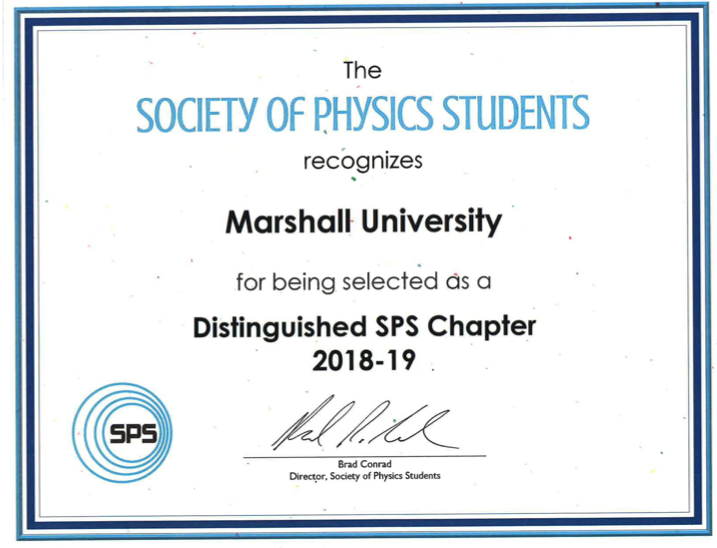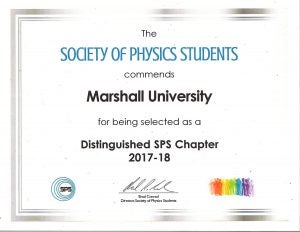 Fundraising
Fundraising is also and important aspect for our SPS group. The money raised will allow the group to tour graduate research programs and/or national research laboratories along with buy supplies for national build competitions. See below flyers for our current YETI Fundraiser which is extended until the start of the fall 2020 semester due to COVID19. Also, see the Upcoming Events link on the Physics Department homepage for events that SPS will likely be participating in. Below we see past SPS member selling coffee and donuts on Buskirk field to raise money for these purposes. As shown below, Physics Department T-Shirts and Sweatshirts are available as well, see Dr. McBride in Room S152 in the Science Building. Suggested donations are $15 for a T-Shirt and $20 for a sweatshirt.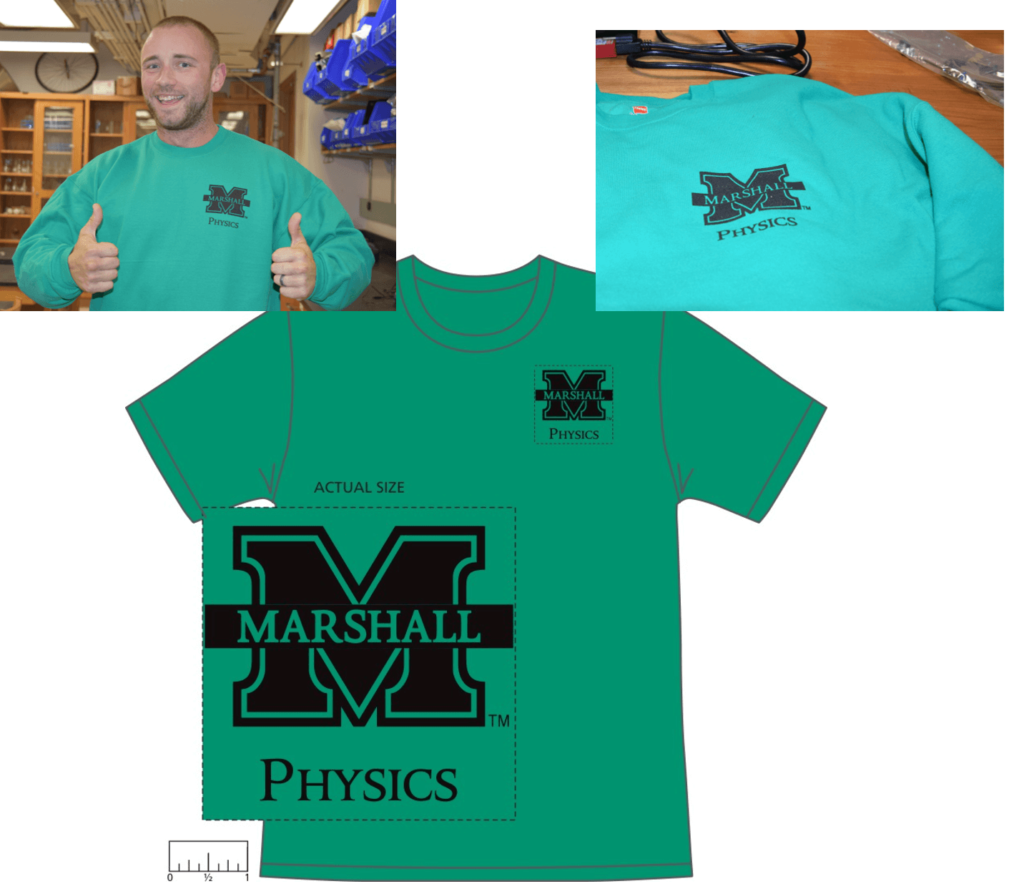 SPS Activities, Awards, Outreach, and Recruitment
SPS President Awarded a SURE Summer 2020 Scholarship
Jeremy McCloud will continue his research using with Dr. McBride in summer 2020. He was awarded a SURE (Summer Undergraduate Research Experience) summer scholarship to continue his work with Dr. McBride. Jeremy's research focuses on functionalizing commercial filters to enhance rejection of molecular dyes. This SURE program "encourages promising young researchers in the fields of science, technology, engineering and mathematics. By providing support in the form of a stipend for a 10-week period, students can continue their research during the summer. The SURE program seeks to encourage students who intend to pursue graduate degrees in these high-tech fields."
SPS Member Ellie White Awarded Prestigious Goldwater Scholarship
SPS member Maria "Ellie" White has been named one of 396 college students this year to receive a prestigious Goldwater Scholarship. The scholarship, a partnership between the Department of Defense National Defense Education Program and the Barry Goldwater Scholarship and Excellence in Education Foundation, is one of the highest honors undergraduates in STEM fields can receive. Established in 1989, the Barry Goldwater Scholarship has awarded over 8000 scholarships. Their stated mission is to "identify and support college sophomores and juniors who show exceptional promise of becoming this Nation's next generation of research leaders in these fields." Ellie has kept busy this past academic year with attending and presenting at various meetings: (1) the Mid-Atlantic Regional NASA Space Grant Consortia Meeting in Charleston, WV, (2) Astronomy and Mentorship: Our Bridge to the Future", a TEDx talk, presented at Marshall University's March 2020 TEDx event, "Bridges", (3) the Conference for Undergraduate Women in Astronomy, Morgantown, WV, (4) the Mid-Atlantic Regional NASA Space Grant Consortia Meeting,Charleston, WV, (5) the West Virginia Science Teachers Association Fall Conference in Charleston, WV, and (6) the 2019 Appalachian Section of the American Association of Physics Teachers Meeting. Ellie has recently published in Radio Astronomy: Journal of the Society of Amateur Radio Astronomers. Nov.–Dec. issue, pp. 29-39 and had coauthored work presented at the 235th American Astronomical Society Meeting, Honolulu, HI, USA, Jan. 4-8, 2020. Ellie White received a NASA WV Space Grant Consortium internship for summer of 2019 and worked on a radio astronomy instrumentation project under the advisement of Dr. Richard F. Bradley from the National Radio Astronomy Observatory's Central Development Laboratory. She was selected as one of ten undergraduate interns to work (remotely) for the UC Berkeley Search for Extraterrestrial Intelligence (SETI) Research Center for the summer of 2020, and as of this spring she has been awarded a NASA WV Space Grant Consortium Yearlong Fellowship for undergraduate research for the 2020-2021 academic year. Ellie also received the MU Physics Department's Outstanding Undergraduate Award for the 2018-2019 & 2019-2020 academic years, as well as the Alva and Dixon Callahan Scholarship for 2019-2021.
SPS President Awarded Academic Achievement Award
In Spring 2020, SPS President Jeremy McCloud, was awarded the Academic Achievement Award from the Physics Department. The Physics Department Scholarship and Award Committee also wanted to present Jeremy with the Dr. Thomas J. and Mary Manakkil Scholarship, which would go directly toward tuition fees in the 2020-2021 school year, but Jeremy has made to make the difficult decision to switch to Engineering in the fall 2020 semester, thus he would not be eligible for the award. Both awards were based on academic performance and academic standing.
SPS Members Help With Logan High School Motor Workshop
SPS Members Andy Prostor, Mckenzie Granata and Jeremy McCloud assisted Dr. McBride with a Motor Madness Workshop with Logan High School students on March 11th, 2020. In this workshop students got to build Beckman Motors and learned how electric currents, magnetic moments, and applied magnetic fields interact to produce a torque in a motor. The students got to take home their motors home and the winners with the fastest motors received an official Physics Department T-shirt. Everyone enjoyed themselves. The aim for the motor madness workshop was such that the experience would encourage and strengthen the student's interest and curiosity in science and in particular physics (and have fun in the process with a little friendly competition).
SPS Members Help With 2019 & 2020 WV Science Olympiad
SPS members assited the SPS advisor who is also the WV State Co-Director for the 2020 WV Science Olympiad at the State Tournament on February 29th at Marshall University. Jeremy McCloud ran the Sound of Music event as an event supervisor, Rae Stanly and Jayden Leonard ran the Wright Stuff event as event co-supervisors, and Jackie Sizemore ran Code Busters as an event supervisor. SPS member Rae Stanley also was a volunteer and assisted to help the event supervisor for the Mouse Trap Vehicle and Wright Stuff evenst at the West Virginia 2019 Science Olympiad hosted at Marshall University.
SPS Named as Marshall University's Most Improved Student Organization, Award Presented in Spring 2020
At the start of the spring 2020 semester, out of all student organizations on campus, the Marshall University SPS group was honored to be named Marshall University's Most Improved Organization Award for the 2019 year (in fall 2017 it had one member and $84 and not active). The entire group was invited to attend the 41st Annual Awards Ceremony at Marshall University in Huntington, West Virginia, January 24th 2020. Our SPS advisor was also honored to accept the invitation to be the keynote speaker for the event. Dr. McBride's address focused on "Highlighting students' success gained from leadership roles and experiences in student organizations to the job market after Marshall".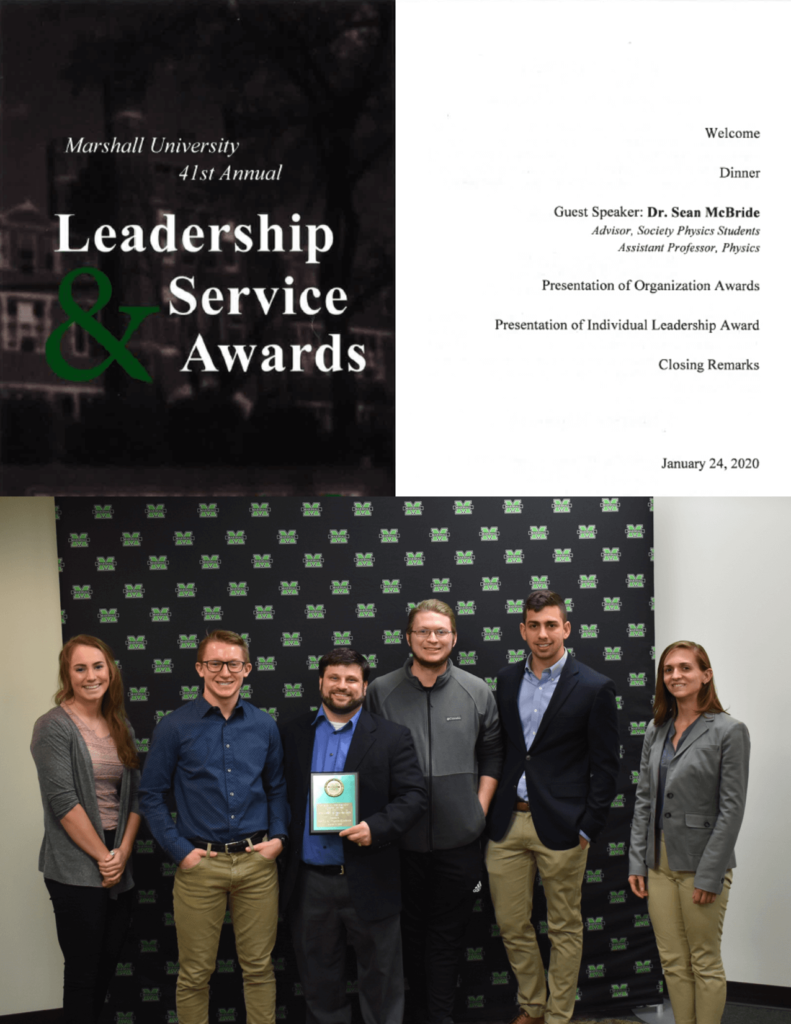 Three SPS Members Awarded NASA Student Fellowships for Spring 2020
In spring 2020, three SPS members received NASA Student Fellowships funded by the Marshall University NASA Space Grant Advisory Committee for $1000 each. These students worked with SPS Advisor Dr. McBride in his laboratory in spring 2020:
(1) Jon Keaton, "Mechanical properties of freely suspended self-assembled nanoparticle membranes."
(2) Mckenzie Granata, "Applying Young's Modulus to Clinical Orthopedics and Sports Medicine." Mckenzie also secured an additional funding of $250 through the Marshall University Research Committee for her research.
(3) Jeremy McCloud, "Functionalizing Commercial Filters to Enhance Rejection of Molecular Dyes."
Marshall SPS Awarded the 2019-20 Future Faces of Physics Award
The SPS National Office awarded the Marshall SPS group with a Future Faces Award. These national awards go to SPS chapters to support projects designed to promote physics across cultures. The goal of the Future Faces of Physics Award is to promote the recruitment and retention of people from groups historically underrepresented in physics. The financial award will be used to host a talk titled "Astrophysics in the Appalachians: A Perspective on Pulsars" by Dr. Natalia Lewandowska. Dr. Lewandowska is a female Astrophysicist and postdoctoral fellow of West Virginia University. She was scheduled to visit Marshall's Huntington campus in Spring 2020 to give one public lecture and one colloquium-style talk for faculty, staff, and students of Marshall's Department of Physics. This announcement has been featured in nationally distributed Spring 2020 edition of Radiations, the official publication of Sigma Pi Sigma. The event was postponed due to COVID-19. SPS vice president Jacquelyn Sizemore, member Ellie White, and president Jeremy McCloud worked together to assemble an application for the Future Faces award, and were honored to be selected as award recipients.
Marshall SPS at PhysCON 2019
SPS members Ryan Vincent, Jon Keaton, Rae Stanley, and Jayden Leonard attended PhysCON 2019, Downtown Providence, RI. November 14-16th, Rhode Island Convention Center. Jon and Ryan also presented at the SPS event "Invitation to Breaking Boundaries" at PhysCON and contributed a poster illustrating what the SPS grouop means to the Marshall SPS chapter and emphasized the outreach and successes of the Society of Physics Students group at Marshall University in an effort to help other groups.
WV Science Public Outreach Team (SPOT)
Through spring 2020 SPS members Jayden Leonard, Rae Stanley, and Ellie White are WV Science Public Outreach Team (SPOT) ambassadors, and regularly attend training and speak to students across the state about physics, astronomy, and other science topics. SPOT student Advisor at Marshall is Dr. Jon Saken.
SPS Members Help With The Annual A-AAPT Meeting Held at Marshall University, November 7th – 9th, 2019
SPS members assited and provided talks at the 2019 A-AAPT (Appalachian Section of the American Association of Physics Teachers) meeting. SPS Advisor Dr. McBride was the co-organizer of the event on campus helping Dr. Maria Hamilton to organize the event. The Keynote Speaker was former astronaut Dr. Don Thomas. The meeting commemorated the 50th anniversary of the first moon landing. The conference was open to students and high school teachers from throughout the region. It started at 7 p.m. Thursday, Nov. 7, in Room 154 of Smith Hall and was free and open to the public. A reception followed in the Birke Art Gallery Atrium, with the Birke Art Gallery in Smith Hall holding special hours of 6 to 9 p.m. for the event. Bo Lowrey, a NASA solar system ambassador, also provided a free talk open to the public as part of the A-AAPT conference. The meeting had talks and workshops presented by local educators from surrounding high schools and universities. Thank you to the Society of Physics Student members Ryan Vincent, Ellie White, and Jackie Sizemore for assisting in providing Scanning Electron Microscope/Atomic Force Microscope tours and assisting with conference registration. The following SPS membrers presented at the conferences: Ryan Vincent, "Size Selective Filtration Using Gold Nanoparticle Self-Assembled Monolayers on High-Flux Silica Nanoparticle Substrate". Jayden Leonard, "Electronic Structure of Negative Trions in Semiconducting Quantum Dots." Rae Stanley, "Checking Your Answers: The Opaque Process of Accessing Open Source Data, Exemplified by the Kepler Space Telescope." Ellie White , "Detecting Solar Flares with a Classroom Radio Telescope."
Conference for Undergraduate Women in Astronomy (CUWiA) at West Virginia University on November 1-3, 2019
SPS Vice President Jacquelyn Sizemore and SPS members Maria Ibarcena-Woll and Ellie White attended the inaugural Conference for Undergraduate Women in Astronomy hosted at West Virginia University. (Distance traveled: 414.2 mi round trip from MU to WVU).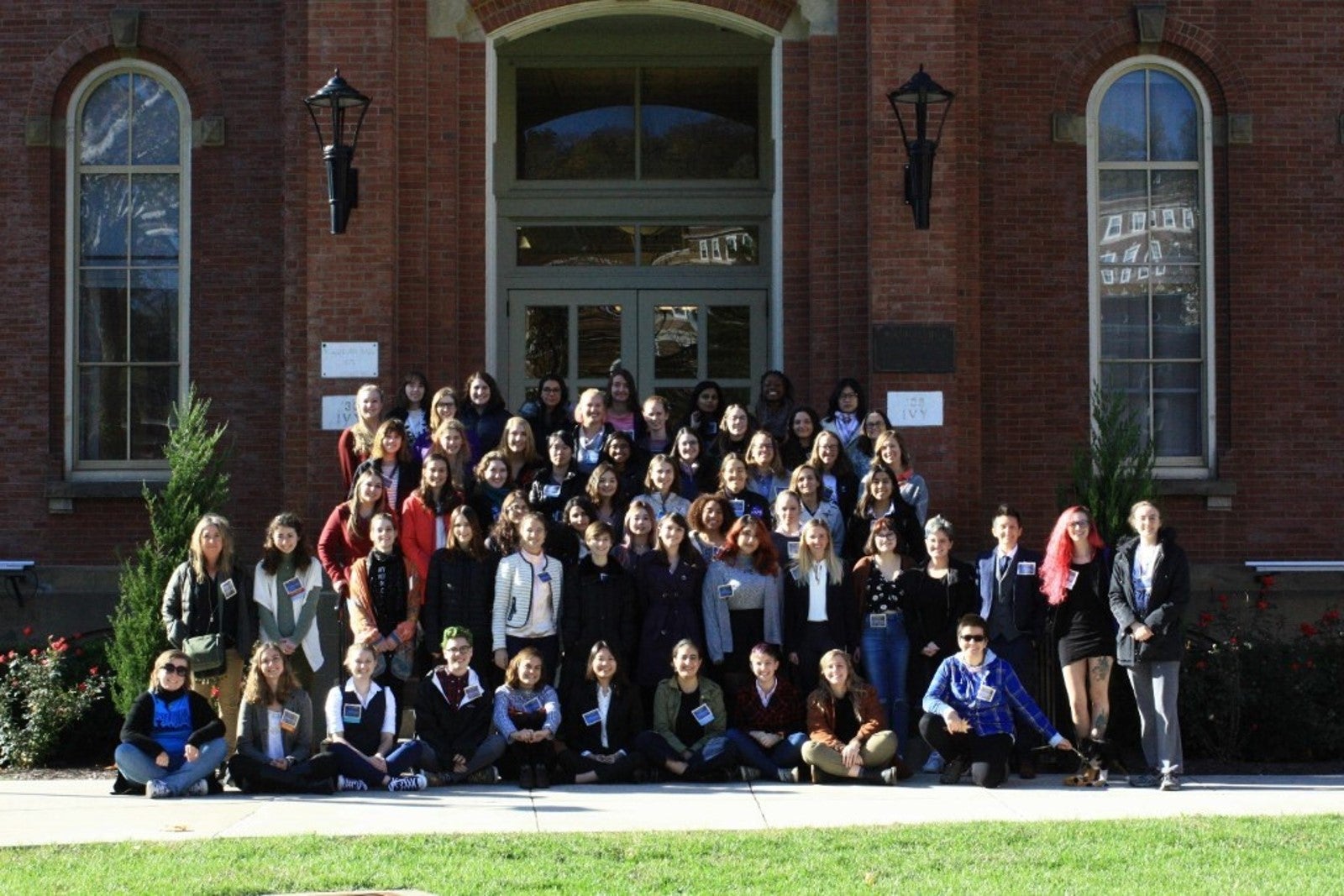 Demo Show for Wayne Elementary 11-1-2019!
Our SPS adviser, with help from his wife, Dr. Sachiko McBride in the physics department and previous SPS member Tabby Collins (17-19), put on a demo show for Wayne Elementary in November of 2019. I am not sure who enjoyed themselves more the morning of the demo show, the students from Wayne Elementary, or Drs. Sean and Sachiko McBride, both Assistant Professors in the Physics Department. The genuine reactions that the students displayed showed just how much they enjoyed the science demos. The students from Wayne elementary were a great group of students and super eager to be volunteers to participate in the science demos. They got 'see' sound with fire, walk on a non-Newtonian fluid, see Bernoulli's principle in action, and much more. Overall a great energetic group of students!
SPS Members Help With High School Physics Day October 18th, 2019
High School Physics Day October 18th 2019 was a massive success. Nearly 400 students and teachers from across the tri-state gathered at Marshall University for High School Physics Day to see cool physics demos performed live in small groups by physics faculty and students! I have received an enormous amount of positive feedback from the students and HS teachers. The event would not have been possible without the help of the Physics Department, SPS, and much support from the University. Here are some responses about the event, "Dr. McBride – Thank you so much for today! The kids really enjoyed it, and were talking about the things they saw while we ate liquid nitrogen ice cream cones at our last stop. I think they were surprised how much fun physics could be. So, thank you, thank you, thank you! Clare, St. Joe High School." "Hi Dr. McBride…Thanks for including us in your event. I've already collected 8 applications and we are only halfway through the event. Ella, Sr. Associate Director of Admissions for Recruiting for Marshall University." "We are so appreciative of the opportunity to help sponsor this wonderful physics day! What a great turnout and the demos were amazing – I loved the musical choices especially 😄 [for the Rubens tube]. The students are learning so much and having fun doing it- really a great job! Thanks, and have a wonderful weekend, Debbie, Rural Outreach Director for the JCESOM". "I would love to attend but I am out of town. Good luck and thanks for your efforts." Board of Governors member. "Thanks everyone! Sincerely appreciate the comradery on events such as this. Sincerely appreciate your effort on this Sean, I know pulling these events together is a great deal of work, but very rewarding. Thanks for getting your team there Ella! Hope everyone has a great weekend! Jaime Taylor, Provost/Senior Vice President for Academic Affairs". The university sponsored nearly $1,500 through the Sodexo Catering Fund to cover the food costs and the Joan C. Edwards School of Medicine at Marshall University donated, $1,000 for supplies needed for demos. Mr. Vincent, who demonstrated the new Scanning Electron Microscope for the event, was further featured in an article demonstrating how he connects his research efforts with the younger generation while working with Dr. McBride. See article here: Marshall graduate student works to connect research with a younger generation, West Virginia Science & Research, EPSCoR RII Track-1 News, 2019.
Fall 2019 Sigma Pi Sigma Inductees
Recent inductees to Sigma Pi Sigma in Fall 2019 were Ryan Vincent (SPS member), David Facemyer, Jayden Leonard (SPS member), and Dillon Buskirk. The ceremony was held at The 3rd Annual Physics Research Orientation and BBQ on Wednesday October 16th from 5 pm to 8 pm at the St. Cloud Commons Lodge at 1701 Jackson Ave., Huntington, WV 25704.
SPS trip – Green Bank Observatory – 10/05-06/2019
Marshall University's chapter of the Society of Physics Students, SPS, just completed a two-day field trip to Green Bank Observatory, GBO, this past weekend October 5th-6th. The Green Bank Observatory is located in the National Radio Quiet Zone (NRQZ). A total of 6 physics majors (all SPS members) and one engineering major belonging to MU Space went to GBO this past weekend. Fun was had by all. Students of the group, along with Faculty Advisor to SPS, Dr. Sean P. McBride, got a rare chance go up on the 485-foot-high receiver of the Green Bank Telescope (not for the faint of heart by any means, you can see straight down through the metal grating at 485 feet above the ground), pretty awesome! Special thanks goes to SPS member Ellie White who played a large role in the organization of trip and has spent significant time at GBO doing research in radio astronomy over the years. Students on the trip also got to control a 40-foot radio telescope by themselves, collecting data, measuring the spectrum of neutral hydrogen coming from space at a frequency of 1420.4 MHz in the early morning hours on Sunday. The students also got to control a 20 meter diameter telescope remotely from the control room at Green Bank. Overall, both an exciting and educational trip!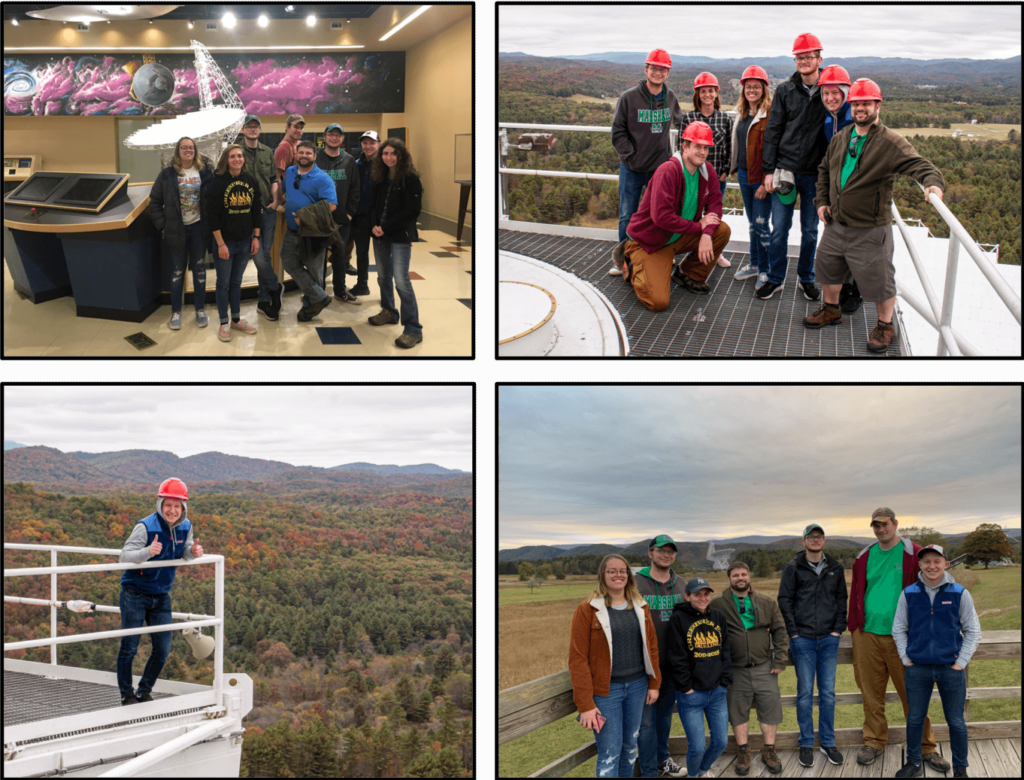 SPS Member Assists at 2019 & 2018 Kanawha County College Fair
SPS member Ryan Vincent's efforts were greatly appreciated at the fall 2019 Kanawha County College Fair. For nearly the third straight days in a row, the College of Science and the Physics Department from Marshall University have reached out to local juniors and seniors in surrounding high schools to help convey the opportunities that Marshall University has to offer. The Kanawha County College Fair is held at the beginning of October every year at the Charleston Civic Center. Participating schools were Charleston Catholic, Cross Lanes Christian, Elk Valley Christian, South Charleston, Herbert Hoover, Nitro, Carver, Ben Franklin, Virtual, St. Albans, George Washington, Sissonville, Clay, Riverside, and Capitol. A special thanks goes out to Ryan Vincent for assisting in representing the Physics department, the College of Science, and Marshall University.
SPS Member Assists at Green and White Days 09/29/2019
SPS member Ellie White assisted with the first Green and White Day for the Fall 2019 semester (9-29-2019). The Physics Department always has cool demos for prospective students to experience and play with at Green and White Day! Along with cool demos, we have lots of information on career paths in physics, starting salaries in the job market, and information on further graduate education in physics.
Creative Discovery and Undergraduate Research Award in the Summer of 2019
SPS Vice President Jacquelyn Sizemore was awarded the Creative Discovery and Undergraduate Research award in the summer of 2019 to work with Dr. Thomas Wilson in the Physics Department at Marshall University on updating and interfacing with a high-voltage capacitor charging supply for a far-infrared CO2 laser. The Undergraduate Creative Discovery and Research Scholar award program provides Marshall University students with an opportunity to pursue original creative work, scholarship or research, under the mentorship of a full-time faculty member.
SPS Members Become Physics Department Tutors
Four of our SPS members were also tutors for the Physics Department (Rae, Jayden, Jeremy and Jon), between the four of them they held 9 hours of tutoring in the fall and spring semesters, which was free for the students for all 100 and 200 level physics classes.
Unfortunately, due to COVID-19, planned SPS research presentations and recruitment events associated with Marshall University and planned SPS trips had to be cancelled:
03-14-2020 Upward Bound Motor Workshop, 10:15-11:15 am, to be hosted at Marshall University run by Dr. McBride
04-16-2020 Lab Day, at Poca High School, put on physics demonstrations for K-5th graders, was to assist Dr. McBride.
04-17-2020 Marshall University Research Expo, minimum of 3 research posters to be presented by 3 different SPS members (Jon, Jeremy, and Mckenzie).
04-17-2020 MU Physics Department Convocation Day, minimum of 3 student research talks given by SPS members (Jon, Jeremy, and Mckenzie).
04-18-2020 Science Blitz, hosted at Marshall University, College of Science, Science and physics demonstrations for kids. Specifically, SPS runs an in-house built Hovercraft every year for this event. This event is open to the public.
04-21-2020 STEAM Knight, 4:00-7:00 pm, to be hosted at Cabell Midland High School, Science and physics demonstrations for kids. Jon Keaton was to assist Dr. McBride with show casing a portable Atomic Force Microscope. This event is open to the public.
SPS group Trip to University of Kentucky and Oak Ridge National Laboratory were in the planning stages as COVID hit and were dropped as the trip was planned for the end of the spring 2020 semester which we all knew would have to be cancelled.
SPS Activities by Academic Year
Some information in the "About The Society of Physics Students, Purpose and Mission, and History" sections are provided by: www.spsnational.org
SPS Webpage Maintained by Dr. Sean P. McBride, Faculty Advisor of the Marshall University SPS Chapter.
Contact Dr. Sachiko McBride if you have trouble accessing the Physics Department website or experience errors. Questions about the content can be addressed to Dr. Sean McBride