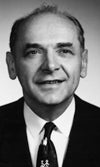 When John D. Williams resigned in the summer of 1946, Stewart H. Smith, dean of the Teachers College, stepped in as interim President while a search was made to find Williams' replacement. At the end of the 1946-1947 school year he accepted the permanent position as the College's seventh President. His appointment would begin his career as Marshall's longest sitting president, twenty-two years.
During those years Smith oversaw the expansion and growth of the college, both in enrollment and in physical plant. Enrollment rose from 3,500 to 8,500 while he was President. One of his early successes was the creation of the Graduate School in 1948 with its own Dean. The College of Applied Science was also established in 1960. A number of buildings were constructed including the Science Building, Freshman Women's Dormitory (Prichard Hall), Physical Education Building (Gullickson Hall), University Heights, South Hall (Holderby Hall), and the Academic Center and Music Hall (Smith Hall), as well as renovations to the Shawkey Student Union, Morrow Library, Laidley Hall, Old Main, University Heights, and Fairfield Stadium. When asked about the growth of buildings on campus, he replied, "To me, these are just necessary facilities. The real university is the students, the faculty—the people who make it up." His most outstanding achievement was his long-term battle to get University status for the College; he "was its biggest proponent." He remembered vividly the moment in 1961 when he heard the news. Jubilant students congregated outside his office in Old Main and wanted him to speak. He was so overcome that he recalled: "I couldn't talk. I couldn't form a word. I guess I said something." He had almost given up and it came as "an emotion shock I couldn't get over for quite awhile." After a fulfilling career as President of both Marshall College and Marshall University, he announced his retirement in November 1967 to take effect on July 31, 1968.
Stewart H. Smith, the son of Albert E. Smith and Annie M. (Leicht) Smith, was born on a dairy farm on September 19, 1904, at Glen Rock, Pennsylvania. The hard work on the farm did not appeal to him, and he recalled that he and his brother stated, "This isn't for us." He first attended a one-room school and then graduated from York High School in 1922, after which he attended a summer session at the State Teachers College at Millersville, Pennsylvania. With this experience he began to teach in a one-room school in York County. In 1927 he graduated with a bachelors of science degree from Gettysburg College, and took a job teaching English in a high school at Somerville, New Jersey. In 1929 he transferred to a high school at Hackensack, New Jersey, where he remained until 1931. That same year he accepted a position as Supervising Principal of Schools at Roxbury, New York. In 1932 he obtained a masters degree in administration from Columbia University. In 1934 he took over as Supervising Principal of Schools at Middleburgh, New York, where he remained until 1945. During the summers he took classes at Syracuse University in school administration, receiving his Ph.D. in 1943.
In 1945 Smith accepted the position as Dean of the Teachers College at Marshall College, and the following year he became the Acting President, and in 1947 the President. After his resignation in 1968, he worked as vice president of public relations at the First Huntington National Bank until about 1972 when he moved to the Huntington Auto Club as a vice president, where he worked until he retired in 1975. He was married to Evelyn Marion Hollberg and they had three sons and a daughter. He died on December 13, 1982, at the age of seventy-eight. Robert Hayes, President of Marshall University, stated, "Stewart Smith long will be remembered for his many achievements as president of Marshall College and Marshall University."
Principals
Presidents
Bibliography With Source Notes
Created by Lisle Brown, former Curator Special Collections
Exhibits By Category
CONTACT
OTHER RESOURCES