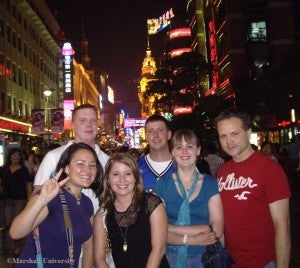 Leading a student program abroad can be an extremely rewarding experience for any faculty member. In taking a group of students abroad you can enhance any course and bring their academics to life right before their very eyes. Planning this kind of program can be extremely time-consuming and slightly overwhelming, which is where the Office of Study Abroad comes into play.
In order to create an effective and strong program it is best to give yourself at least 12 months to plan. It is important to meet with Tyler Sharp in the Study Abroad Office early on so the office can be well informed of your plans and assist you in the development of your program.
Here are some important things to consider when planning out your program:
Course and Location
Consider what kind of course you would like to offer and where you would like to travel to for your program. It is suggested that you choose a location based on your own personal interest or research. Perhaps you have done extensive research on a particular region or sometimes it is wise to choose a location that will be popular among the students.
Advertisement and Recruitment
It is important to identify the group of students you will be targeting to recruit for your program. Are you focusing only on students studying the major or minor? Would you like it to be an upper level course? Can it have an interdisciplinary component to it? Once you determine this it will make advertisement easier. There are several ways to get the word out by email, flyers, information sessions, and talking the program up in your current courses.
Budget
The cost of the program is going to be key for most of the students and so it is very important to have a cost-friendly program to gain student support. You want to look into building budget that will assist you in making a sustainable program. It is always wise to look into grants to fund the program in its first time running to help you get it off the ground.
Logistics
It is necessary for you to take into consideration all other components of the program, besides the academics, like transportation, housing, and meals. You will need to have this well thought out and planned carefully for your students as well as their parents. This can take a little research on your part, but it is important for cost reasons to find a good deal that will not cost you very much for all of this.
Forms
Program Proposal Form
For more detailed information regarding important things to consider when planning your own program, please take a look at the Faculty-Led Study Abroad Program Manual.
It is also important to discuss your program ideas with your Department Chair and Dean. If you are still looking for some ideas in regards to programs or would like to speak to Marshall Faculty who have already led groups abroad please feel free take a look at the current Faculty-Led Programs.