Green Trail SELFIE Scavenger Hunt

---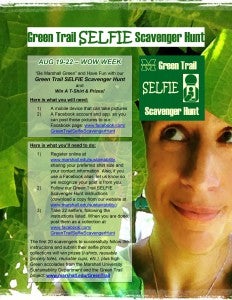 Come have fun with our Green Trail SELFIE Scavenger Hunt. Learn about the many Green Initiatives across Marshall's campus by following our MU Green Trail and participating on Facebook in our SELFIE Scavenger Hunt. Plus, you can win a T-Shirt and other prizes!
Here is what you will need:
A mobile device that can take pictures
A Facebook account and app, so you can post those pictures to our Facebook page: www.facebook.com/
GreenTrailSelfieScavengerHunt
Here is what you'll need to do:
REGISTER BELOW for the scavenger hunt using the form below, making sure to share your preferred shirt size and your contact information. Also, if you use a Facebook alias, let us know so we recognize your post is from you.
Download our MAP
Follow our INSTRUCTIONS listed below the Registration Form, or you can DOWNLOAD INSTRUCTIONS.
Take 22 selfie's, following the instructions listed. When you are done, post them as a collection at www.facebook.com/GreenTrailSelfieScavengerHunt
The first 20 scavengers to successfully follow the instructions and submit their selfie photo collections will win prizes, such as: t-shirts, reusable grocery totes, reusable cups, etc. They will also win high Green accolades from the Marshall University Sustainability Department and the Green Trail Project.
---
REGISTRATION FORM:
---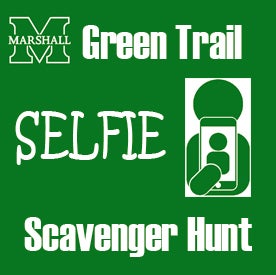 INSTRUCTIONS:
Once registered above, follow the below instructions and our Map.
At the end of your scavenger hunt, you should have collected 22 selfie photos. Post your photo collection on our Facebook page at: www.facebook.com/greentrailselfiescavengerhunt.
The first 20 participants to successfully complete our green trail "selfie" scavenger hunt will win a t-shirt and prizes.
Outdoor Classroom: Between Old Main and Memorial Student Center

Take a selfie of you sitting and studying at the Outdoor Classroom (Picture 1)

Oasis water fill stations: Memorial Student Center

Take a selfie of you refilling a water bottle at the water station, which are located in many buildings throughout campus (Picture 2)

Marshall University Foundation Hall:

The MU Foundation Hall was built using a number of environmental and energy conservation methods.
Take a selfie of you next to the Foundation Hall sign (Picture 3)

Student Gardens: Behind Career Services

Identify a plant, write the name down on a piece of paper
Take a selfie of you with that plant and that piece of paper (Picture 4)

VIP Garden: Behind Career Services

VIP means "Very Important Pollinator"
Take a selfie of you at the VIP garden (Picture 5)

Rain Garden: Harless Dining Hall

Take a selfie of you at the Rain Garden behind the Harless Dining Hall, SE corner (Picture 6)

Composting/EPA Food Recovery Challenge: Harless Dining Hall

Take a selfie at the Harless Dining Hall, where vegetable waste is collected and composted at a local farm. (Picture 7)

Trayless Dining: Towers Market Place

Take a selfie at the Towers Market Place, where Trayless Dining helps to minimize food waste. (Picture 8)

Eco Cycle Bike Loan Program: MU Recreation Center

Take a selfie of you with an Eco Cycle bike (Picture 9)
Go inside to the Rec Center desk and get your free item from the MU Sustainability Department (Only 20 items available, so first come first serve)

Bike Racks: MU Recreation Center

Take a selfie of you next to any of our campus bike racks (Picture 10)

Recycling Bins:

Take a selfie of you holding a recyclable item as you place it in a campus recycling bin, which are located throughout campus (Picture 11)
Make sure your recyclable item is of the correct type, including:

Aluminum cans, tin cans
Plastic type 1 or 2
Newspaper, cardboard, magazines

Monarch Butterfly Waystation: NW Corner of Buskirk Residence

Take a selfie of you at the Monarch Butterfly Waystation (Picture 12)

Greenhouse: MU Science Building

Take a selfie of you pointing to a Greenhouse window (Picture 13)

Butterfly Oasis: MU Science Building

Take a selfie of you at the Butterfly Oasis garden (Picture 14)

Emerald Ash Borer: Buskirk Field next to Greenhouse

Take a selfie of you next to the Ash Tree stump, near the west corner of the Greenhouse (Picture 15)

Green Roof Garden: Science Building

Go the second floor main entry way of the MU Science Building. To the windows on the west corner next to the Dean's office. You should see the Green Roof garden through the window
Take a selfie of you next to the garden window (Picture 16)

Applied Engineering Complex

The Arthur Weisberg Family Applied Engineering Complex is Marshall's first fully LEED Certified building. In fact, it earned Gold level LEED Certification, and it is also the first LEED building for all of Huntington, WV
Take a selfie out front of the new Arthur Weisberg Family Applied Engineering Complex (Picture 17)

The Marshall Beech Tree: Old Main

Take a selfie of you next to The Marshall Beech Tree & its sign, out front of Old Main (Picture 18)

Campus Trees:

Marshall University's campus is home to over 700 trees, with 50+ varieties among them
Take a selfie with an MU tree, holding a sign that correctly identifies that type of tree (Picture 19)

Energy Conservation:

Take a selfie of you with one of EACH of these 3 energy saving features:

Classroom motion sensor lights – Harris Hall, Smith Hall (Picture 20)
LED Lighting for Outdoors: Black Decorative Lighting Poles – MU Memorial Student Center, Corbly Hall, Drinko, Old Main, Smith Hall Complex (Picture 21)
LED Lighting for Indoors – Applied Engineering Building, 6th Ave. Parking Garage (Picture 22)