Contact: josh.brunty@marshall.edu | 304-691-8962
Office: W200G 2nd Floor of Forensic Science Center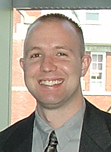 Courses Taught: Digital Forensics – FSC 609, 676
Josh Brunty is an Associate Professor at Marshall University, where he teaches both foundational and specialized digital forensic courses. Josh currently serves as the faculty advisor for the Marshall University Cyber Defense Competition (CCDC) team. He also serves as the director for Marshall University's GenCyber camp: an NSA-funded initiative aimed at educating the next generation of digital forensics & cyber security professionals.
Josh is a former digital forensics laboratory manager and examiner with over a decade of experience in the field of digital forensics and high-tech crime investigation. Prior to joining Marshall University in 2012, Josh spent several years as a Digital Forensics Examiner and Laboratory Technical Leader assisting in many high-profile cases for agencies around his home state of West Virginia, as well as serving on several federal and state-level cyber-crime task forces and panels.
Josh has developed a variety of digital forensic training sessions and curriculum, including past recertification scenarios/examinations for the International Association of Computer Investigative Specialists (IACIS). Josh is the author of books, book chapters, and journal publications in the field of digital forensics, mobile device forensics, and social media investigation. His research interests include: mobile device forensics, and multimedia forensics.  He is a frequent speaker at international and national digital forensic and security conferences, and guest lectures at various universities throughout the world.
Josh has also participated in various national and international committees and panels focusing on the advancement of digital forensic science in the US.  He currently serves as a member of the NIST OSAC subcommittee on Digital Evidence, assigned to the educational task committee. He has also served in various capacities within the Scientific Working Group on Digital Evidence (SWGDE) & the ASTM E30.12 Digital & Multimedia Evidence subcommittee. Josh is a member of the Mid-Atlantic Association of the High Technology Crime Investigation Association (HTCIA), the Digital-Multimedia Sciences section of the American Academy of Forensic Sciences (AAFS), the Appalachian Institute of Digital Evidence (AIDE), the Law Enforcement & Emergency Services Video Association (LEVA), the West Virginia Cyber Crimes Task Force, and the West Virginia Chapter of FBI INFRAGARD.
Certifications:
Seized Computer Evidence Recovery Specialist (SCERS)
Cellebrite Certified Mobile Examiner (CCME)
Cellebrite Certified Physical Analyst (CCPA)
Cellebrite Certified Operator (CCO)
LEVA Certified Forensic Video Technician (CFVT)
Computer Hacking Forensic Investigator (CHFI)
AccessData Certified Examiner (ACE)
Links:
http://science.marshall.edu/brunty11
http://www.twitter.com/joshbrunty
https://www.linkedin.com/in/joshbrunty/
http://www.github.com/joshbrunty
http://www.marshall.edu/gencyber
https://herdlink.marshall.edu/organization/ccdc