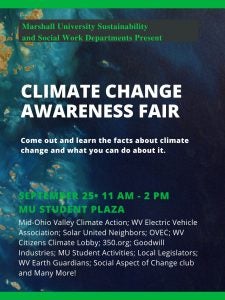 Climate Change Awareness Fair
September 25• 11 AM – 2 pm
MU Student Plaza
As part of our Climate Change Awareness week, MU Sustainability Department and the MU Department of Social will be hosting a day-long event.
Come out and learn the facts about climate change and what you can do about it.
Mid-Ohio Valley Climate Action; WV Electric Vehicle Association; Solar United Neighbors; OVEC; WV Citizens Climate Lobby; 350.org; Goodwill Industries; MU Student Activities; Local Legislators; WV Earth Guardians; Social Aspect of Change club and Many More!