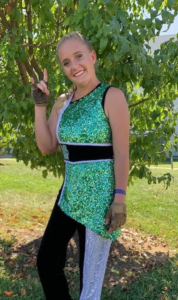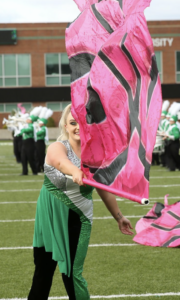 "The color guard allows you to create lifelong relationships while performing with some of the sweetest people on campus. We strive to display a welcoming atmosphere and encourage our members to succeed in and out of the classroom. Come and join the Marshall Color Guard!"
Samantha Rose, 2020 Color Guard Captain
"The Marshall University Color Guard is full of talented students from various performing backgrounds providing a visual aspect to the Marching Thunder. As a team we strive to display a welcoming atmosphere to all members both during season and after.
While expecting hard work and dedication, the MUCG allows our members to freely release emotion through movement, creativity, and performance. Members are given opportunities to build lifelong friendships while pursuing our shared passion for the arts. As we grow close through performance and friendships, the Marshall University Color Guard and Marching Thunder will provide the sense of a family into your college experience."
Tabitha Forman-Combs, 2020 Color Guard Captain

Maurica Smith is our coordinator and Megan Reynolds is one of our instructors. The Marching Thunder Color Guard performs on a variety of equipment including flags, rifles, and sabers. Membership in the color guard section of the Marching Thunder is open to all students of Marshall University and local community colleges. We welcome and invite your participation. We want you here! If you have any question regarding involvement in The Marching Thunder as a color guard member, you are more than welcome to reach out to any of our student leaders below. If you have specific questions for the Director, please contact Dr. Christopher Schletter.
2020 Color Guard Captains
Samantha Rose
rose212@live.marshall.edu
Tabitha Forman-Combs
formancombs@live.marshall.edu