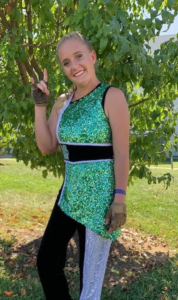 "The color guard allows you to create lifelong relationships while performing with some of the sweetest people on campus. We strive to display a welcoming atmosphere and encourage our members to succeed in and out of the classroom. Come and join the Marshall Color Guard!"
Samantha Rose, 2022 Color Guard Captain

Maurica Smith is our color guard coordinator. The Marching Thunder Color Guard performs on a variety of equipment including flags, rifles, and sabers. Membership in the color guard section of the Marching Thunder is open to all students of Marshall University and local community colleges. We welcome and invite your participation. We want you here! If you have any question regarding involvement in The Marching Thunder as a color guard member, you are more than welcome to reach out to any of our student leaders below. If you have specific questions for the Director, please contact Dr. Christopher Schletter.
This year we will have a clinic on April 8th starting at 9am. This clinic is open to students of ALL ages who are interested in gaining more experience and improving your skillsets and knowledge in the areas of color guard. We will be providing beginner, intermediate, and advanced classes in dance, flag, rifle, and saber. The clinic is $20 for all those who attend. There will be a 30 minute snack break, so please bring yourself something to quickly eat.
After the clinic, there will be an audition for all those who are interested in joining the Marching Thunder Color Guard in the fall. The purpose of the Color Guard audition process is to determine the talent level of each candidate and of the group as a whole. Those auditioning will learn a short combination which will help us understand how candidates improve, which illustrate each person's ability to learn new material.
We are not focused on a single moment within the prescribed audition material. Skill is not the most important part of the audition. There are several aspects that we look for in our color guard members. This might include a positive attitude, willingness to learn, dedication and drive, work ethic, teamwork, and enthusiasm for the activity. We encourage all interested students with a desire to be a part of something bigger than themselves to get involved and join us at auditions.
Color Guard Clinic
Date: April 8th
Time: 9am – 1pm
Location: Henderson Center Band Room
Color Guard Auditions
Date: April 8th
Time: 1pm
Location: Henderson Center Band Room
Flags will be available for use but you're welcome to bring your own. You must bring your own rifle and saber if you wish to participate in those classes.
Attire:
All black form-fitting attire is required
Hair should be pulled away from face
Tennis or performance shoes
Equipment and Technique/Exercises:
Flags will be provided but you're more than welcome to bring your own! If you do, a 6-foot pole is required.
Basic flag technique (good to know but not required):
Drop spins
Peggy spins
Cones
Pull hits
Various vertical and pitch tosses
Additional Audition Considerations:
The audition process is designed to take into considerations several aspects of the candidate. Most obviously, the technical abilities of the individual are a primary consideration. However, there are several other qualities the staff and director consider during the audition and rehearsal process which are equally important. Some of these would include character, integrity, and attitude. Additionally, the candidate should demonstrate the ability to take and apply criticism for further personal growth and development, as well as the ability to work as part of a team in collaboration toward a common goal.
The Marching Thunder is a highly visible entity of Marshall University and we hold our member to a high musical and social standard.
It's recommended to bring a water bottle, snacks, sunscreen, and appropriate mask.
Rifle and saber auditions will be held for our members at a later date. Weapon experience is not required for membership with the color guard.
If you cannot attend the audition or need to audition virtually please contact us for further information.
All rehearsals will be on the following Saturday's from 10am-2pm.
May 6
May 20
June 3
June 17
July 8
July 29
Aug 5
*Video assignments will also be given throughout the summer.
2022 Color Guard Captains
Samantha Rose
Shelby Zerkle
Gabby Casey