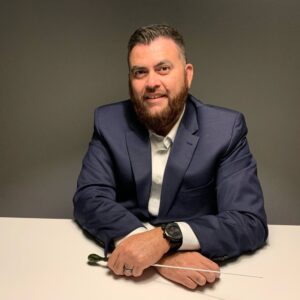 Phil Vallejo, DMA
Director of Bands
Phil is proud to serve as the Director of Bands at Marshall University! He is looking forward to serving all the students in the school of music and is excited to be a part of the exceptional faculty! Phil has the distinct honor of conducting the Marshall Wind Symphony. His other duties include conducting, music education, and graduate courses. Prior to his appointment at Marshall University, Phil served as the Associate Director of Bands and Director of the Cowboy Marching Band at Oklahoma State University.
Phil earned his Doctorate of Musical Arts in Wind Band Conducting at Arizona State University where he was blessed to have studied with Dr. Jason Caslor, Mr. James "Hud" Hudson, Dr. Jamal Duncan, and Dr. Jeffery Meyer.
Phil holds a Bachelor of Arts Degree in Music Education, as well as a Master of Arts Degree in Music Performance (Conducting), both from California State University, Fresno, where he studied with Dr. Lawrence Sutherland, Dr. Gary P. Gilroy, Dr. Matthew Darling and Mr. Allan Kristensen.
Prior to ASU, Phil served as the Director of Instrumental Music at James C. Enochs High School in Modesto, CA. During his time at James C. Enochs High School, he taught three levels of wind band, string orchestra and chamber orchestra, jazz band, marching band, and color guard classes. The Wind Ensemble at James C. Enochs High School was one of only four bands selected to perform at the CMEA State Festival in 2019. He also coached varsity boys basketball for a season. While in Modesto, Phil served as the Assistant Conductor for the Modesto Symphony Youth Orchestra.
He is a proud alumnus of the Santa Clara Vanguard Drum and Bugle Corps (1996-1999) and the Santa Clara Vanguard Cadets Drum and Bugle Corps (1995).  He also served on the staff with the Santa Clara Vanguard (2000-2001).  Following his time with the Santa Clara Vanguard, Phil spent time working for Blast! as a cast member of Blast 2, Shockwave.  He also served as the music ensemble caption head and percussion arranger for the Fever Drum and Bugle Corps.
Phil served as the President of the California Band Directors Association from February of 2018 until February of 2020. During his term, Phil focused on expanding access of CBDA resources to a younger generation of band directors.  He created the CBDA Conducting Workshop at the California All State Music Educators Conference, (CASMEC), in February of 2019.  Prior to his time as President, Phil served as the coordinator for CASMEC, alongside Jeff Detlefsen, where they were responsible for overseeing all aspects of the student, conductor, and attendee experience, as well as contracts with the hotels and city.
Phil is an adjudicator and clinician for wind bands, orchestras, percussion ensembles, and marching bands. He has also presented sessions at multiple state conferences.
Phil has been recognized for his achievements in music education in California. In November of 2019, the Western Bands Association awarded the Spirit of WBA Award to Phil, recognizing and honoring his commitment and dedication to collaborating with the organization and other educators to help offer better experiences for students and educators. In February of 2017, the California Music Educators Association awarded the President's Award to Phil, recognizing and honoring him for his extraordinary accomplishments in music education.
Phil is committed to promoting new music and has been a member of consortiums with Steven Bryant, Katajh Copley, Marie A. Douglas, Kevin Day, Vince Oliver, Nicole Piunno, Giovanni Santos, and James Syler.
Phil and his wife Courtney enjoy spending time with their children, most notably, camping! They are looking forward to camping adventures in West Virginia!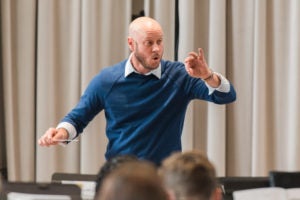 Christopher J. Schletter, PhD
Director of Athletic Bands
schletter@marshall.edu
Christopher Schletter is an educator, conductor, and clinician who has conducted and performed internationally, most notably with the original Broadway Cast of Blast! and the American Chamber Winds. Christopher is currently the Director of Athletic Bands and Assistant Professor of Music at Marshall University where he oversees the Marching Thunder and the 6th Man Pep Band. He teaches courses in music education and is the conductor of the Marshall University Symphonic Band. He has been a music educator for 20 years, teaching at the high school and collegiate levels and has been an active adjudicator and clinician throughout his career and has also provided high school band programs with student leadership training. In addition, he has arranged music for high school and collegiate marching bands.
Christopher received his Ph.D. in Music Education from the University of Florida in Gainesville. With an emphasis in Instrumental Conducting, he studied with Dr. David Waybright while practicing research in Music Performance Anxiety with Dr. William Bauer. Christopher received his Master in Music degree for Instrumental Conducting from Florida Atlantic University in Boca Raton, Florida under the teachings and guidance of Dr. Kyle Prescott.
Christopher received his Bachelor of Music Education from the University of South Florida in Tampa, after which he performed with the Broadway show Blast! for two years. He traveled and performed with the company in various cities throughout the U.S. and Europe including Boston, Chicago, Detroit, Washington DC, on Broadway in New York, Disney Land in California, as well as London and Zurich. Eventually, Christopher left the cast to pursue his career in music education and was appointed his first position as Director of Bands at Charles W. Flanagan High School. After growing as a director for 3 years Christopher made his move to Cooper City High School where the band program elevated to levels of excellence not yet experienced at Cooper City. During his time at CCHS, the band receiving many awards and recognitions including Florida State Marching Band Class 4A Champions, multiple year recipient of the FBA Otto J. Kraushaur award, and performed at the Band of America/Music for All National Concert Band Festival in Indianapolis.
Christopher is a member of the College Band Directors National Association, National Association for Music Education, West Virginia Music Education Association, Ohio Music Educators Association, Florida Music Educators Association, Florida Bandmasters Association, and the National Band Association. He is also an honorary member of the Kappa Kappa Psi National Honorary Band Fraternity.