Tri-State Marching Festival

---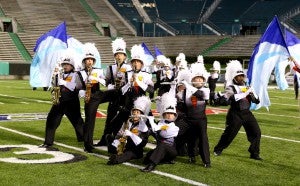 October 13, 2018
The Tri-State Marching Festival is one of the biggest and best marching contests in the area.  Students get to perform in the 30,000 seat Joan C. Edwards stadium for a panel of expert adjudicators.  Don't miss out on this great performance opportunity for your students.
This year we are pleased once again to offer you and your students the opportunity to perform in the beautiful Joan C. Edwards Stadium.  We will continue to have four competitive classes with two awards ceremonies throughout the day.  We are also excited to continue to bring in world-class judges from around the country to provide you with feedback on your students' performance.
We will continue to partner with CompetitionSuite to offer you a more streamlined approach to scoring and judges commentary.  CompetitionSuite is an online program used by DCI, WGI, Bands of America, and many other competitions that puts all of your information in one place.  You will be able to access your judge's commentary within minutes of your performance, and all scoring tabulation will be handled directly through the software, eliminating any chance for human error.  This information will stay online and only accessible by you, so you don't have to worry about keeping up with a CD or losing your score sheets.  We will send out more information about how to create your profile closer to the event.
| | |
| --- | --- |
| High School | Performance Time |
| Dawson Bryant High School | 9:45 |
| Wyoming East High School | 10:00 |
| Wahama High School | 10:15 |
| Symmes Valley High School | 10:30 |
| Magnolia High School | 10:45 |
| Chapmanville Regional High School | 11:00 |
| Scott High School | 11:15 |
| BREAK | 11:30 |
| Johnson Central High School | 11:45 |
| Ritchie County High School | 12:00 |
| Buffalo High School | 12:15 |
| Saint Marys High School | 12:30 |
| Independence High School | 12:45 |
| Mason County High School | 1:00 |
| BREAK | 1:15 |
| South Charleston High School | 1:45 |
| Woodrow Wilson High School | 2:00 |
| Wayne High Schooll | 2:15 |
| Nitro High School | 2:30 |
| East Clinton High School | 2:45 |
| BREAK | 3:00 |
| Riverside High School | 3:15 |
| Huntington High School | 3:30 |
| Richwood High School | 3:45 |
| Hurricane High School | 4:00 |
| South Point High School | 4:15 |
| Marching Thunder Exhibition | 4:30 |
| Marshall Division Awards | 5:00 |