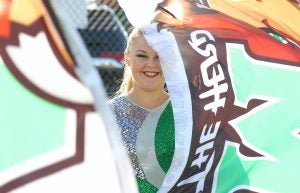 Spectator's Guide
Tickets- $8. Exact change is appreciated. All seating is general admission located on the west side of the stadium.
Parking- Parking is available in half of the stadium parking lot. Once that lot is full, there is additional parking in the parking deck located on 3rd Ave. or surface lots located on 3rd Ave.
Programs and Souvenirs- Tri-State Programs and various souvenirs will be available for purchase throughout the day.
Concessions- Food will be available in the stadium
2017 Tri-State Marching Festival Schedule
| | | |
| --- | --- | --- |
| High School | Class | Performance Time |
| Raceland-Worthington | A | 10:00 |
| Ritchie County | A | 10:15 |
| Johnson Central | A | 10:30 |
| Wahama | A | 10:45 |
| Sissonville | A | 11:00 |
| Break | | 11:15 |
| Woodrow Wilson | A | 11:30 |
| Mason County | A | 11:45 |
| Magnolia | A | 12:00 |
| Rural Retreat | A | 12:15 |
| Ravenswood | A | 12:30 |
| Symmes Valley | A | 12:45 |
| Lunch | | 1:00 |
| Wayne | AA | 1:45 |
| Nicholas County | AA | 2:00 |
| Dawson Bryant | AA | 2:15 |
| Chesapeake | AAA | 2:30 |
| Capital | AAA | 2:45 |
| Break | | 3:00 |
| Huntington | AAAA | 3:15 |
| Richwood | AAAA | 3:30 |
| Nitro | AAAA | 3:45 |
| Hurricane | AAAA | 4:00 |
| South Point | AAAA | 4:15 |
| Marshall University | | 4:30 |
| Awards | | 4:45 |