The Adventure Recreation program leads exciting trips every year that highlight some of the greatest outdoor attractions and activities. With national trips to the Smokies and Grand Canyon to local adventures here in West Virginia, there's a trip to suit every adventurer!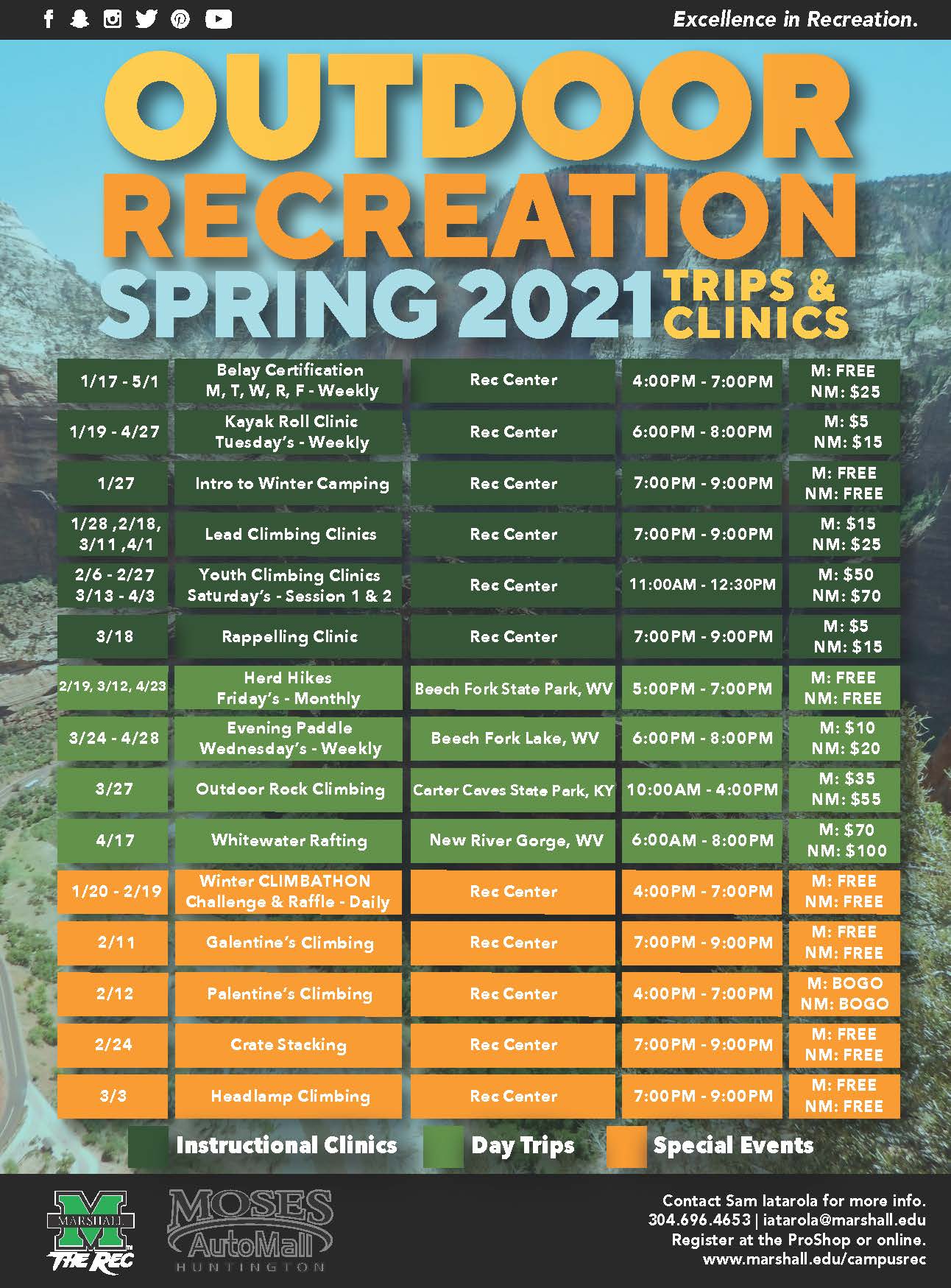 Instructional Clinic Descriptions
Belay Certification Clinic
This basic clinic is for the novice climber to learn safety and the essential skills of climbing, belaying, and bouldering. After initial instruction participants will practice their skills before taking a final skills and knowledge exam. This training and certification is necessary for individuals to climb for free at the wall plus the cost of shoe rental. This certification must be renewed every 4 months. At this time Belay Certification Clinics can be taken at any time during normal Climbing Wall operating hours. Reserve a time at the Climbing Wall, and the Adventure Staff will help you from there! 
Pre-registration is not required. Please stop by anytime when we are open Monday-Friday between 4-7pm, and one of our Adventure Rec Staff would be glad to assist you. Belay certification clinics are not offered when special events at the wall take place.
Join us for our Kayak Roll Clinics on Tuesday Evenings. These clinics are designed to provide a space for people practice kayak skills that they are working on. Instructors will work to meet each participant where they are at in their progression. Rolling a kayak is a fundamental safety skill for anyone looking to take their paddling to the next level. Whether you have never sat in a kayak or are a seasoned paddler, these clinics are for you. No experience is necessary but you must be comfortable in and under water. You will need comfortable swimwear, towel and goggles. You may bring your own clean boat and gear or we will provide the boats, boat skirts and paddles. 
Intro to Winter Camping Clinic
This clinic is designed to set you up for success to go out into the woods when it is cold! All comers are welcome.
Take the next step in your climbing skills and learn to Lead Climb. This clinic will cover safety and the fundamentals of lead climbing on our indoor wall so you can transfer these skills and knowledge to the outdoor setting. Skills learned will be tying knots, clipping, and belaying for sport climbing. Lead climbing is a semi-advanced technique, and comfort with the essentials of climbing is needed. Prior experience with belaying or completing the Belay skills clinic is required.  
The Looking for a new activity for your child or have they climbed before and want to learn more? The Youth Climbing clinic is designed for children from 5 – 12 years of age who want to try rock climbing, or improve their skills and grow as a climber! The clinic covers a range of skills like belaying and proper equipment use. All equipment provided. Advanced registration required. 
Try the basics of rappelling down the rock wall. You will learn the basic set-up of rappelling and get to control your descent down the rock wall.
Day Trip Descriptions
Herd Hikes - Friday/Monthly
Members: Free
Non-Members: Free
When: Friday/Monthly – 2/19, 3/12, 4/23
Time: 5-7pm
Do you want to get outside and learn some insider info on hiking near Huntington?
Come out to Beech Fork State Park, to learn some tips and tricks while enjoying our local hiking trails. We meet at 5 pm at the Mary Davis Trail Head at Beech Fork State Park. Registration is required and can be done online or in person. 
Evening Paddles - Wednesdays/Weekly
Members: $10
Non-Members: $20
When: Wednesdays/Weekly – 3/24-4/28
Time: 6-8pm
Join us for a peaceful evening paddle at Beech Fork State Park from 6-8pm.
Paddle with us and learn the basics of canoeing or kayaking while enjoying an evening on the lake. We'll meet at 6pm at the boat ramp, and paddle until 8pm or sunset! Please bring water, snacks, and appropriate clothes (long sleeve pants and shirt for bug protection) and footwear for paddling, and we'll provide canoes, paddles, PFD's, and instruction. Registration is required and can be done online or in person.
Members: $35
Non-Members: $55
When: 3/27
Time: 10am-4pm
Reach new heights with the Marshall Rec Center! Join us at Carter Caves, one of the premier climbing destinations in the country, for an awesome day of climbing real rock! This day trip is geared towards climbers who are ready to leave the gym and start climbing outdoors for the first time! However, prior climbing experience is not required. Experienced climbers are encouraged to come as well! Instruction and climbing gear is included! Food and transportation will not be provided. Participants are welcome to bring personal climbing equipment, and the MRC will provide all necessary climbing equipment.
Members: $70
Non-Members: $100
When: 4/17
Time: 6am-8pm
*Pre-Trip Meeting: 4/13 at 5pm
You won't find prices to whitewater raft this cheap! Transportation to and from river currently NOT included. Meet time is at ACE Adventure Resort in Oak Hill, WV is TBD, likely between 8 and 10am. Lunch on the river is included.
From ACE Adventure: "There no adventure like white water rafting and there is no river trip like a Lower New River Gorge whitewater rafting trip. This ancient river is a milestone for East Coast paddlers. Calm pools, perfect for swimming, form between rapids, house-sized boulders line the river and scenery abounds! On this section, the New River begins to narrow and simultaneously drop in elevation, and big water rapids form. Local boaters call this river section, where the water charges through deep and spectacular bends beneath ancient sandstone cliffs, "The Gorge"."
Please bring clothes your willing to get wet in, river shoes / tennis shoes / sandals with a strap (no flip flops), and a change of clothes.
Pre-registration is required. Deadline to register is before the pre-trip meeting the Tuesday before the trip. Register online or in person at the Front Desk or the Outdoor Pursuits Desk.
Pre-trip meeting is Tuesday, April 13 from 5-6pm in the South Meeting Room at the Marshall Rec Center.
For more information about whitewater rafting through our outfitter for this trip, please visit:  https://aceraft.com/product/full-day-whitewater-rafting-trip-lower-new-river-gorge/.
Special Event Descriptions
Winter Climbathon Challenge & Raffle
Members: Free
Non-Members: Free
When: 1/20-2/19
Time: 4-7pm
How many pitches can you send this winter? Every time you climb, you increase your chances to win the following example of prizes. Prizes will be announced the week before the start of the Climbathon! The top 3 participants with the most pitches by the end of the month will also win a prize.
Rules:
– All climbing wall police and procedures must be adhered to while participating in this challenge.
– All climbers must climb with safety. Rushing while climbing is prohibited.
– Participants must climb to the top of the bouldering section of the wall 3 times for a raffle entry.
– Participants must climb to the top of the top rope section of the wall 1 time for a raffle entry.
– Staff must witness every climb and sign off on all raffle entries.
Members: Free
Non-Members: Free
When: 2/11
Time: 7-9pm
We invite women of all identities to join us for a fun night of climbing at the Marshall Rock Wall. Whether you are an experienced climber, or totally new to the sport, come by for a night of community, climbing tips, and tricks, and fun with our amazing group of Marshall Rock Wall women! This event is FREE to all participants, and all instruction and equipment is included. Please pre-register as space is limited.
Members: Free
Non-Members: Free
When: 2/12
Time: 4-7pm
Start a new belaytionship this Valentine's Day! Buy one get one free try climbs and climbing shoes all day. 4-7pm.
Pre-registration is not required. Stop by and enjoy BOGO try climbs and shoe rentals with your Pal!
Members: Free
Non-Members: Free
When: 2/24
Time: 7-9pm
See how many crates you can stack and climb without knocking them all down. This unique event will test your balance and technique challenging you unlike other climbing activities.
Members: Free
Non-Members: Free
When: 3/3
Time: 7-9pm
Come climb after dark! We're going to turn off the lights, give you a headlamp, and let the fun begin!
Sponsored by: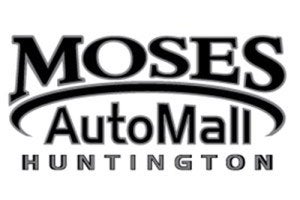 For more information about Adventure Recreation, please contact:

Sam Iatarola
Coordinator of Adventure Recreation
Email: recadventure@marshall.edu
Telephone: 304-696-4651