The safety of our participants and staff are very important to us. To ensure the safety of all, we have implemented additional safety measures for our facility and group swim lessons. Please see below for actions we are taking to provide a safe environment for our families and staff: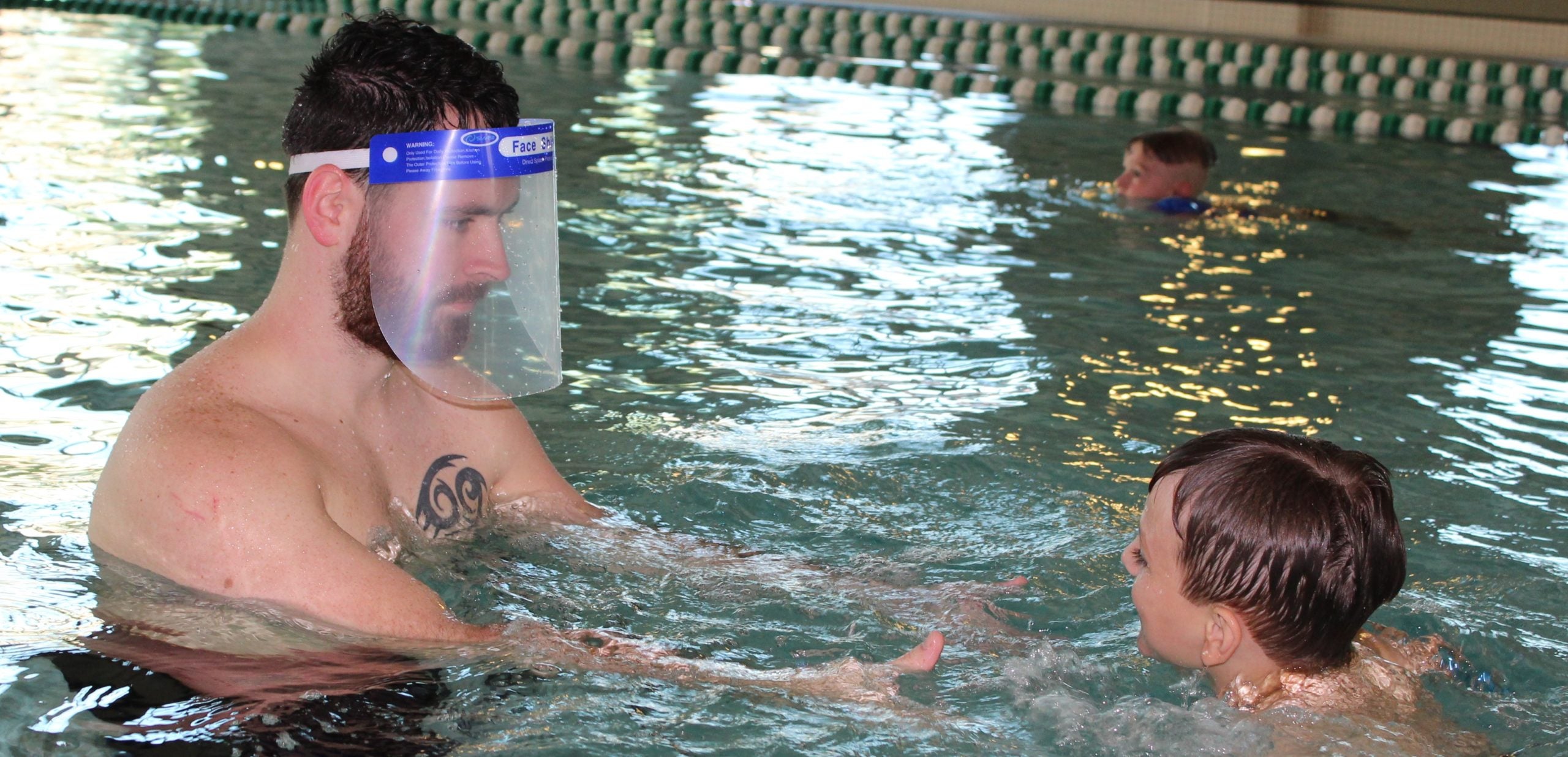 Patron & Parent Information
Self-Screenings
Parents and children with any Covid-19 symptoms such as a cough, fever, or shortness of breath, or any combination of these symptoms, will be asked to not enter the building. If you suspect you may be sick, the safer decision is to stay home.
Temperature Checks
All individuals, including parents and children, will have their temperature checked when entering the Aquatics area. Any individual with a temperature of 100.4 degrees or higher will be asked to leave the building for safety reasons.
Social Distancing
Marshall Recreation is abiding by social distancing guidelines inside the building. Please practice safe social distancing and limit interactions with others.
Face Masks
All individuals must have a mask when entering the building. All Marshall Recreation staff are required to wear masks while working. Swim Instructors will be wearing face shields while in the water.
Spectators
The number of spectators will be limited. There will be stations set up on the pool deck for spectators. If there is more than one spectator per lesson participant, the individuals may be asked to wait on the outdoor patio. In the case of inclement weather, spectators may be asked to wait in the lobby adjacent to the pool area.
Entrance/Exit
All group swim lesson participants will still utilize the entrance to the building when coming for lessons. After the conclusion of swim lessons, all participants and parents will exit the Aquatics Center through the outdoor patio gate.
Participant & Class Information
Swim Attire
Please have all children dressed in swim suit and ready for swim lessons upon arrival. When able, please leave the building after the lessons in the same fashion. Changing rooms and locker rooms should be used only in emergencies to limit the chance for exposure. Patrons will exit out of the outdoor patio after lessons.
Swim Lesson Areas
Classes will be appropriately spaced to maintain social distancing in the pool area during all of the lesson times.
Class Size Changes
Our Swim School class sizes have been relatively small, but will be limited to a certain capacity to promote a safe and controlled environment during swim lessons. The number of classes hosted at one time will be reduced as well.
Employee Information
Employee Screening
All swim instructors conduct an employee screening and temperature check before starting their shift. Any instructors with a temperature of 100.4 degrees or higher is asked to leave the building for safety reasons.
Cleaning
Instructors will be cleaning any toys or equipment in lessons after each use. Lifeguard staff will be cleaning all touch points regularly, including doors, door handles, railings, etc.
Face Shields
All swim instructors will be wearing a face shield during swim lessons.