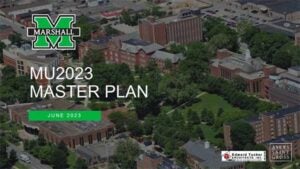 Marshall University's recently approved 2023 Master Plan marks a significant milestone in our institution's development. After a comprehensive 10-month process that involved focus groups, workshops, surveys, and interviews – the Master Plan was unanimously endorsed by the Board of Governors on June 21st. This strategic document will serve as a guiding light for the university's development over the next decade, providing a roadmap for progress and growth.
As we embark on this transformative journey, it's important to note that projects identified within the Master Plan will still need to undergo thorough assessment. Each project will undergo a feasibility study lasting 6-9 months, followed by a design phase lasting 6-24 months. Finally, construction will take place over a period of 3-36 months, bringing these projects to fruition. This structured approach ensures that our endeavors are backed by thorough research, careful planning, and meticulous execution.
Science Building Renovation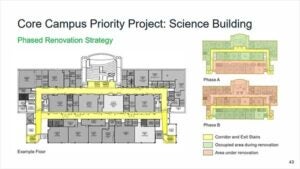 One of the priority projects identified in the Master Plan is a renovation of the Science Building. With a budget of $110 million, this ambitious project is set to breathe new life into our esteemed Science Building. As we embark on the 2023-2024 academic year, we eagerly anticipate the planning and design phase, laying the foundation for the transformative construction expected to commence in spring 2025. The renovated Science Building will be a testament to our commitment to providing cutting-edge facilities that foster innovation, collaboration, and academic excellence.
Additional Projects
Additionally, the College of Science will benefit from other identified projects. Classroom renovations, supported by a $1 million investment, will enhance the learning experience for students. Measures to address flooding, funded with $4 million, will mitigate potential risks to health and safety, equipment, and buildings. Moreover, the venerable Smith Hall will undergo a significant $22.1 million renovation, revitalizing its facilities and further enhancing the academic experience for students and faculty alike.
Commitment to Transforming Lives
The Master Plan represents our unwavering commitment to creating a dynamic and forward-thinking educational environment. With the Science Building renovation at the forefront and the generous investments in classroom upgrades, flooding interventions, and Smith Hall renovations, we are poised to elevate the educational experience for current students as well as students for years to come. As we embark on this exciting journey, we invite you to stay connected and witness the transformative power of the Master Plan as it unfolds before our very eyes. Together, we will shape the future of Marshall University, paving the way for generations of knowledge and innovation to come.
Stay Connected
The 2023 Marshall University Master Plan represents a tremendous commitment to academic excellence. The identified priority projects have generated a lot of excitement on campus and present a marvelous opportunity to connect, or possibly reconnect, with the Marshall community. Giving to the College of Science can go further than ever with projects already in the works. As always, gifts of any size to the College of Science are welcomed and valued by our faculty and students. Please feel free to reach out to us, regarding giving or just to say "hi", at any time. We'd love to hear from you.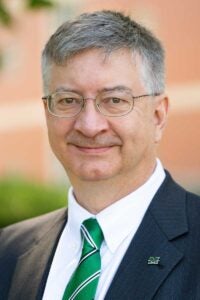 Science Building 270
304-696-2424