Preparing for Health Care Professions
The College of Science provides academic programs and other resources to students preparing for a professional career in health care. Our site includes information and resources to help students explore pre-medicine (pre-med), pre-pharmacy (pre-pharm), and other health care-related undergraduate programs. Upper-level students will also find helpful information for applying to a professional program.
Snapshot of a Pre-Professional Health Care Student
Rules dictating who will be admitted to professional schools vary according to the field, school, and competitiveness. While there is not a certain combination of classes and scores that will guarantee admission, there are a number of traits that improve a student's chances of getting into a health care program.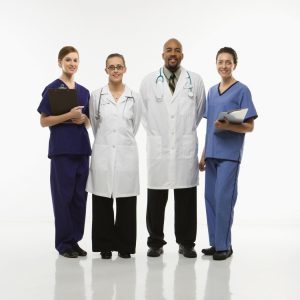 While in high school, a prospective pre-professional student should…
Achieve ACT Composite and Mathematics scores of 21 or higher (SAT 500 or higher)
Complete a strong high school course of study in the sciences
Possesses a strong sense of commitment and work ethic – high school honors is just the start
As an undergraduate student, a pre-professional student should…
Complete a science-based college curriculum with a 3.4 or above GPA, preferably 3.8 or above
Prepare for and take the relevant professional exam – GRE, MCAT, PCAT, DAT, OAT, etc.
Develop practical in-field experience through shadowing, volunteering or research opportunities
Looking for more information about getting into a professional program? Our FAQ includes additional details as well as answers to common questions about going into health care.
Pre-Professional Health Care Majors and Courses
Most professional schools accept students with science as well as non-science majors. Science majors already include many of the courses required for professional school, allowing students to graduate within four academic years. Many pre-health sciences students choose to pursue a biology degree because it includes many prerequisites; pre-pharmacy students will often choose a chemistry program. Students in non-science majors must add the required science courses to their graduation requirements, thus possibly prolonging graduation.
A pre-professional student will take a variety of courses that may include the following:
Principles of Biology I and II
Principles of Chemistry I and II and labs
General Physics I and II and labs
English Composition I and II
Comparative Vertebrate Anatomy or Human Anatomy
Animal Physiology or Human Physiology
Organic Chemistry I and II and lab
General Psychology
Introductory Sociology
Introductory Biochemistry
Principles of Microbiology and lab
Principles of Cell Biology
Calculus
Statistics
Professional schools will have varying prerequisites and may have specific requirements or recommendations for admission. It is the responsibility of the student to discover these requirements and take the necessary courses.
Health Care Programs and Entry Exams
Common Professional Programs
Professional School Admission Exams
Four-Year Planner
Admission to professional schools – including medical, pharmacy, physician assistants, optometry, veterinary, and dental schools – is very competitive. Our four-year planner is meant to be a reference to help you coordinate your efforts to be prepared to apply to a professional school in your junior year. The College of Science attempts to help students with a range of abilities become accepted to a professional school. Students are advised about multiple career pathways, and if the grades are not high enough for medical school, there are other health care areas that will accept students with GPA of approximately 2.70 – 3.00.
You must achieve and maintain a high level of dedication and determination to gain entry. It is your responsibility to work hard and persevere.
View the Pre-Professional Four-Year Planner
Frequently Asked Questions
Our Pre-Professional Advisors answer many questions from students seeking a profession in health care; some of those questions come up frequently. While you're always welcome to contact our advisors, you may find the answer to some of your questions here.
View the Pre-Professional FAQ
Ready To Get Started?
Seeking admission to a professional program can be a difficult process with lots of variables. The Pre-Professional advisors at the College of Science can assist you with your preparation and choices. You may speak to the advisors at any time if you need help or have specific questions.
The College of Science Office of Student Services will assist you with class selection based on your ACT/SAT scores, Advance Placement classes, and goals.

Sara Simpson
Academic Advisor,
Office of Student Services
Office: S 214
Phone: 304-696-3475
simpson87@marshall.edu