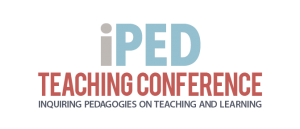 Conference Theme for Spring 2020
Student Success: The Educational Imperative
Wednesday, May 6, 2020 | Marshall University, Huntington, WV
What is success? Merriam-Webster (https://www.merriam-webster.com/dictionary/success) defines success as "a favorable or desired outcome." For students, success is broader than checking boxes on a program of study.  Indeed, EAB's Student Success Collaborative claims that student success goes beyond having a successful classroom experience. "For students, success consists not just of good grades and steady progress toward graduation, but a holistic sense of fulfillment…They want to become strong candidates for careers in their chosen fields, emerge as competent and trustworthy adults, look back on their time without regrets, and make their mentors and family members proud."
The iPED Teaching Conference is a professional development opportunity to learn more about how to achieve our educational imperative: student success. The theme invites faculty, staff, administrators, and teaching assistants from Marshall University and all regionally accredited Colleges and Universities to think deeply about how they define, understand, and promote student success. Conference sessions will demonstrate how to foster student success by creating conditions and opportunities that support steady progress toward graduation and generate personal fulfillment as students prepare for life beyond the academy.
Conference topics of interest include, but are not limited to:
Classroom structures, projects and/or initiatives that promote student success
High-impact practices that support success
Approaches to identifying and mitigating academic barriers to success
Approaches to identifying and mitigating non-academic barriers to success (such as food insecurity, financial aid, or first-generation status)
Ways to examine and assess the campus and institutional culture and relative impact on student success
Ways to build a community that inspires a feeling of belonging in students and faculty
Ways to define and measure success
Impact of curricular and co-curricular community engagement opportunities
Conference Schedule and Registration
The Spring 2020 conference will be conducted online, beginning with a virtual informational session at 8:00am. Concurrent sessions will begin at 8:30am and conclude at 5:30pm. Registrants will receive instructions for joining virtual sessions prior to conference day.
Conference Schedule – an overall view of the conference schedule with links to session abstracts.
Registration – registration form for Marshall University faculty, staff, administration, and teaching assistants.
Conference registration is CLOSED.
For questions, contact April Fugett, Ph.D. (fugett5@marshall.edu, 304-696-5268) or Jenny Morgan (jennifer.morgan@marshall.edu, 304-696-2206).