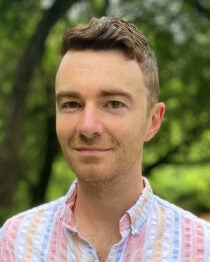 Visual Arts Center 402
304-696-3533
Biography
Kyle Dyer, Assistant Professor of Graphic Design, joined the School of Art & Design faculty in the Fall of 2022 after several years of teaching and mentoring students in the graphic design program. From foundations and typography to advanced graphic design and portfolio, Dyer teaches a wide range of design courses at the school, as well as facilitates design internships and collaborative projects in the community. It is his goal that students explore the conceptual boundaries of design and creativity, while also building the technical and foundational skills that are necessary to begin a career in graphic design.
Outside of the classroom, Dyer is a practicing graphic designer with more than a decade of experience in the professional field. Previously, he was the Creative Director of Peake Media, a multi-brand media company in the health and fitness industry, as well as a writer and designer in the advertising and public relations field. Dyer's client-based work focuses on editorial design, typography, branding, and web design.
Dyer earned his master's degree in graphic design from the Savannah College of Art & Design in 2011, and he earned his bachelor's degree in print journalism from Marshall University in 2008.