Huntington, WV is an amazing location for outdoor recreation. With many local parks in town, as well as state parks and national forests within in reach, there is so much public land for enjoyment outdoors. From hiking and biking, to camping and backpacking, to paddling, and beyond, the opportunities are endless of ways to enjoy the outdoor opportunities surrounding Huntington. This Outdoor Recreation Guide is designed to highlight some favorite locations and activities that the Tri-State area has to offer. Are you wanting to get outside but don't know where to begin? You can start here with our guide, just click a state and check out all of the cool spots we have found.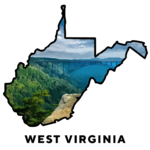 Being outside is good for you, and it's important to get some fresh air even in quarantine. Here are some tips to go outside responsibly:
1) Follow Local Laws and Guidelines: Be sure that your hike follows all federal, state, and local ordinances and guidelines.
2) Stay Local: Whether it's a walk around a block or a hike on a trail, look for places to enjoy some outdoor time close to home.
3) Disperse: Be mindful of others who might be out as well, and keep your distance.
4) Disinfect: Remember to wash your hands frequently and use alcohol wipes to disinfect surfaces and anything outside of your home you may need to touch.
5) Stay Safe: Be mindful of any extra risks you might be taking. Safety first, especially now.
Outdoor Rental Reservation Request
Are you interested in going backpacking or kayaking at some of these amazing local destinations, but don't have the gear? Come by the Adventure Rec Center and we would love to outfit you for your next adventure! *At this time, the Rec Center is closed due to COVID-19, but when we re-open, be sure to check out all of the outdoor equipment rental options. 
If you have questions, just ask. Getting the Marshall community outdoors is what we do. For additional resources for your outdoor journey, click here. Happy trails!
For more information about Adventure Recreation, please contact:

Sam Iatarola
Coordinator of Adventure Recreation
Email: recadventure@marshall.edu
Telephone: 304-696-4651