Rec Center COVID-19 Policies & Procedures
To view the Marshall Rec Center reopen plan and for full details on policies & procedures, safety protocol, facility hours and more, visit the
COVID-19 Reopen Plan
.

Virtual Schedule
Check out the full virtual fitness schedule and click on the links below for the workouts: 
The Marshall Recreation Center offers specialized Group Fitness classes (free with membership) and Premium Fitness classes available for members and non-members alike.
Group Fitness (Free w/ membership)
---
Les Mills BODYCOMBAT®
BODYCOMBAT® is a high-energy martial arts-inspired workout that is totally non-contact. Punch and kick your way to fitness. No experience needed. Learn moves from Karate, Taekwondo, Boxing, Muay Thai, Capoeira and Kung Fu.
Les Mills BODYPUMP®
Get lean, build strength and tone muscle with BODYPUMP®, a group-based barbell class to work all your major muscle groups. Focusing on low weight loads and high repetition movements, you'll burn fat, gain strength and quickly produce lean body muscle conditioning.
Chair Yoga
Chair Yoga is one of the gentlest forms of yoga in which you will practice movements with the use of a chair from the standing or seated position. Use of the chair offers support throughout each movement flow.
CUT 45
This all-out circuit workout focuses on specific muscle groups each class, and offers training at various intensities. Cut some time out of you mid-day routine and join us today.
CUT 45 CARDIO
Fused with the circuit style workout offered in CUT 45, this 45 minute class offers a new spin on circuit training! Join this class for a unique blend of cycling and strength training.
Les Mills CXWORX®
Exercising muscles around the core, CXWORX® provides the vital ingredient for a stronger body. A stronger core makes you better at all things you do, from everyday life to your favorite sports – it's the glue that holds everything together.
Cycle
This class consists of hills, flats, sprints and everything in between! A challenging class driven by incredible playlists and motivating instructors. Get ready to sweat, work hard and have fun!
Dance Fitness
This class will help you build cardiovascular endurance and strengthen your heart muscle all while dancing to motivating and energetic music. Join us and work up a sweat on the dance floor!
Glide-Fit
Get a full body workout all on the water! This class is a low-impact, high intensity, cross training workout performed on an inflatable SUP board in the pool.
Locomotion
Locamotion is a low impact class that will help improve your overall fitness level in areas such as endurance, strength, balance and flexibility. With the use of various equipment, such as stability balls and dumbbells, each class will offer new workouts to help you reach your goals.
SilverSneakers
SilverSneakers Stability: If you want to improve your balance and strength, this is the class for you! Movements focus on strengthening the ankle, knee and hip joints, while improving reaction time.
SilverSneakers Classic: This class focuses on strengthening muscles and increasing range of movement for daily life activities. Participants can use hand-held weights, elastic tubing with handles and a SilverSneakers ball. Often a chair is used for seated exercises or standing support.
SilverSneakers Splash: This provides a fun environment using a splash-board to increase movement and intensity options during shallow-water exercises. This class is suitable for all skill levels, and even safe for those who do not swim.
SilverSneakers Circuit: This offers standing low-impact moves that alternate with standing upper-body strength. The class can be adapted for all fitness levels.
STRONG by ZUMBA®
Strong by Zumba® combines body weight, muscle conditioning, cardio and plyometric training moves synced to original music that has been specifically designed to match every single move. Every squat, every lunge, every burpee is driven by the music, helping you make it to that last rep, and maybe even five more.
Yoga Flow
Yoga Flow focuses on linking conscious breath with a vigorous and mindful Flow. You will build strength, flexibility and concentration while cleansing the body and calming the mind.
For more information about Fitness & Well-Being, please contact: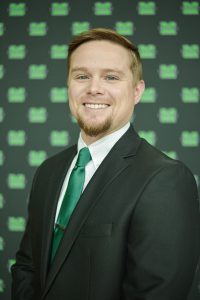 Corey Buck
Coordinator of Fitness & Well-Being
Email: recfitness@marshall.edu
Telephone: 304-696-4653