The Honors College is serving this fall semester as host to Dr. Ekaterina Zarutckaia, a Fulbright Faculty Development grantee from St. Petersburg University in Russia. Dr. Zarutckaia is here to study critical thinking pedagogical practices. In addition to supporting this research, the Honors College is providing this unique opportunity to share in an exchange of ideas and understanding. This is central to the mission of the varied Fulbright programs. "Kate," as she is known here in the college, has been busy over the past month getting in touch with a variety of faculty members with whom she is working on her research project. And now, she has prepared a presentation of real interest and value to many.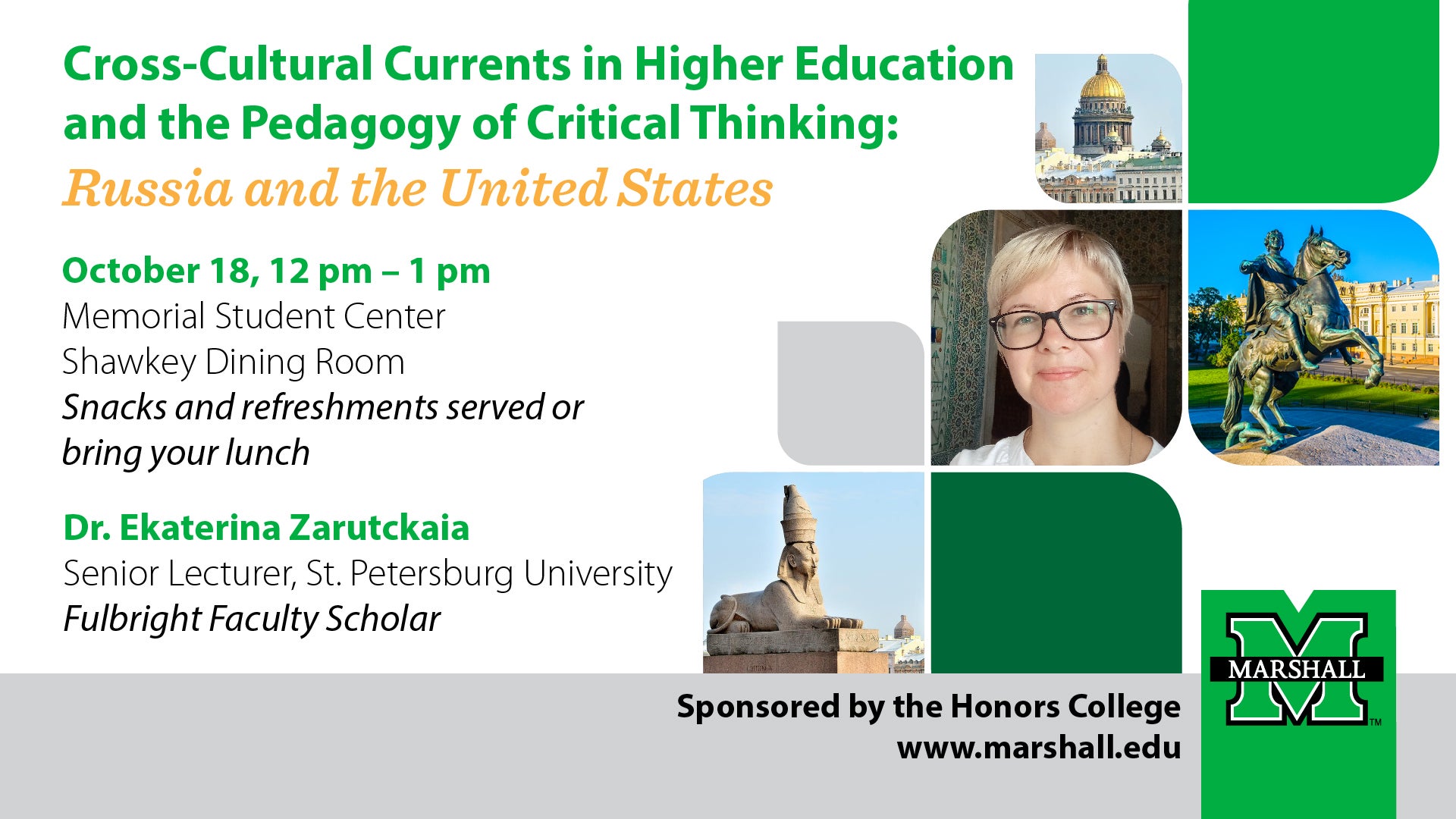 Cross-cultural Currents in Higher Education and the Pedagogy of Critical Thinking: Russia and the United States
MSC2E28 – Shawkey Dining Room
Tuesday 18 October 2022, 12-1 pm
Refreshments will be served
How does St. Petersburg's reputation as a cultural capital of Russia influence the decisions of students from across the country to attend university there? How different are the demographic backgrounds of students within given majors (ranging from cultural, linguistic, and socioeconomic) and why might fully understanding them help us plan our courses? What challenges do faculty face when, in particular, when developing subject area courses in language and communication? And, finally, what might be the place for a pedagogy of critical thinking in these courses? In this presentation, Dr. Zarutckaia will answer these questions and, in so doing, provide unique insight into the particular nature of higher education in contemporary Russia and open a discussion on the varied similarities and differences in approaches there when compared to practices in the United States.
This presentation and discussion should be of particular interest to students and faculty in the fields of education, social sciences, and business.
Dr. Ekaterina Zarutckaia is a senior lecturer in the Department of Languages for Business and Management at St. Petersburg University. Zarutckaia joined the Honors College at Marshall University for the Fall 2022 semester as a Fulbright Faculty Development grantee from Russia.
You can learn more about Dr. Zarutckaia through this MU Press Release.