Professional Learning Community (P.L.C.)

---
What Our Students Are Saying
"Ms. C was the overall greatest cooperating teacher I have ever had during my experiences at Marshall University. She was willing to help me during my teaching experiences to improve on different techniques. I would definitely recommend her for any students. She was a great role model and I am so pleased I was able to be placed with her."

"Mrs. P is amazing!! She never let me down and always made me feel important. She would go out of her way to accompany my schedule when coming to observe. Her door was always open whether I was wanting to share good news with her or cry from the stress of life and student teaching. She always let me know how I was doing, both the good and the bad. She helped a great deal with my confidence this semester and truly helped me grow into the teacher I am becoming. Mrs. P is a wonderful mentor and any student would be lucky to have her to guide them through their student teaching experience. I could not have asked for a better supervisor."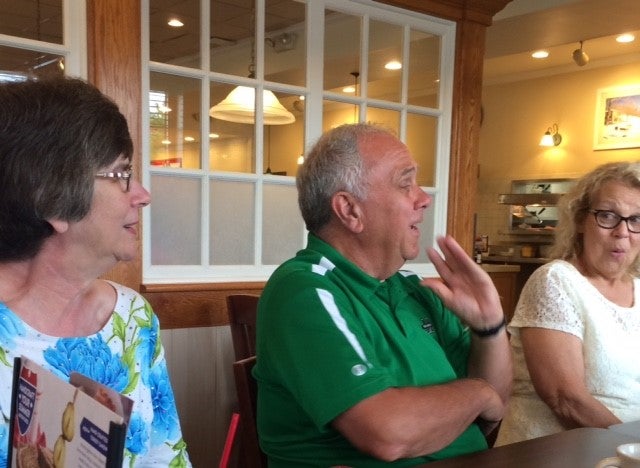 Our university supervisors met for a special breakfast to celebrate the end of the semester.  Allen Messinger, student teaching supervisor, was named University Supervisor of the Semester for his commitment to his students.
Cooperating Teachers of the Week
Angela Nottingham grew up an "army brat", living in Germany and several states before settling down in WV, which sparked her love of social studies. She attended Marshall University and graduated in 2005 with a BA in Elementary Education. Angela has spent her 13 year teaching career in middle school as a social studies teacher, currently teaching at Huntington Middle School. She has been married to her husband, Christopher, for just under 3 years, and they enjoy traveling, pretending to be oenophiles, and playing kickball. In the next 13 years, she hopes to finally get her Master's degree, get her papers graded in a timely manner, and go to Fiji.
Nikki Summerfield graduated from Marshall University with a degree in elementary ed and has went on to attain a Master's in Reading Education. She is continuing her education, focusing on autism and special needs. She is currently in her 11th year of teaching and teaches 5th grade at Culloden Elementary School. Nikki and her husband, Cory, have two dogs, Punky and Sophie. In her free time, Nikki is still working, teaching dance fitness classes and as a Younique Makeup direct seller. She also enjoys reading, gardening and babysitting for friends.
---
Previous Teachers of the Week
Handbooks, Forms, & Links
Contact Us
2018 Student Teaching
Very Important Dates
| Date | Time | Event | Location |
| --- | --- | --- | --- |
| January 8, 2018 | 9:00 a.m | Student Teacher Orientation | BE-5 |
| January 9, 2018 | | First Day, Student Teaching | |
| January 17, 2018 | 2:00 p.m | Seminar, Student Teaching | TBD |
| January 24, 2018 | 9:00 a.m | Level I Orientation | BE-5 |
| January 25, 2018 | 2:00 p.m | Level I Orientation | Shawkey |
| January 30, 2018 | 2:00 p.m | Seminar, Student Teaching | TBD |
| February 1, 2018 | 9:00 a.m | Level II Orientation | BE-5 |
| February 6, 2018 | 2:00 p.m | Seminar, Student Teaching | TBD |