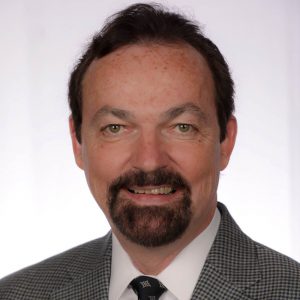 Greetings from the Marshall University School of Pharmacy, a new and innovative program specifically designed to educate future pharmacists to meet the personalized health care needs of patients in the 21st century. Pharmacy is an excellent career opportunity where professionals are part of a team of health care providers all working to improve the lives of people in communities across the world.  Pharmacists provide care and services in virtually every community  and the projected growth in the pharmacy industry indicates you will have many possibilities in the coming years, from industry research and development to hospital pharmacy, traditional retail pharmacy, nuclear pharmacy and a wide array of other opportunities.  This is an exciting time to contemplate a career in pharmacy and I am pleased that you are considering Marshall University.
Our unique program leading to a doctorate in pharmacy (Pharm. D.) degree is learner-centered, interdisciplinary, and team-based at its core.   From the first day of school, you will be learning in a cutting edge environment that emphasizes "active learning" and collaboration with other pharmacy students and our colleagues in other health professions.  By combining our School of Pharmacy with the resources available through Marshall's  College of Health Professions and the Joan C. Edwards School of Medicine, we offer a robust, interdisciplinary environment that allows for rich, diverse, and educational experiences for all. In addition, Marshall also has long-term relationships with area medical facilities which will provide you with the opportunity to practice your skills in real-life environments under the direction of experienced professionals.
We are committed to excellence in education, research and community involvement.  Our outstanding faculty are thriving researchers and clinicians who are faithful in the pursuit of excellence and dedicated to the success of every student.  In addition, we are committed to diversity and inclusion in our faculty, staff and student body.  Admission to the Marshall University School of Pharmacy makes every student an important member of the Marshall "Pharmily".
The Marshall University School of Pharmacy is an accredited program as designated by the Accreditation Council for Pharmacy Education (ACPE), the accrediting body for pharmacy education. Please see our accreditation page for more information.
As Dean, I invite you to learn more about our school through this website and our social media channels. You may also contact our staff for more information.  We hope you consider becoming part of our Pharmily to prepare you for a rewarding, fulfilling and lucrative career as a pharmacist.
Sincerely,
Brian A. Gallagher, R. Ph, J.D.
Interim Dean
Marshall University School of Pharmacy
We Are…Marshall! We Are…the Future of Pharmacy Education!