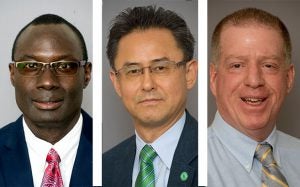 The Marshall University Lewis College of Business has appointed three new division heads.
Dr. Richard Agesa will serve as the new head of the division of Finance and Economics, and Dr. Frederick Mader and Dr. Doohee Lee will serve as interim co-heads of the Division of Management, Marketing and Management Information Systems, according interim dean Bob Simpson.
"All three demonstrate strong leadership in their respective disciplines and we are pleased to have each of them represent the Lewis College of Business," Simpson said.
Dr. Richard Agesa
Dr. Richard Agesa received his Ph.D. in economics from the University of Wisconsin-Milwaukee. A member of the Lewis College of Business faculty for the past 15 years, he has teaching and research interests in applied microeconometrics and developmental economics. Agesa has published in top-rated economics journals such as the American Economic Review, Economic Development and Cultural Change, and the Journal of Development Studies. He is the 2010-2011 recipient of Marshall University's Distinguished Artists and Scholars Award (DASA), which recognized his substantial quality research. He has received research and teaching awards from the Lewis College of Business as well. A 2002 article ranked Agesa as among the top 20 publishing African American economists in the nation.
Dr. Doohee Lee
Dr. Doohee Lee is associate professor of health care administration and holds the Richard D. Jackson Endowed Chair in the Division of Management at the Lewis College of Business. A native of South Korea, Lee received his Ph.D. in health management and policy from the University of Texas School of Public Health in 1999 and joined the faculty of Marshall in 2009. He previously taught at Cleveland State University and Columbus State University. He has taught numerous courses in the areas of health care management for the past 17 years. With respect to scholarship, he has been an active contributor to the field of health care management and policy. He has published over three dozen scholarly journal articles – mostly empirical studies focusing on cost containment and quality improvement in the delivery of health care services – which appeared in journals such as Health Care Management Review, Health Services Management Research, American Journal of Health-System Pharmacy, and Journal of Health and Human Services Administration.
Dr. Fred Mader
For over 25 years, Dr. Fred Mader has taught professional selling, supply chain logistics and marketing management courses in the Lewis College of Business. He received his Ph.D. in 1988 and his M.B.A. in 1981 from the University of Georgia. He received both his bachelor's and another master's degree from Western Kentucky University. Prior to his position at Marshall, Mader taught at the University of Louisville and the University of Georgia in their marketing and economics departments.
To learn more about the Lewis College of Business, visit www.marshall.edu/cob.
——————
Photo: Dr. Richard Agesa, Dr. Doohee Lee and Dr. Fred Mader have accepted new leadership roles in the Lewis College of Business.