The Division of Accountancy and Legal Environment offers a Bachelor of Business Administration (BBA) degree in Accounting. Graduates of the program add value to many types of organizations. They are prepared to meet business challenges because they learn many professional skills including core knowledge, communication, accounting research, technology, and critical thinking. Through a rigorous curriculum and an abundance of opportunities to engage with professionals, students with a BBA in Accounting from Marshall obtain internships, entry-level positions, and advance in a diverse set of accounting careers.
Our Mission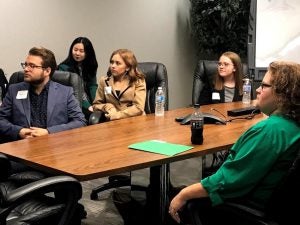 The mission of the Division of Accountancy and Legal Environment is to provide an education that will enable graduates to successfully enter the profession of accountancy, business, and/or graduate study. The faculty is committed to maintaining a current and relevant curriculum in the fields of accountancy and legal environment through professional engagement, service to our communities, and the development of applied and pedagogical research.
The mission of the BBA in Accounting program is to provide students the core knowledge and skills necessary to successfully enter the profession of accountancy, business, and/or graduate study.
Accreditation
Marshall University is one of only 186 schools worldwide to have achieved accreditation by AACSB International – The Association to Advance Collegiate Schools of Business – for its undergraduate majors and graduate programs in business and accounting.
The Division of Accountancy and Legal Environment has award-winning faculty, with diverse backgrounds and teaching interests. Most have worked in the profession and/or currently perform consulting in an array of accounting and legal services. Most faculty are CPAs or hold other prestigious certifications. Our faculty in the accountancy major are committed to an emphasis on teaching and interaction with students. Our approach is to focus on student learning, and we provide a dedicated faculty-student mentoring program.
Accounting Advisory Board and Alumni
We have an Accounting Advisory Board of elite business professionals who are dedicated to the students and the program.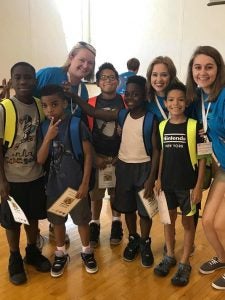 Professional Engagement and Experiential Learning
Our Accounting students actively engage with professionals through events such as Student Night, Visit the Firms, Beta Alpha Psi, VITA, and internships. Students who fully engage in these activities become members of the professional community even while still in college.
Accounting students also have the opportunity to engage in experiential learning in which real-world projects become part of the curriculum. Past projects have involved working with the Huntington Police Department, Peerless Block and Brick Company, the State Auditors, and more!
Graduate Profile
Of our 2017-2018 Graduates:
68% had an internship;
94% had a job and/or admission to grad school at or a few months after graduation, and;
82% of those reporting had salaries of $40,000 or above..
Follow this link to see the Accounting Plan of Study
Certifications
Graduates with a BBA in Accounting from the Lewis College of Business are qualified to sit for several certification exams upon graduation: The Certified Management Accountant (CMA), the Certified Financial Manager (CFM), the Certified Internal Auditor (CIA), and the Certified Fraud Examiner (CFE).
In most states (including West Virginia), a student must have 150 semester hours of college credit to become a CPA. With your BBA in Accounting from the College of Business and some additional college credit, you will qualify to sit for the exam and eventually become a CPA!
We are proud to report that in both 2015 and 2016 Marshall outranked other WV Universities on overall CPA exam pass rates.
Marshall students interested in setting for these professional exams can receive a discount on exam review materials by purchasing through this link.
Opportunities & Careers
Corporate
Internal Auditor
Management Accountant
Comptroller/Controller
Cost Accountant
Government
IRS Agent
State Auditor
Bank Examiner
Municipal Accountant
FBI Agent
Public
Audit/Assurance Service Professional
Tax Accountant
Management Advisory Services
Not For Profit
University Accountant
Charitable Organization Accountant
Hospital Accountant
Projected job market data for Accountants:
https://www.onetonline.org/link/summary/13-2011.01
Major Courses
ACC 311 – Intermediate Accounting I
ACC 312 – Intermediate Accounting II
ACC 318 – Cost Accounting I
ACC 341 – Accounting Information Systems
ACC 348 – Federal Taxation
ACC 414 – Advanced Accounting Problems
ACC 429 – Auditing I
ACC 448 – Federal Taxation II
ACC 499 – Professionalism and Ethics Seminar
ACC 198 – Accounting Professionalism
LE 308 – Commercial Law
MIS 360 – Business Data Analytics
Accounting Electives (3 hours)