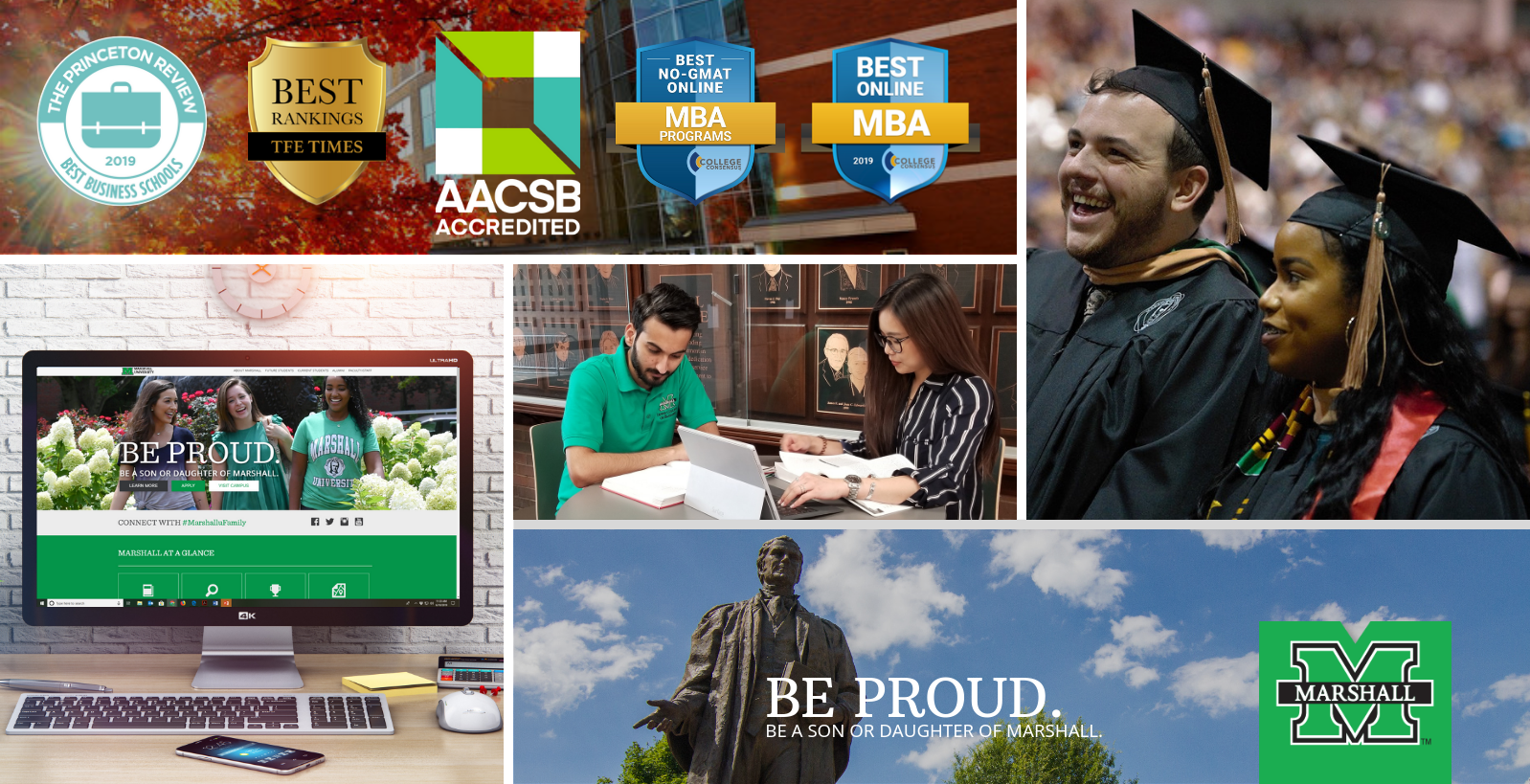 The MBA degree program from Marshall University will help prepare you for career achievement and advancement. With an emphasis placed on applying theory into real-world practice, our graduates will be able to meet current needs and changing demands of the global market place. The program will help polish your management, critical thinking, communication, and problem solving skills. The faculty of our MBA program is composed of professors with educational backgrounds and experience in the functional fields of business administration, accounting, finance, management, marketing, economics, law, MIS, communications, and organizational behavior. The rigorous nature of the MBA program requires thorough understanding of the basics of business fundamentals. If your undergraduate degree is not in business, there may be some additional foundations courses required.
Classes for the MBA program are offered in the evenings in Huntington or Online, with a few course available in South Charleston.
Admission Requirements
Applicants should follow the admissions process described in this catalog or at the Graduate Admissions website.
Applicants must either have:
An undergraduate degree in business from a regionally accredited institution with an undergraduate Grade Point Average (GPA) of 3.0 or higher on a 4.0 scale for all previously completed undergraduate coursework.
OR
A doctoral degree from a regionally accredited institution; and completed all of the required Business Foundations courses or their equivalents within seven years of application.
Provisional Admission
Applicants whose undergraduate GPA is below a 3.0 from a regionally accredited institution and/or are lacking any Foundation requirements may be admitted provisionally until all foundations requirements are completed. Applicants with a GPA below a 3.0 can include letters of recommendation, statement of purpose, resume, or any other material that could help make your case to the Admissions Committee. While provisionally admitted, the applicant must maintain a G.P.A. of 3.0 or higher in the required foundations courses. Once all required foundations courses are completed with a 3.0 or higher average, the applicant will be eligible for full admission. Failure to complete the required Foundations courses and/or to maintain a 3.0 or higher while provisionally admitted will lead to academic probation or dismissal from the program. Required Business Foundation courses are determined by the M.B.A. Director or the GSM Academic Advisor.
Note: Applicants may be asked to submit additional material if needed before an admission decision is made. Generally, more students apply to the MBA program than are accepted each year; therefore, the selection process is competitive.
Concentrations
Building up on the knowledge gained in the core curriculum, students can customize and focus their learning experience to best fit their individual skills and goals.
Marshall University MBA students can specialize in an "Concentrations" by taking two electives in one functional area. Concentrations include:
Accounting (Available on campus)
Finance (Available on campus only)
Healthcare Administration (Available on campus only)
Human Resource Management (Available on campus only)
Management (Available on campus and online)
Marketing (Available on campus only)
General MBA (for students who choose not to specialize and take electives from each area; available on campus and online)
Supply Chain Management (Available on campus only)
Military Management (Available online only)
Curriculum for Program
Business Foundations
ECN 250 Principles of Microeconomics
ACC 215 Accounting Principles
MGT 218 Business Statistics
MKT 340 Principles of Marketing
FIN 323 Principles of Finance
Master of Business Administration




COURSE NO.
HRS.
COURSE TITLE (PREREQUISITE)
MGT 601
3
Quantitative Methods for Business (PR: MGT 218/MBA Admission)
ACC 613
3
Profit Planning and Controls (PR: ACC 215/MBA Admission or Academic Advisor Permission)
FIN 620
3
Financial management (PR: FIN 323, MGT 601)
ECN 630
3
Managerial Economics (PR: ECN 250/MBA Admission)
MGT 672
3
Organizational Behavior (PR: GSM Admission)
MGT 674
3
Production/Operations Management (PR: MGT 601/Permission of GSM Academic Advisor)
MIS 678
3
Management Information Systems (PR: GSM Admission)
MKT 682
3
Advanced Marketing Management (PR: MKT 340/MBA Admission)
MGT 699**
3
Business Policy & Strategy (PR: Permission of GSM Academic Advisor)
*ELECTIVE
3
ADVISOR APPROVAL
*ELECTIVE
3
ADVISOR APPROVAL
*ELECTIVE
3
ADVISOR APPROVAL
TOTAL HOURS
36
* For Concentration, must complete at least two electives in Accounting, Management, Marketing, Finance, HCA, HRM, or Supply Chain Management

**This course should be taken in the last 9 hours of the program.
---
Download the MBA Plan of Study PDF
---
Projected job market data for General and Operations Managers: https://www.onetonline.org/link/summary/11-1021.00
Opportunities & Careers
Related Links