The Master of Science in Health Informatics degree program provides an interdisciplinary study of the design, development, adoption, and application of IT-based innovations in healthcare services, delivery, management, and planning. Marshall University's Health Informatics program is the only of its kind in West Virginia.
Students enter the field of Health Informatics because it is a combination of healthcare and technology, Health Informatics appeals to clinicians and technicians interested in the intersections of healthcare and technology. Further, Health Informatics is part of the burgeoning science, technology, engineering and mathematics (STEM) field, appealing to students wishing to work in value-based environments. Students can work at Hospitals/clinics, information systems companies, government agencies, and insurance companies among others, as chief information officers, data analytics, application developers, and project managers.
Accreditation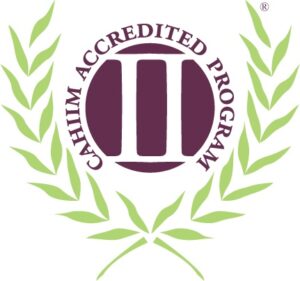 The Master of Science in Health Informatics accreditor of Marshall University Lewis College of Business and Brad D. Smith Schools of Business is the Commission on Accreditation for Health Informatics and Information Management Education (CAHIIM). The College's accreditation for the Master of Science degree in Health Informatics has been reaffirmed through 2023. All inquiries about the program's accreditation status should be directed by mail to CAHIIM, 200 East Randolph Street, Suite 5100, Chicago, IL, 60601; by phone at (312) 235-3255; or by email at info@cahiim.org.
The Master of Science in Health Informatics also falls under the Lewis College of Business's AACSB International accreditation.
Growing Demand
There is large demand for Health Informatics professionals. Employment of healthcare occupations is projected to grow 14 percent from 2018 to 2028, much faster than the average for all occupations, adding about 1.9 million new jobs. Healthcare occupations are projected to add more jobs than any of the other occupational groups. This projected growth is mainly due to an aging population, leading to greater demand for healthcare services.
The U.S. Bureau of Labor Statistics projects that Employment of medical records and health information technicians will grow 11 percent from 2018 to 2028, much faster than the average for all occupations. Further, the median annual wage for medical records and health information technicians was $40,350 in May 2018.
Advantages of Health Informatics
Renowned for its affordability and overall quality, MBA Healthcare Management notes that Marshall University's Health Informatics program "[is] the nation's #1 most affordable Master's in Health Informatics degree" and "blends the didactic and experiential learning needed to prepare valuable professionals for leading today's data and information-driven healthcare industry." It is renowned for being the only graduate level Health Informatics program in the state of West Virginia.
Marshall University's Health Informatics program is a unique academic model initiative of three colleges including the College of Health Professions, Lewis College of Business, and the College of Engineering and Computer Sciences.
The combination of skills and knowledge acquired through coursework in this unique academic model, together with the internships in the Health Informatics field at the academic, government or industry levels, will prepare students with the education and real-world experiences necessary to succeed as a leader in this emerging field.
Admission Requirements
Applicants should follow the admissions process described in this catalog or at the Graduate Admissions website.
Students must have an undergraduate Grade Point average (GPA) of 2.5 or higher on a 4.0 scale for all previously completed undergraduate university work.
There is no requirement for the GRE
The Health Informatics program may admit applicants provisionally, on a limited basis, at the discretion of the program director.
Program Requirements
Course Number
Course Name
Hours
HIN 605
The Role of EHR and PHR
3
HIN 615
Health Quality and Safety
3
HIN 620
Legal and Regulatory Environment for Health Care and Informatics
3
HIN 630
Research Methods and Data Analytics for Health Informatics
3
HIN 650
Health Informatics Practicum
3
HIN 664
Health Informatics
3
HIN 665
Health Care Enterprise Information Systems
3
HIN 685-688
Independent Study (optional)
1-4
HCA 600
The Health Care System
3
HCA 656
Management of Health Care Technology and Information Systems
3
MIS 623
Database Management
3
MIS 678
Management Information Systems
3
MIS 680
Health Care Communications Technology and Telematics
3
EM 660
Project Management
3
Total Hours:
39-41
Health Informatics Practicum
MS Health Informatics students will be required to complete the Health Informatics Practicum (HIN 650), which includes successfully completing at least 400 hours in an educationally directed Health Informatics internship at one of several Health Informatics job sites, approved by the program director. The student practicums consist of job placements within the Health Informatics field at academic, government or healthcare industry levels.
Related Programs
Nursing Informatics Certificate
Outcome Statistics
As part of the CAHIIM Accreditation standards that require programs to provide reliable information to the public on their performance, including student achievement as determined by the program, the Marshall Health Informatics program provides information on graduates, job placement and graduate salaries.
| Academic Year | Retention Rate* | Graduation Rate |
| --- | --- | --- |
| 2015-2016 | 75% | 63% |
| 2016-2017 | 80% | 67% |
| 2017-2018 | 91% | 73% |
| 2018-2019 | 89% | 78% |
| 2019-2020 | 84% | 68% |
| 2020-2021 | 80% | Undetermined** |
*Retention rate is the percent of students who continue after the first year.
**Students just started program in the past year.