What is FLSA?
Fair Labor Standards Act (FLSA), first enacted in 1938, establishes minimum wage, overtime pay, recordkeeping, and youth employment standards affecting employees in the private sector and in Federal, State, and local governments.
Established tests that must be met in order for an employee to be exempt from overtime pay eligibility.
Tests/Rules for classifying covered employees as "exempt" or "nonexempt"
Requires overtime compensation to nonexempt employees for all hours over 40 in a workweek

Usually 1.5 times regular pay rate – Government Agencies can award Compensatory Time.
Upcoming Changes – Final Rule for Overtime
On September 24, 2019, the U.S. Department of Labor announced a final rule to make 1.3 million American workers newly eligible for overtime pay.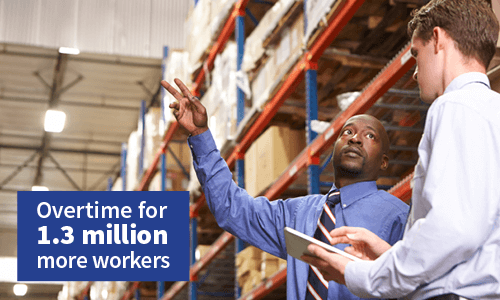 The final rule updates the earnings thresholds necessary to exempt executive, administrative and professional employees from the Fair Labor Standards Act's (FLSA) minimum wage and overtime pay requirements, and allows employers to count a portion of certain bonuses/commissions towards meeting the salary level. The new thresholds account for growth in employee earnings since the thresholds were last updated in 2004.
In the final rule, the Department is:
raising the "standard salary level" from the currently enforced level of $455 per week to $684 per week (equivalent to $35,568 per year for a full-year worker);
raising the total annual compensation requirement for "highly compensated employees" from the currently enforced level of $100,000 per year to $107,432 per year;
allowing employers to use nondiscretionary bonuses and incentive payments (including commissions) paid at least annually to satisfy up to 10% of the standard salary level, in recognition of evolving pay practices
The final rule is effective on January 1, 2020.
How and When does this change affect Marshall University?
As a result of these changes, the University will be increasing  the number of non-exempt/hourly employees.
Can an Employee Maintain their Exemption Status?
In order for exempt employees to maintain an exemption status they must meet both the "salary" & "duties" test.
Travel & Time Management for Non-Exempt Employees
Additional FLSA Resources
The Department of Labor has additional resources and tools regarding the Overtime changes.