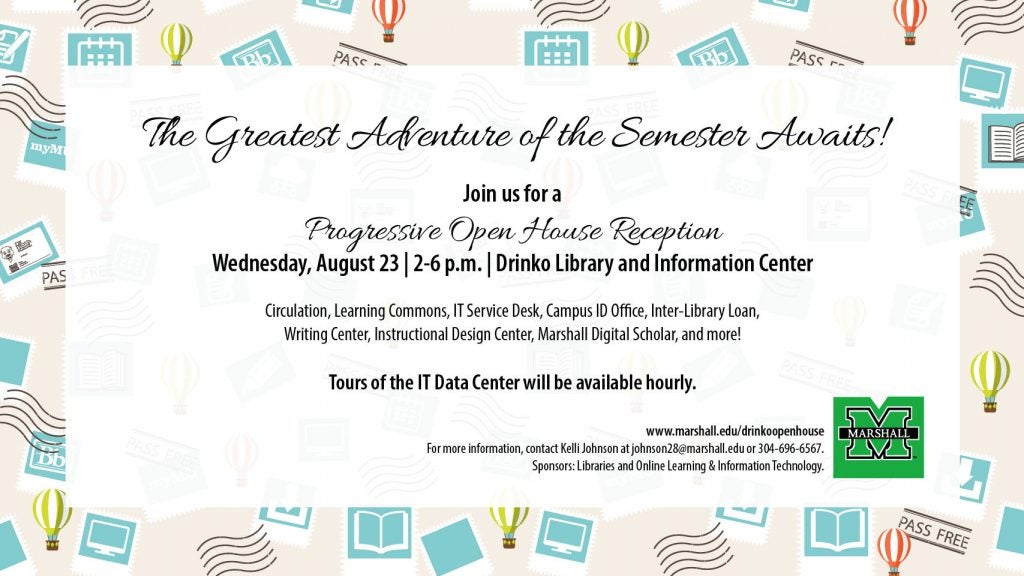 The faculty and staff are invited to join Libraries and Online Learning and the Division of Information Technology for a progressive open house from 2 to 6 p.m. Wednesday, Aug. 23, at the Drinko Library and Information Center on the Huntington campus. 
During the event, guests will be encouraged to travel around Drinko Library to learn more about IT and library services including circulation, inter-library loans, the Writing Center, Instructional Design Center, ID Office, IT Service Desk, Marshall Digital Scholar and more! 
"We are hoping our new format will help faculty become acquainted with both our new and existing services in an informal and inviting way," said Dr. Monica Brooks, associate vice president of libraries and online learning. "It's also an opportunity for them to meet the faculty and staff to ask questions and learn more about the research and curriculum support networks the libraries and online learning have at our disposal."
Information Technology staff members will be in attendance to assist with questions about IT infrastructure and services.
"The Division of Information Technology is happy to welcome faculty to our part of the campus," said Jody Perry, executive director of technology services.  "There will be members of our IT Infrastructure team as well as our IT Services team on hand throughout the open house to answer any IT-related questions, give presentations on myMU and MUMobile, and lead hourly tours of the data center."
"The data center is where the magic happens. The 1800-square-foot, state-of-the-art facility is equipped with 87 physical servers, 502 virtual servers and more than 270 terabytes of storage.  It's what controls e-mail, Banner, myMU and all other IT services.  Visitors will be given an overview of the security and monitoring in place, as well as a chance to see the VMware virtual environment and Big Green Cluster up close," Perry said.
The event will also showcase the new co-location of the Campus ID office and IT Service Desk as well as information about additional changes to IT services. 
"We are also excited to share the changes we've made to better serve the university," Perry, said. "The IT Service Desk and the Campus ID Office have moved into their new locations on the first floor of the Drinko Library and Information Center and we have completed several 'Behind the Scenes' updates in and around campus that affect the entire university community."  
Marco will be available for photos from 4 to 5 p.m.