Jody Perry
Executive Director, Technology Services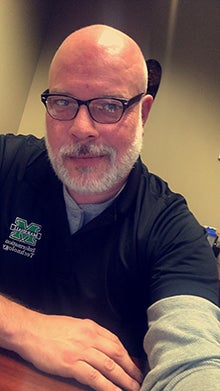 What degrees do you hold?
BBA – Management Information Systems / Math Minor
MS – Industrial Employee Relations
All obtained from Marshall University.
How would you describe your role in 10 words or less?
I assist the university community with all things IT
What is your favorite thing about working in IT or at MU?
I like working at Marshall because I feel like I grew up here. I attended undergrad and graduate school here. After Grad school, I moved away and worked in other higher ed institutions but came back for this role in IT. I find Marshall provides a relaxed and productive atmosphere as well as a nice work/life balance. More specifically, I like working in the Information Technology Division because I feel like we all work as a cohesive team. Even though there are several teams that make up the whole, the whole team functions as one and is able to accomplish some amazing things!
What is your favorite restaurant in the Huntington/Charleston area?
I can't pick just one! Some of my favorites are BackYard Pizza & Raw Bar, Black Sheep Burritos & Brews, Buddy's BBQ, Shangri-La and Pho House.
What is your favorite vacation spot?
The Pacific Northwest, a deserted beach, a snowy mountain, or any vibrant city foreign or domestic.
What are you currently watching/Binging?
Everything on Netflix. I've almost reached the end.
What are some of your favorite pastime activities?
I love to travel, spend time with my dog, kayaking and being in nature.
How can someone from our community reach you?
jody.perry@marshall.edu