Scarlett Scarberry 
Information Technology Intern
---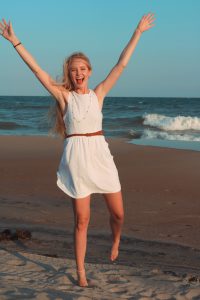 Major:
Computer and Information Technology, emphasis on Web Development and Application
Internship Team:
Web Development Team
What's your dream job?:
My dream job would be freelance web design and web development to improve interface, functionality, and presentation of websites. I'd also love to be a small business owner, but ultimately, I want my future job to serve others.
What made you want to be in IT Field?:
One of the most unique and wonderful things about IT is how diverse and open the field is. It provides a plethora of opportunity! Since I was unsure what career I wanted in the future as a freshman at MU, CIT was the perfect fit for me!
Describe what you do for the IT department in three sentences:
Currently, I am working with Web Developer Chelsie Cooper to work on and improve Marshall's website. I have also worked on and will likely work on future graphics for Marshall's IT department.
Favorite Restaurant in Huntington/Charleston area:
The Pho Noodle House in Huntington serves one of the best versions of the Vietnamese dish, Pho, that I've ever had!
What's your favorite hobbies?:
My hobbies outside of IT include embroidery, photography, reading, landscaping, and gardening.
What's your favorite part of technology?:
I love how creative and hands on technology is. There is always a new idea being developed, creative graphics being developed, and it is perfect for those, like myself, who enjoy doing things hands on and thinking critically. Technology also allows the opportunity to continue learning and growing in the field; therefore, there is always a new code to learn or improve or images to change – it is fast paced and works well with my lifestyle.
What's your favorite food?:Though it may not be the healthiest dish, my favorite food is chicken Alfredo! It's the best when it is home made.