Marshall University Information Technology is applying a major upgrade to the email firewall service, called Barracuda Essentials, on Sunday, May 19, 2019. Barracuda Essentials provides advanced protection against fraudulent email for both Faculty/Staff email (on-premise Exchange) and Student email (Office365). It also provides security for outgoing mail to external sources, assisting in the discovery and remediation of internal, compromised accounts. MUNet account-holders will have access to a self-service interface, allowing them to view and search for messages that have been blocked or quarantined.
For more information on the benefits of this upgrade and frequently asked questions, please visit hwww.marshall.edu/it/email-security.
When will this occur?
The upgrade is scheduled during the maintenance window on Sunday, May 19.
Who does this affect?
All Marshall University mailboxes will be protected by Barracuda Essentials, including faculty/staff email (on-premise Exchange) and student email (Office365).
What do I need to do?
No action needs to be taken on your part. Just keep an eye out for Barracuda Essentials quarantine notifications. They will have a different appearance than the former Barracuda Spam Firewall quarantine notifications, though they will have the same function.
What will the new Quarantine Notifications look like?
The new Quarantine Notifications will come from

quarantine@ess.barracuda.com

with the Subject "Barracuda Email Security Service Quarantine Notification."
Below is a screenshot of what a Quarantine Notification will look like in Microsoft Outlook: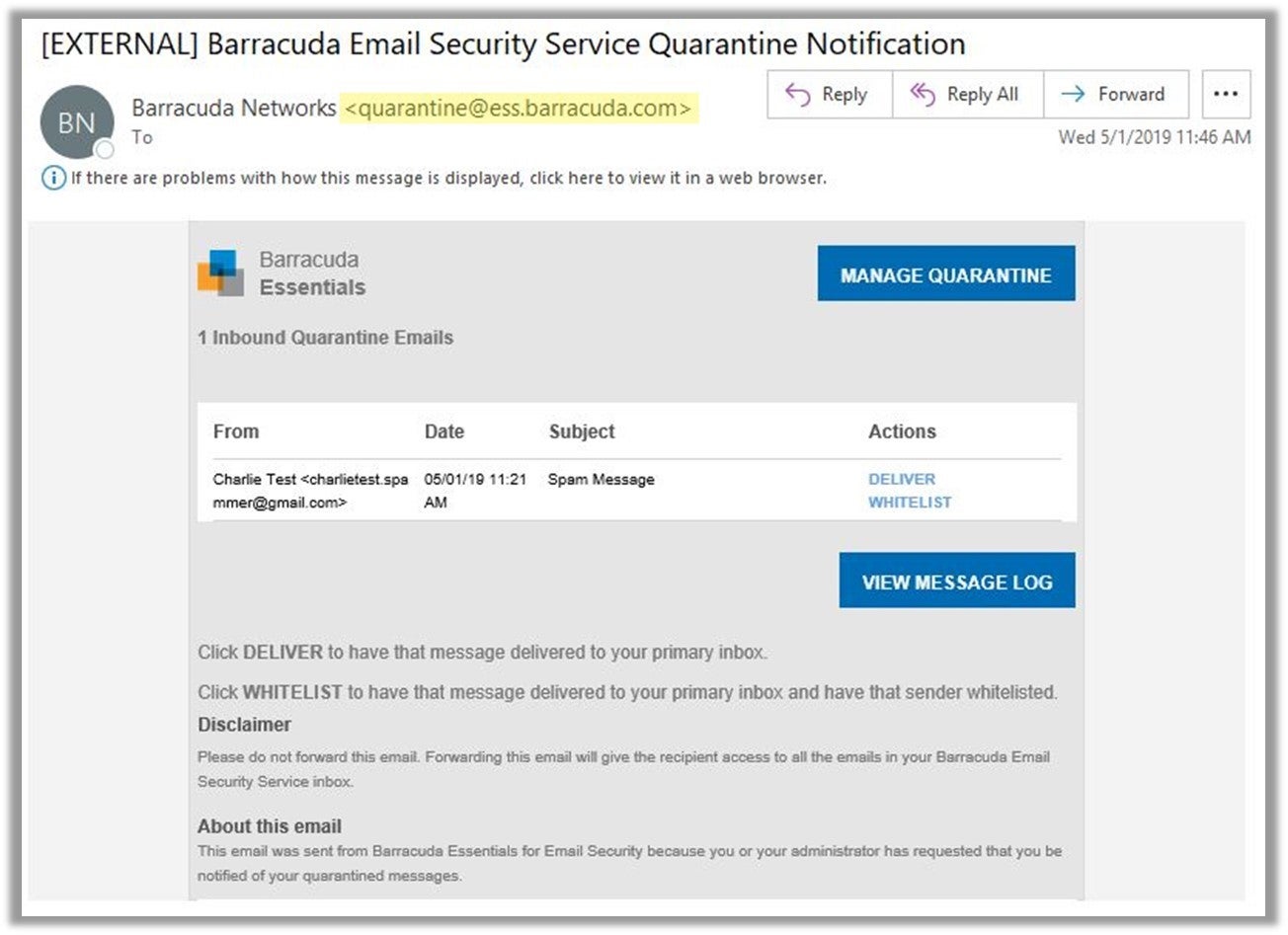 Please contact the IT Service Desk via chat at www.marshall.edu/it, phone 304-696-3200, email itservicedesk@marshall.edu, or in person on the first floor of Drinko Library and Information Center if you need technical assistance.