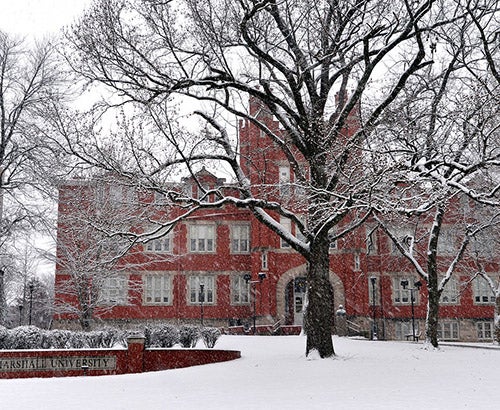 Students in Marshall University's Jazz Ensemble I will perform the holiday favorite, "The Nutcracker Suite," at 7:30 p.m. on Wednesday, Nov. 8, in Smith Recital Hall.
Jeff Wolfe, an instructor of jazz studies in the Marshall University School of Music and director of the ensemble, said he could not think of a better way to simultaneously challenge his students and to present a program the public is sure to enjoy than with Duke Ellington and Billy Strayhorn's seminal arrangement of Tchaikovsky's holiday favorite.
"Duke Ellington is one of the most important composers of American music during the 20th Century, and it's critical that developing jazz students experience dealing with the subtleties, nuance and sophistication required to authentically play Ellington's music," Wolfe said. "Also, it just really swings!"
The public performance of "The Nutracker Suite" is free and open to the public. For more information, contact Wolfe by e-mail at  wolfe9@marshall.edu.