Hannah Cyrus, PT, DPT (Class of DPT 2019)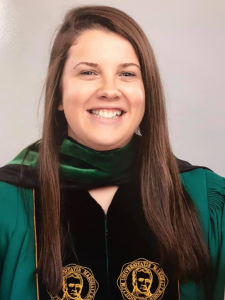 Dr. Cyrus is a 2019 graduate of the Marshall University Doctor of Physical Therapy program.  She is from Minford, OH and graduated from Ohio University with a Bachelor's of Science before attending the MUSOPT. Hannah excelled academically and professionally in the DPT program, and she served as a Graduate Teaching Assistant in several courses while in the program.
Why did you choose the Marshall School of Physical Therapy for your DPT education?
I chose MUSOPT for its close-knit community feel. The school is nestled in a city that is in need of healthcare professionals, and the community embraces the program for its addition of new and eager professionals each year. I was also impressed by the variety of specializations held by the professors, knowing I would receive a well-rounded education.
What was your favorite aspect of the MU SOPT?
I liked the small class sizes at Marshall and the opportunity to get one-on-one time with professors. Knowing the faculty on a personal level makes it easier to go to their offices for help. Although it is a relatively new program, it continues to grow and evolve to better prepare students.
As a successful graduate of a challenging professional curriculum, to what do you attribute your success?
I wouldn't have gotten through PT school without the best support system of family and friends who kept me sane on the most challenging days. I put in long hours studying and practicing skills but was able to regenerate by enjoying the beautiful scenery West Virginia has to offer with good company.
What advice would you give to prospective students who are applying to physical therapy school?
Be prepared to work and play! You will feel the most stressed yet the most accomplished during your time in PT school. The type of people who choose this profession are naturally driven but know how to have a good time and unwind when the work is finished.
What advice would you give to current MU SOPT students?
To the first years: buckle down, study, and breathe. Remember that this will all make sense when you can apply it to real-life patients.
To the second years: don't get lost in the coursework or forget why you chose this profession. Reflect often on what made you fall in love with Physical Therapy. Take the opportunities to attend national conferences, network with like-minded individuals, and rekindle your passion.
To the third years: clinical rotations are a taste of what your life will be like soon! Take the challenges you face in that time with an open mind and be confident in yourself! Be inquisitive and learn from your CIs. Marshall prepares its student for the clinic, so trust in the effort and time you put in during your academic journey.
---
Derrick White, PT, DPT (Class of DPT 2018)
Brian Coleman, PT, DPT, CSCS (Class of DPT 2017)
Heather Galloway, PT, MS, DPT (Class of DPT 2016)