Hannah Cyrus, PT, DPT (Class of DPT 2019)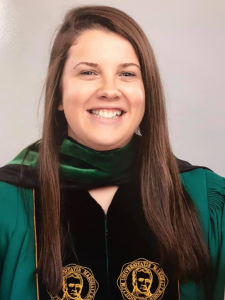 Dr. Cyrus is a 2019 graduate of the Marshall University Doctor of Physical Therapy program.  She is from Minford, OH and graduated from Ohio University with a Bachelor's of Science before attending the MUSOPT. Hannah excelled academically and professionally in the DPT program, and she served as a Graduate Teaching Assistant in several courses while in the program.
Why did you choose the Marshall School of Physical Therapy for your DPT education?
I chose MUSOPT for its close-knit community feel. The school is nestled in a city that is in need of healthcare professionals, and the community embraces the program for its addition of new and eager professionals each year. I was also impressed by the variety of specializations held by the professors, knowing I would receive a well-rounded education.
What was your favorite aspect of the Marshall University SOPT?
I liked the small class sizes at Marshall and the opportunity to get one-on-one time with professors. Knowing the faculty on a personal level makes it easier to go to their offices for help. Although it is a relatively new program, it continues to grow and evolve to better prepare students.
As a successful graduate of a challenging professional curriculum, to what do you attribute your success?
I wouldn't have gotten through PT school without the best support system of family and friends who kept me sane on the most challenging days. I put in long hours studying and practicing skills but was able to regenerate by enjoying the beautiful scenery West Virginia has to offer with good company.
What advice would you give to prospective students who are applying to physical therapy school?
Be prepared to work and play! You will feel the most stressed yet the most accomplished during your time in PT school. The type of people who choose this profession are naturally driven but know how to have a good time and unwind when the work is finished.
What advice would you give to current Marshall University SOPT students?
To the first years: buckle down, study, and breathe. Remember that this will all make sense when you can apply it to real-life patients.
To the second years: don't get lost in the coursework or forget why you chose this profession. Reflect often on what made you fall in love with Physical Therapy. Take the opportunities to attend national conferences, network with like-minded individuals, and rekindle your passion.
To the third years: clinical rotations are a taste of what your life will be like soon! Take the challenges you face in that time with an open mind and be confident in yourself! Be inquisitive and learn from your CIs. Marshall prepares its student for the clinic, so trust in the effort and time you put in during your academic journey.
---
---
Adrienne Ramey, PT, DPT (Class of DPT 2019)

Where do you currently practice physical therapy? 
CAMC General Hospital in Medical Rehabilitation; Inpatient setting.
What do you like most about being a physical therapist? 
I enjoy meeting patients and making such an impact on their lives. Here in the inpatient setting, progress is an everyday occurrence. I am not saying you do not see progress in the outpatient setting or in acute care, but the inpatient setting is a different world. Being a therapist means being invested. You cannot just leave your work at the office. Often, I wake up in the middle of the night with an idea to help a certain patient, that cannot wait until morning. When the alarm buzzes before dawn, I wake up with the day's first patient already on my mind. Their battles have become my battles. I love fighting for more than just a simple existence from my patients.
Why did you choose the Marshall School of Physical Therapy?
I am a small town, local girl, so when applying to PT school, I wanted to stay that way. I only applied to schools in WV, such as Marshall SOPT and WVU SOPT. Marshall was the first to contact me, so I was thrilled because that was my first pick. I had heard nothing but great things about the program and had worked alongside some of the current MUSPOT students when working as a physical therapy technician. After my interview at MUSOPT, I knew it was where I belonged. The professors and staff are personable and approachable with an open-door policy, which was a perfect fit for my small-town state of mind.
What advice would you give to a prospective student who is applying to physical therapy school?
Be determined! Graduate programs, specifically physical therapy, are very competitive, but with determination and perseverance, nothing is impossible. Make the sky your limit. You will spend an extensive amount of time at your school of physical therapy, so make sure it fits you and your standards instead of settling for who accepts you. I look forward to making life-long relationships with your classmates, as you will spend a great deal of time with them as well.
What advice would you give to the current first-year DPT students at Marshall University?
Take advantage of your time as a student at Marshall University. MUSOPT is such an excellent program where the faculty and staff make their  students feel at home with their open-door policy. The faculty genuinely care about providing top-notch education, so do not hesitate to ask questions or take a little extra time to observe them. Take time to volunteer and make yourself present within the community. I know the first year of DPT school is stressful and seems like it will never end, but enjoy it, take time for yourself, workout, create relationships with your classmates, and most importantly, be committed.
---
Derrick White, PT, DPT (Class of DPT 2018)
Brian Coleman, PT, DPT, CSCS (Class of DPT 2017)
Heather Galloway, PT, MS, DPT (Class of DPT 2016)