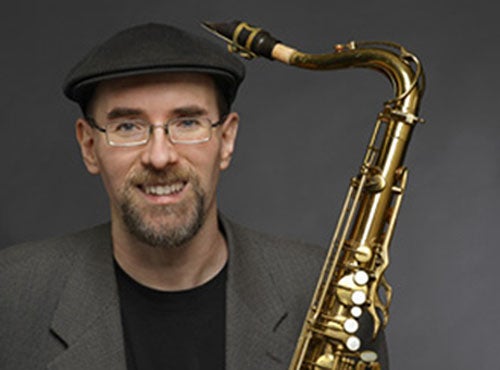 The Marshall University Music program and the Department of Jazz Studies will present two concerts next week as part of the university's 17th annual Jazz-MU-Tazz summer camp.
The first performance will take place at 7:30 p.m. Friday, June 17, in the Jomie Jazz Forum on Marshall's Huntington campus. Featured will be the camp's weeklong guest artist, saxophonist and flutist Greg Fishman, with Marshall jazz faculty members Dr. Ed Bingham, saxophone; Dr. Martin Saunders, trumpet; Jeff Wolfe, trumpet; Dr. Mike Stroeher, trombone; Steve Heffner, bass; and Jesse Nolan, drums.
The week will culminate with a finale performance by Jazz-MU-Tazz festival ensembles at 5 p.m. Saturday, June 18, at downtown Huntington's Pullman Square. The ensembles will be composed of the high school and collegiate groups who have spent the week learning from and playing with Fishman and Marshall faculty members.
Both concerts are free and open to the public.
Fishman, an accomplished performer, recording artist, author, teacher and clinician, began playing professionally at age 14. He graduated from DePaul University in Chicago with a degree in jazz performance and earned a master's degree in jazz pedagogy from Northwestern University in Evanston, Illinois.
Fishman has toured and performed worldwide with his own group and with such artists as the Woody Herman Band, Louis Bellson, Slide Hampton, Conte Candoli, Lou Levy, Clark Terry, Jackie and Roy, Don Menza, Ira Sullivan, Judy Roberts, Jeremy Monteiro, Jimmy Heath, Lou Donaldson, Harry Allen, Jeff Hamilton, Eddie Higgins and Benny Golson. Fishman teaches jazz master classes and college workshops nationally and internationally and is a faculty member at the Jamey Aebersold Summer Jazz Workshop. When not on tour, he is based in the Chicago area, where he performs locally and teaches at Greg Fishman Jazz Studios.
The six-day, five-night Jazz-MU-Tazz camp is an opportunity for high school students to learn more about the traditions of jazz, regardless of prior experience.
For further information, contact Bingham at bingham@marshall.edu or at 304-696-3147.
———————
Photo: Guest artist Greg Fishman will be an educator and featured performer during Marshall University's 17th annual Jazz-MU-Tazz summer camp June 13-18.