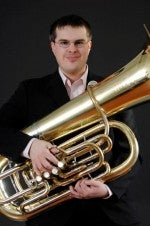 Dr. George Palton, adjunct professor of tuba and euphonium at Marshall University, will perform a solo tuba recital with pianist Mary Beth Norman at 7:30 p.m. Monday, Oct. 12, in the Jomie Jazz Center on Marshall's Huntington campus.
The program, free and open to the public, will feature works by Bruce Broughton, Neal Markowski, Roland Szentpali, Robert W. Smith and Jean Baptiste Arban.
Along with his duties at Marshall, Palton is also actively teaching in public schools. He earned a Bachelor of Music in Music Education and Bachelor of Music from Bowling Green State University in Ohio and holds master's and doctoral degrees in tuba performance from the University of Kentucky. Previously, Palton taught at West Virginia State University, The University of Kentucky, and Transylvania University.
Palton has won first place in several solo competitions, including the Susan Slaughter International Solo Tuba Competition in 2010 and the International Tuba Euphonium Conference Tuba Artist Competition in 2006.
In addition to his performing and teaching activities, he is an active arranger and developer of pedagogical materials. He has published his research and arrangements through such publications as The Journal for the International Tuba Euphonium Association. His debut solo CD, "Tuba in Motion," was released through Mark Records and features a variety of original recordings in numerous solo and chamber settings. He will appear on Ablaze Recordings Millennial Masters Volume #6 in early 2016.
Palton is a Buffet Group Tuba Artist and Clinician. He performs exclusively on B&S and Meinl-Weston tubas.
For more information about this concert or music at Marshall University, please call 304-696-3117 or e-mail Palton at palton@marshall.edu.