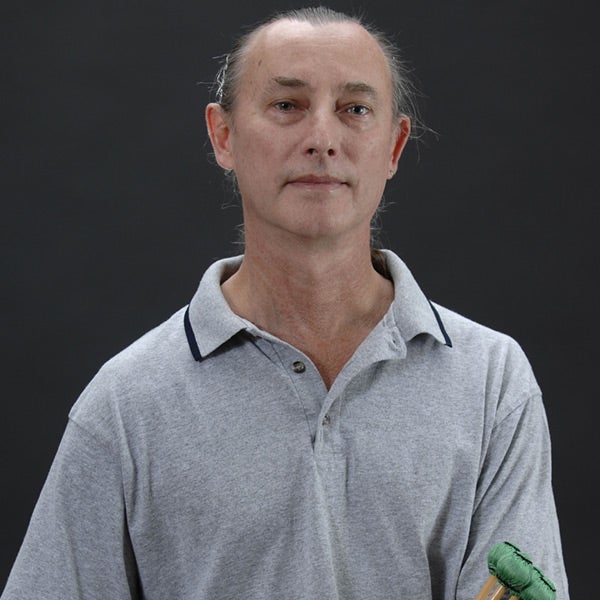 Coordinator of Percussion Studies
Email:
hallj@marshall.edu
Phone: 304-696-6468
Office: Smith Music Hall 310
Steven Hall is presently a Professor in the Marshall University Music Department. As the Coordinator of Percussion, Steve's primary responsibilities include directing the Percussion Ensemble, African Drumming and Dance Ensemble, teaching Applied Percussion, and World Music. Active as a percussionist/drummer in a wide variety of settings, he has recently performed with Aretha Franklin, Mary Wilson, Blood, Sweat and Tears, The Three Irish Tenors, and Landau Eugene Murphy, Jr. Professor Hall recently completed a CD of original commissioned works for Tryptich, a contemporary chamber music ensemble specializing in music for winds and percussion along with fellow members Dr.'s Ann and Ed Bingham and has performed at the 2001 and 2003 Percussive Arts Society International Conventions in Nashville, TN and Louisville, KY and performs regularly in the Huntington Symphony Orchestra.
Steve has performed in concerts with Ray Charles, Frank Sinatra Jr., LeAnn Rimes, Aaron Nevelle, Roberta Flack, Melissa Manchester, Phillip Bailey, Joe Williams, Warren Covington, Mitzi Gaynor, , Video Games Live, Martin Short, Beto Perez (creator of Zumba), Bugs On Broadway, Ice Capades,  Mark McVey, The Diamonds, The Coasters, The Drifters, The Platters, The Marvelettes, and The Inkspots. Steve also plays drums regularly with Three Fold Theory.
As a result of studying traditional West African music with the esteemed African scholars J.H.K. Nketia, Dr. Pascal Younge, and others at the University of Ghana, Legon, West Africa in 1998, the African Drumming and Dance Ensemble was created by Professor Hall and has proven to be an extremely popular offering at Marshall University. In 2003 and 2004 Mr. Hall traveled to Salvador, Brasil to study traditional Brasilian music and culture with professional drummers from the Afro-Brasilian musical group Olodum.  Mr. Hall's performances with Landau Eugene Murphy, Jr. include traveling to Germany in November 2012 to perform for American military troops in Edelweiss and Stuttgart.
He currently endorses REMO Percussion Products and Vic Firth Sticks and Mallets.
His teachers include Professor Frank Oddis, Dr. Robert Schietroma and Donald Miller.