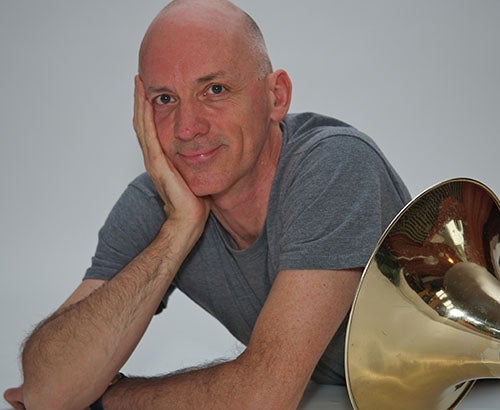 David Nesmith will visit Marshall University as a Joan C. Edwards Distinguished Professor in the Arts for a two-day residency on "Body Mapping: What Every Artist Needs to Know About the Body."
Two sessions, which are free and open to the public, will take place in the Jomie Jazz Center, Room 210, on Friday, March 31, from 5 to 8 p.m. and on Saturday, April 1, from 9 a.m. to noon.
Body Mapping allows one to "recover the natural balance, coordination and poise" and "to learn to move with greater ease, child-like grace, buoyancy and spontaneity," according to Nesmith.
"Balance and poise are inherent in our design," Nesmith said. "When we feel discomfort, stress or experience pain of one sort or another, we may be out of balance in some aspects of our life. We need not be a slave to unproductive habits of moving and thinking and the unfortunate consequences that may result."
A musicians' health advocate and educator for more than 20 years, Nesmith currently teaches the Alexander Technique and Body Mapping at the music department of Denison University. He has been a professional musician for 35 years and regularly teaches musicians on many continents via video conferencing. He has students in Europe, Australia, Brazil, Russia, China and Saudi Arabia, as well as students throughout the U.S.
This workshop is presented by Marshall's College of Arts and Media and School of Music and is made possible by the Joan C. Edwards Distinguished Professors in the Arts Endowment. In 1992, Joan C. Edwards established the endowment to enable the then-College of Fine Arts to bring to the Huntington campus preeminent arts educators in an effort to enhance learning opportunities for students, staff, faculty and the community.
For more information, contact the School of Music at 304-696-3117.
——
Photo: Joan C. Edwards Professor of the Arts resident David Nesmith will discuss ways for artists to listen to their bodies and be proactive in maintaining a high level of health during his free workshop from March 31 to April 1 at Marshall University.