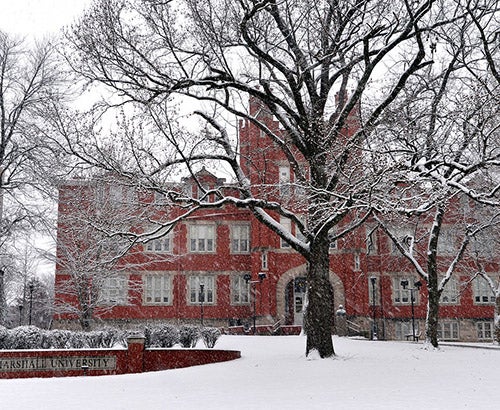 For the first time, four of Marshall University's large instrumental and choral ensembles will join at the university's Smith Recital Hall for a performance of seasonal favorites at 3 p.m. Sunday, Dec. 4.
The wide-ranging holiday concert will feature Marshall's orchestra, as well as the choral union, university chorus and chamber choir. The ensembles will perform individually and together with music by Handel, Haydn, Mendelssohn, Rutter and others.
"This is the first holiday performance of this type at Marshall in my memory," said Dr. Elizabeth Reed Smith, professor of music, who conducts the orchestra. "By joining forces, we are involving many students and community members in this holiday celebration."
The 45-piece orchestra includes students who are majoring in music, along with other Marshall students and members of the community. Similarly, the choral union is a community-based ensemble that includes students.
"The performance should be a crowd-pleaser for both the audience and our participants," said Brian Walden, director of the choral union.
"What's distinctive about this program is that we are sampling many different styles and works," said Dr. David Castleberry, director of choral activities. "We will sing Handel's 'Hallelujah Chorus' alongside choral works by John Rutter and orchestral favorites from Humperdinck's 'Hansel and Gretel' and Rimsky-Korsakov's 'Christmas Suite.'"
Smith, Walden and Castleberry will share the podium during the concert.
Admission to the performance is free and open to the public, but organizers suggest a $10 donation. For further information, call 304-696-3117.