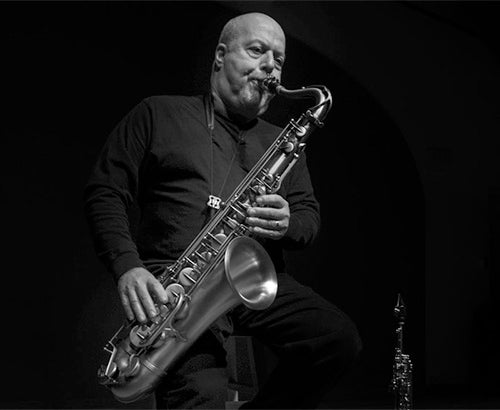 Marshall University's School of Music and Department of Jazz Studies' Jazz-MU-Tazz is in full swing. Now in its 19th year, the week-long jazz camp serves as an enrichment program for 7th-12th graders, who will give two concerts as part of the program.
Saxophonist Mark Colby will serve as the featured guest artist for a concert at 7:30 p.m. on Thursday, June 15, in the Jomie Jazz Forum on Marshall's Huntington campus. The week's finale concert will begin at 5 p.m. on Saturday, June 17, at Pullman Square downtown. Admission to both concerts is free and open to the public.
Colby began playing professionally at 14 years old, the age of many Jazz-MU-Tazz attendees. Then, on Miami Beach, Colby had the opportunity to play shows with popular acts and seasoned musicians, including Tony Bennett, Sonny and Cher, and Sammy Davis Jr. While in college, he recorded with the likes of Dr. John, Wilson Pickett, Bill Wyman of the Rolling Stones and the Bee Gees.
After graduating with a master's degree in jazz studies, Colby received a call from Maynard Ferguson inviting him to join his band in New York. After three albums and three years touring as featured soloist and musical director with Ferguson, Bob James beckoned, and Colby became of member of the "James Gang." James signed Colby to Columbia Records, beginning his solo recording career. In 1983, Colby was approached by DePaul University to assume a teaching position as jazz saxophone instructor.
Today, Colby holds positions at DePaul and Elmhurts College and he performs and teaches at schools throughout the U.S. and Europe, representing Selmer Paris Saxophones and Vandoren reeds.
For more information about Jazz-MU-Tazz, contact Dr. Ed Bingham at bingham@marshall.edu or at 304-634-1404.